Haven't MMA Fighters Learned That Waiting for a Fight Is a Mistake?
March 17, 2012

Now that Carlos Condit has the interim welterweight title, he is not going to chance losing it to anyone other than GSP.
Recently, Condit said he would be willing to wait until GSP has rehabilitated his knee to fight the Canadian sensation and unify the titles once more.
It seems like a great many fighters mistake waiting for the virtue of patience. They are not the same thing.
Throughout the history of the fight game, activity has been the key ingredient in keeping a fighter sharp. Those skills which are vital to combative sports are quick to gather rust in the face of inactivity because training is one thing, fighting another.
A case in point is Fedor Emelianenko.
When Fedor was fighting in Pride, he was at his best when he kept active. During the height of his glory, Fedor was fighting at least three times a year. In 2003, after capturing the Pride heavyweight title, he fought four more times. He fought five more times in 2004.
After the fall of Pride, Fedor began to fight less and less, and a decline in his skills followed—clear for all to see. He fought just twice in 2009, having difficulty in both fights (against Andrei Arlovski and Brett Rogers), and then just once in 2010, suffering his first loss in many years.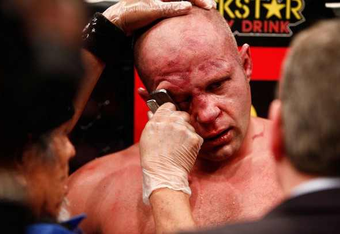 The rest of Fedor's story is well known: two more defeats in 2011 and then the release from Strikeforce.
But Fedor is now atop a two-fight win streak, with both fights happening in the last two months of 2011.
Of course, there have always been exceptions to any given notion. Rashad Evans managed to come back from a 13-month layoff to lay a beating on Tito Ortiz, and he looked better than ever.
But more often than not, the longer a fighter stays on the shelf, the worse-for-wear his skills become.
While it is hard to fault a fighter for wanting to play it safe and step away in order to save a favorable position in ranking and standing, time on the sidelines also means a timeout period—as in out of sight, out of mind.
And if there is one thing Dana White has nailed, it is this: why sit it out and wait; you're going to have to fight them all anyway.
Or, to put it another way: sometimes you fight the fights where you find them; other times, you fight them where they find you.
Why wait, indeed.