NHL's 25 Most Jaw-Dropping Shootout Goals Ever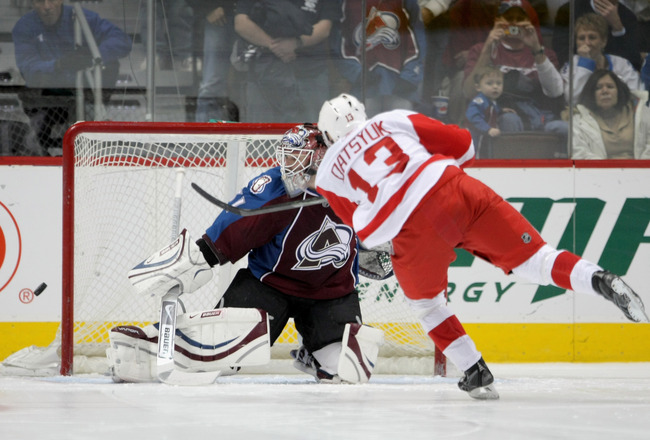 Doug Pensinger/Getty Images
When the NHL returned from the 2004-05 lockout, one of the new additions was the game-ending shootout.
Now the NHL has no games ending in ties, which allows the league's best scorers to show off their skills.
Some players have better hands and creativity than others, leading to some awe-inspiring moves.
Honorable Mention: Corey Perry
Definitely not a legal move in real shootouts, but this was hilarious for the skills competition.
25. Danny Briere
Should this one even count?
The puck is supposed to be kept moving towards the goal.
As Briere is in the stopping motion, he's still moving towards the net. Since he has the puck, he's still moving the puck towards the net.
As he stops, he moves the puck forward using his stick. That could be the logic behind counting this one.
24. Anze Kopitar
If the shooter can pull the puck so far laterally like that, it is tough to stop him.
23. Thomas Vanek
This one is known as "Around the World."
22. Rick Nash
Nash's long reach makes this easier for him; a goalie can't cover both posts at once.
21. Ryan Kesler
The switch to the backhand was very smooth after the leg kick.
20. Mike Ribeiro
Goalies aren't used to dealing with a shooter who comes down at him sideways.
19. Kyle Turris
Yup, he just fed himself a one-timer.
18. Rick Nash
Maybe he did it on purpose. Maybe not.
17. Zach Parise
He's done the move multiple times. It's simple, but the unlikelihood of a player to shoot a backhander like that is what makes it so effective.
16. Pavel Datsyuk
It looks so simple, but it's not as effective if the shooter doesn't have hands like Datsyuk.
15. Alex Ovechkin
Ovechkin's late change of direction here really made this move work.
14. Brent Burns
Not much works better than opening up 75 percent of the net for your shot.
13. Martin St. Louis
What makes this effective is that the goalie is likely expecting another move instead of a shot.
12. Mike Ribeiro
It's very risky to go between your own legs like this, but Ribeiro pulled it off.
11. Jussi Jokinen
Sometimes you only need to deke with your direction of skating.
10. Devin Setoguchi
OK, this isn't really No. 10, but take a moment to consider how impressive these moves really are.
Sometimes the moves don't work.
Sometimes nothing works.
10. Ryan Shannon
Khabibulin's poke check was not very effective once Shannon decided to turn around.
9. Pierre-Marc Bouchard
Bouchard's version of the move looked a little more graceful.
8. Sidney Crosby
If you hear someone talk about "The Crosby" move, this is it.
7. Patrick Kane
What exactly can a goalie do to stop this? Kane's puck-handling abilities make it nearly impossible to stop this.
6. Ryan Getzlaf
Admit it, the move fooled you, too.
5. Claude Giroux
Claude Giroux is a superstar, and he can deke like the best of them.
4. Pavel Datysuk
"Giroux, do you got a name for that move?"
"The Datsyuk."
3. Marek Malik
He really just made that move work.
2. Mikhail Grabovski
You shouldn't be able to score from that angle.
1. Pavel Datsyuk
That's not even a shot!
B/R Featured Columnist Jason Sapunka covers the NHL and Philadelphia Flyers.
Keep Reading