Peyton Manning Rumors: Why the San Francisco 49ers Are the Best Fit for the QB
March 17, 2012

Andy Lyons/Getty Images
The San Francisco 49ers threw a curve ball at us this week and it might just change the entire landscape of the National Football League in 2012.
Chris Mortensen and Adam Schefter over at ESPN reported on Friday that the 49ers brass flew to North Carolina on Tuesday to meet with the future Hall of Fame quarterback.
San Francisco became the first team that Peyton Manning actually threw passes for. He also took a medical examination during the meeting.
This comes on the heels of various reports indicating that Manning was going to choose between the Denver Broncos and Tennessee Titans.
Peyton Manning Needs the 49ers
If his ultimate goal is to win another Super Bowl championship, which I believe it is, Manning must choose San Francisco over the other two top contenders for his services. In short, they give him the best chance to win.
You are talking about a team that came an overtime loss from going to the Super Bowl in 2011. They did so with a watered down playbook and passing attack. While Alex Smith played serviceable and mistake-free football, he is by no means a top-of-the-line quarterback.
Adding Manning to the mix would make San Francisco the clear frontrunners to win the championship in 2012, there really is no question about that.
They have a running game that Manning has never had the ability to play with. They have the dominating tight end weapons that he has relied on in Indianapolis. They also have the best defense in the entire National Football League.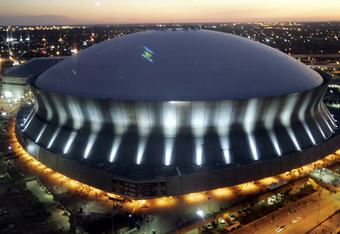 Some people have suggested that Manning approached the 49ers this offseason, not the other way around. This makes perfect sense as they are the only team of the three interested that gives him a shot at winning the title.
Steve Young suggested such on Friday:
They know they're the best answer for Peyton Manning...that's why they'll probably land him
The Wide Receiver Factor
Adding Manning would further limit the 49ers need to add more receivers in free agency or the draft. Look what he did with players like Austin Collie and Pierre Garcon. He instantly makes the likes of Kyle Williams and Michael Crabtree that much better.
Add a player like Brian Quick in the draft as well as a marginal free agent and the 49ers receiving corp is set for the 2012 season.
Also, just think about Randy Moss catching passes from Manning. In short, it would be one pretty damn good connection on the outside. I could care less that both players are on the wrong side of 30, they can still play when healthy.
The Vernon Davis Factor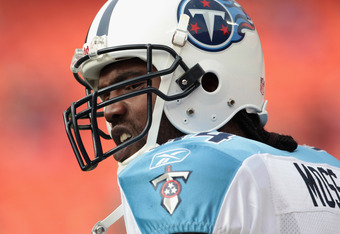 Jamie Squire/Getty Images
Manning relied a great deal on Dallas Clark in Indianapolis and made the tight end one of the best weapons at that position in the entire league.
Imagine what he would do for a more talented player in Vernon Davis. We already know that No. 85 can stretch the field and creates tremendous matchup problems between the hashes. Give him a quarterback with a rocket arm that has great accuracy and you are looking at a player that could easily reach 1,000 yards in 2012.
It Is Too Much of a Good Fit Not to Be Taken Seriously
While the Broncos and Titans can offer Manning more money, they don't offer him the best chance at contention. Even with Manning it is hard to imagine Denver being a top-five team in the AFC. They still wouldn't be on par with the Baltimore Ravens, Houston Texans and New England Patriots.
Speaking of Houston, they are still the clear-cut favorites in the AFC South even after losing Mario Williams. This is a team that has the best running game in the entire NFL and improved a great deal under Wade Phillips on defense after they switched to the 3-4 defense.
San Francisco is still the favorites to win the NFC West even if they lose out on Manning. Adding him to the equation would put them over the top in terms of the conference as a whole. The 49ers defense is so good that they only need to score between 17 and 20 points in order to win on a consistent basis.
Considering they were able to do with last season with Smith at the helm, imagine what they would do with Manning flinging the ball around Candlestick.
Conclusion
I have stated for some time now that the 49ers are the best fit for Manning. It really didn't matter because interest has to be a two-way street and, up until now, San Francisco has not shown the interest in him.
If Trent Baalke and Co. are serious about landing Manning I see no reason why they shouldn't be considered the favorites to land the future Hall of Fame quarterback.
Unless he is more worried about money, in which case Manning can go to Denver or Tennessee and exist in mediocrity.
We will find out sooner rather than later what Manning's ultimate end goal is. I have to believe it is winning, which means the 49ers are a viable option at this point.