NBA Trades: Blockbuster Move Helps Wizards in Anthony Davis Sweepstakes
March 16, 2012

Andy Lyons/Getty Images
What does Wizards point guard John Wall need?
How about an uber-athletic big man who Wall can drop dimes to—a stud who alters the game on the offensive and defensive end?
So, Anthony Davis?
Exactly.
University of Kentucky freshman Anthony Davis is going to be the No. 1 pick in June's draft. There's no doubt about this (unless he were to get severely injured).
This is not a season where the No. 1 pick is up in the air. Whoever wins the NBA lottery will snag Davis, because he has the potential to be a game-changing, first-team All-NBA player.
Davis and Wall could form a dynamic duo for years to come in Washington. Therefore, it's not foolish of Washington to consider "tanking" for the rest of the year to put themselves in better position to win the lottery.
Truthfully, the Wizards are already in decent position to win the lottery, because they're the league's third-worst team (after Charlotte and New Orleans).
But the Wiz got even worse on trade deadline day. They parted ways with two of their key contributors, Nick Young (who was averaging 16.6 points per game) and JaVale McGee (averaging 11.9 PPG, 8.8 rebounds per game and a lofty 2.5 blocks per outing).
All they received back was Denver big man Nene (who's averaging 13.4 PPG and 7.4 RPG), little used Brian Cook and a draft pick.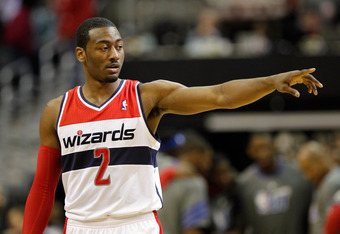 Rob Carr/Getty Images
This move may seem rather bizarre because they dealt two promising young players and didn't acquire alluring players in return.
But the deal increases their chances in the Anthony Davis sweepstakes. What's not to like about that?
This move will very likely cause the Wizards to dip even further in the standings, potentially all the way to the bottom.
Frankly, I believe the Wizards management wouldn't mind seeing this at all, because we all know how No. 1 picks can completely alter the trajectory of a franchise. 
Just ask the Chicago Bulls (Derrick Rose), Cleveland Cavaliers (Lebron James) and Orlando Magic (Dwight Howard). 
What's more, it's not like Young or McGee were going to make the Wizards into contenders. They're decent players, but not championship-caliber competitors. So it's not like losing them is overly costly.
If you're a Wizards fan, you can't argue with their deadline day trade. Their future looks so bleak right now that "tanking" to get in better position to land Anthony Davis is not a bad idea at all.
And if they do end up acquiring Davis, the Eastern Conference should fear the Wiz. Wall and David would create a scary tandem for years to come.