Philadelphia 76ers vs. Miami Heat: Live Blog, Analysis & More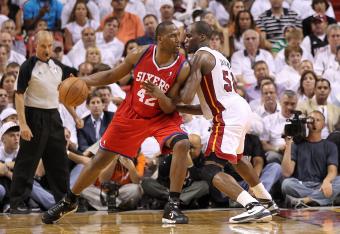 Mike Ehrmann/Getty Images
With their 84-78 win tonight, the Miami Heat (32-11) took their 10th straight game from the Philadelphia 76ers (25-19). LeBron James was the standout star for the Heat, scoring 29 points, grabbing seven rebounds and dishing out eight assists.
After trailing by 27 at the half, the 76ers made a game out of it, even cutting the lead to four points late in the final quarter. But they weren't able to completely overcome the massive deficit, despite outrebounding the Heat 54-42.
Thanks to all who followed along tonight—we'll be back tomorrow with a live-blog of the 76ers-Bulls game, so be sure to join us then.
Miami has now won 10 in a row against the 76ers—their best stretch ever against Philadelphia. These teams will face off again on April 3 down in Miami.
And for what it's worth, the Heat is a flawless 10-0 against the Atlantic Division this season.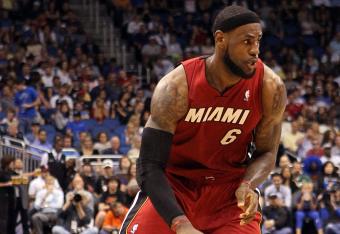 Philadelphia outrebounds Miami 54-42, but subpar shooting (33-for-93) doomed their fate. LeBron James led all scorers with 29 points, while Evan Turner paced the 76ers with 13 points.
Heat 84, 76ers 78, Final: A desperation Lou Williams 3 on the 76ers' final possession doesn't fall, and the Heat defeat the 76ers 84-78.
LeBron James had five points in the fourth quarter, while Wade and Bosh were scoreless. James in a post-game interview: "We got real lax - more offensively than defensively."
Heat 84, 76ers 78, 18.4 left in 4Q: With the Heat up four with 28 seconds left, the 76ers fail to foul LeBron James on the inbounds pass. James was dangerously close to an eight-second violation, but was eventually fouled. James knocks down two free throws to put his team up six.
Crowd is chanting "Beat The Heat." James answers by hitting an 18-footer over the outstretched arms of Thaddeus Young.
James, Wade and Bosh have exactly one total point in the fourth quarter. One.
Heat 80, 76ers 74, 1:32 left in 4Q: With the Heat needing a basket to quiet the 76ers attack, they go to... Udonis Haslem. Like Turner, he also misses both of his foul shots.
Because the NBA Rule Book says so, one of these teams will win this game. But neither Miami nor Philadelphia is playing like they want the W.
With the 76ers down six, Turner hits Wade with a nice crossover and is fouled on his drive to the basket. He then proceeds to miss both free throws.
Wade with a terrible entry pass leads to a breakout for the 76ers, but Lou Williams is unable to convert on the other end. Miami is giving this game away little by little...
0-for-7 from the field for Miami's Big 3 in the fourth quarter so far. Just a bad stretch, or a harbinger of things to come?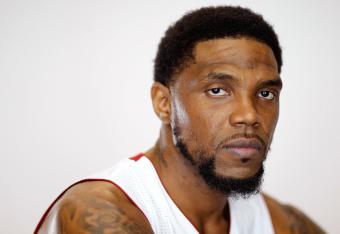 Heat 79, 76ers 72, 3:42 left in 4Q: The Sixers have hit a couple of huge shots in the last two minutes, and every time, Udonis Haslem—yes, Udonis Haslem—has answered with a short jumper.
Turner his a jumper and starts talking trash with Wade. Looks like the two of them are going to battle it out down the stretch.
Philadelphia already has 38 points in the second half - they only scored 30 in the first two quarters. They've outrebounded Miami in the second half 29-9.
Heat 73, 76ers 68, 6:27 left in 4Q: The Miami Heat shot selection the past few minutes has been abysmal. Their bad decisions have led to a Meeks layup and a Turner corner three. Miami is only up five with just over six minutes left. The crowd at the Wells Fargo Center is raucous, and the LeBron James haters are getting warmed up...
A Jodie Meeks 3 makes it a 10-point contest with eight minutes to go. We have a game, folks...
Heat 73, 76ers 60, 8:46 left in 4Q: With James on the bench to start the 4th quarter, Philadelphia is looking to jump all over the Heat. But each team has only managed to score four points so far, and the Miami lead remains at 13.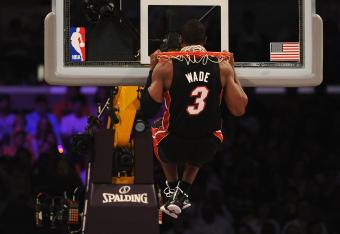 Wade has 12 points, 10 rebounds and six assists on the night, but for what it's worth, Evan Turner has done a fairly decent job of defending him so far.
Between quarters, James calls a players-only huddle on the Miami Heat bench. We'll soon see if this does anything to improve the Heat's intensity.
Fun fact: The Sixers outscored the Heat 26-12 in the third quarter. In the second quarter, Miami outscored Philadelphia by a margin of... 26-12.
Heat 69, 76ers 56, End of 3Q: Lou Williams baits Norris Cole into fouling him on a three-point attempt with 0.2 left in the quarter. Williams—an 82 percent FT shooter—misses two of his three free throws, and the Heat's 27-point halftime lead now sits at 13.
A 9-2 run by the 76ers has cut the Miami lead to 14. Center Nik Vucevic has been the most active Sixer during the stretch, and now has nine points and four rebounds on the night.
The Wells Fargo Center crowd is back in the game after the 76ers come out of the timeout on a spirited run. And just like that, James silences the Philadelphia run with a bank shot mid-range jumper (on which he was fouled, but missed the free throw).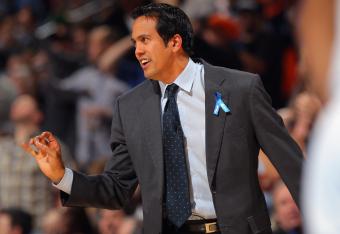 Miami coach Erik Spolestra during a recent huddle: "Let's get our edge back."
Heat 67, 76ers 46, 2:43 left in 3Q: The Sixers have cut the Heat lead to 21 as Miami's intensity is noticeably lacking in the third quarter. Philadelphia has 16 points so far in the second half after scoring only 12 points in the entire second quarter. Andre Iguodala is flirting with a double-double with his 11 points and seven rebounds.
Heat 65, 76ers 44, 3:52 left in 3Q: Three players (James, Wade, Bosh) are in double figures for the Heat. Meanwhile, Andre Iguodala leads the 76ers with nine.
This article is
What is the duplicate article?
Why is this article offensive?
Where is this article plagiarized from?
Why is this article poorly edited?

Miami Heat: Like this team?