Why Signing Peyton Manning Is Too Big of Risk for the San Francisco 49ers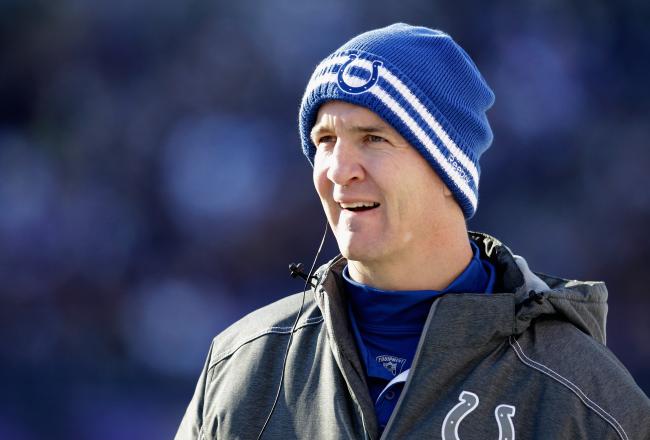 Rob Carr/Getty Images
For the San Francisco 49ers, bringing in two future Hall of Famers in one offseason is not a good idea. Well, at least when we're talking about these two particular Hall of Famers: Peyton Manning and Randy Moss.
Moss is already done, so we're not going to get into that right now. Manning is another story, and according to a series of tweets from Chris Mortensen of ESPN, it's becoming more of a possibility.
Friday, March 16 at 2:02 p.m. ET
Filed to ESPN: Third team in Manning race that has emerged is49ers - Manning worked out for Harbaugh &took physical this week #NFL32

— Chris Mortensen (@mortreport) March 16, 2012
Friday, March 16 at 2:08 p.m. ET
So, barring a surprise, once Manning throws for Titans, it looks like Broncos, Titans & 49ers as finalists. He's NOT visited 49ers facility

— Chris Mortensen (@mortreport) March 16, 2012
Friday, March 16 at 2:17 p.m. ET
Harbaugh and OC Greg Roman watched Manning throw at Duke on Tues night; impressive enough to send doctor next day to give physical exam

— Chris Mortensen (@mortreport) March 16, 2012
Even when you consider that Peyton Manning is a legend, there are plenty of reasons why the 49ers should not sign him.
Health/Rust
We can't romanticize the idea of Peyton Manning. This is a quarterback that has had four operations on his neck over the last two years.
These injuries cost Manning his entire 2011 season, which is not insignificant here.
So, don't think that if the 49ers do this, they'll be getting the same Manning that's averaged more than 4,200 yards and 30 touchdowns a season. The reality here is that it's not that simple. Missing a full season in the NFL is going to limit his productivity.
Remember that the 49ers are already going to have Moss, who didn't play in 2011. A QB/WR duo that hasn't played in a year is not exactly a recipe for success.
When the injury in question involves the neck, the natural questions that come up are how mobile will he be, and then how quickly will he be able to move his head around and scour the field?
It may not seem like much of a difference to the casual person, but in the NFL a 10th of a second might as well be an hour. If that's even a risk, then it's too great of one.
Does Peyton Manning's health concern you going forth?
Alex Smith
Given the amount of changeover that Smith has had to deal with throughout his 49ers career, there's good reason to believe that 2011 was a sign of what we're going to see from him through the rest of his career.
Actually, I firmly believe that he'll be better in 2012.
The only head coaches Smith had prior to this season were Mike Nolan and Mike Singletary. Both are defensive minded, and having watched this team closely during both tenures, it almost seemed as though they took pride in neglecting the offense.
Take a look at what Smith had to deal with from 2005 through 2010.
| | |
| --- | --- |
| Year | Offensive Coordinator |
| 2005 | Mike McCarthy |
| 2006 | Norv Turner |
| 2007 | Jim Hostler |
| 2008 | Mike Martz (Smith missed this entire year with an injury) |
| 2009 | Jimmy Raye |
| 2010 | Jimmy Raye, Mike Johnson |
No quarterback will ever succeed with all that change to start his career, especially with a head coach that doesn't focus on the offensive side of the ball.
Now Smith has that, and in 2011 he enjoyed the best season of his career. There is no reason to believe that 2012 wouldn't be better.
Other than his progress, there are a few other reasons why Smith should not be neglected.
He knows the offense and the players better than anyone. Smith has a sense of his receivers' timing that only comes from the experience you gain working with them.
Another reason is that on opening day of next year, Smith will be 28 while Manning will be 36. It doesn't take a genius to figure out who has the longer future in the game.
As if all of that weren't enough, you have the mobility issue. Manning, even at his best, has never been a mobile quarterback. Smith is far more capable of making things happen with his feet.
Given that this team doesn't exactly have a great offensive line, having a mobile quarterback is essential.
Money
According to Mike Klis of the Denver Post, the team that nabs Manning would have to pay a lot.
A third NFL source indicated that all involved teams are comfortable working off Manning's previous contract with the Indianapolis Colts, which was five years for $90 million, or an average of $18 million per year.
There is no way that Smith would cost anywhere near that much money.
So, while the 49ers do have money to spend, they need to look at this from a complete team perspective. They need to improve the line, bring in receiver that's more of a sure thing, and ideally improve the secondary.
These guys are all going to cost money, so spending this much one player is just not responsible.
Naturally, there will be a certain sparkle to Manning, but we need to remember that we're not going to see the same guy that won the MVP awards and ran roughshod over the NFL. This is a huge gamble, and even if it works, it will be a short-term option.
All in all, the 49ers need to look back to the man who just took them to the NFC Championship Game to lead the team in the future. Manning is not the right fit in San Francisco.
This article is
What is the duplicate article?
Why is this article offensive?
Where is this article plagiarized from?
Why is this article poorly edited?

San Francisco 49ers: Like this team?