NCAA Tournament Scores 2012: Creighton and Teams That Must Improve to Advance
March 16, 2012

Mike Ehrmann/Getty Images
The Round of 64 of the 2012 NCAA tournaments has seen some less-than-stellar teams advance into the third round.  If these competitors want to advance into the Sweet 16, they have a lot of work to do.
Because of the level of competition in this event, two sub-par performances in a row will certainly sink a team and these programs have to practice hard and get in the film room if they want to continue their runs.
Creighton Bluejays
This potential Cinderella eighth seed had two major flaws in their narrow win over Alabama.
They went into the locker room at halftime down seven, which is never a good sign and can really hurt a team that thrives on their offense to carry the load.
After they overcame that deficit and gained a large lead in the second half, they faltered down the stretch with some extremely poor free-throw shooting.
The Crimson Tide could have easily advanced and had a chance with the final shot of the game.
Fortunately the Bluejays defended it well and the attempt missed everything.
They need to make sure their offense is more consistent and their free-throw shooting is spot-on to make the Sweet 16.
Syracuse Orange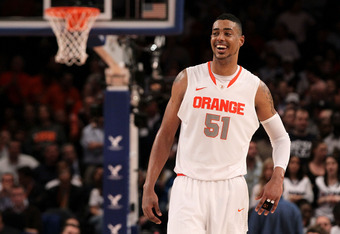 Jim McIsaac/Getty Images
A No. 16 seed like UNC-Asheville should never expose a No. 1 seed that only lost two games prior to the tournament.
Unfortunately for the Orangemen, that is exactly what happened.
'Cuse looked extremely vulnerable without Fab Melo in the paint and their zone is going to need some fine tuning to take on tougher opponents.
This team can still make a Final Four run, and possibly go even further, but they need to figure out how to overcome the loss of Melo sooner than later.