Harrison Barnes: Adjustments the UNC Star Will Have to Make in NBA
March 16, 2012

Streeter Lecka/Getty Images
Although Harrison Barnes is one of college basketball's premier players, he will need to modify his game in order to attain NBA stardom.
If DraftExpress.com's mock draft holds form, the 6'8" North Carolina Tar Heel would be selected with the sixth overall pick by the Sacramento Kings—a team that is run by Tyreke Evans.
While this bodes well for Barnes, who is better suited to play alongside an elite point guard, it does draw some concerns about his individual talents.
At Chapel Hill, Barnes finds himself operating in the occasional isolation set.  Although this gives him a chance to display his one-on-one game, the results may not carry over as well into the pros. 
Along with his reputation for having good shot-selection, the sophomore sensation will find it harder to shed elite defenders without the benefit of an extended shot clock.  This means he will have to learn how to play off the ball, while maneuvering his body to utilize off-screens in an effective manner.
While it sounds easy and doable, this isn't something that many current NBA players excel at.  If Barnes hopes to mimic the likes of Ray Allen and Richard Hamilton in this skill, he'll have to become more technically proficient and savvy. 
The sophomore sensation is blessed with a quick release and long arms, so he shouldn't need much separation when looking for a decent shot; however, if he becomes too picky, this may hinder his confidence and team's success.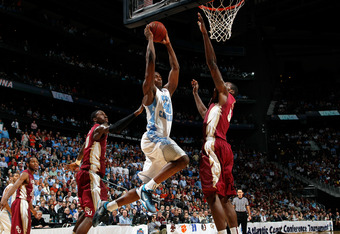 Kevin C. Cox/Getty Images
At the next level, Barnes must be more aggressive.
Don't get me wrong; I'm not saying he should disregard his teammates completely, but he shouldn't get caught up in satisfying their older egos.
The majority of his teammates won't know the pressures and expectations that come along with being a top-overall selection.  He'll have to shoulder the responsibility of playing through that.
That extra level of offensive leadership and assertiveness is what might separate him from Paul Pierce comparisons and drop him into the realm of Luol Deng.
Barnes is listed at 215 lbs, but will definitely need to add bulk.
Not only is the NBA game more physical, but also the 82-game regular season is more than double the length of a standard college basketball year.
Don't forget that NBA games also last eight minutes longer.
Barnes has averaged less than 30 minutes of playing time in both years of his collegiate career.  If he ever hopes to enter the "NBA clutch club", he'll have to improve his conditioning.
By beefing up his skinny frame, Barnes will stand a better chance at defending other perimeter players like Kobe Bryant, Kevin Durant and LeBron James in the post.  And just like those superstars, expect him to gradually develop an offensive repertoire that features a back-to-the-basket move.
As of right now, he has all the necessary tools to garnish a successful NBA career.  With his continual strong work ethic and a minor tweak in mentality, Barnes should go on to become one of the league's brightest stars.