NCAA Scores 2012: Underrated Teams That Will Cruise into Sweet 16
March 17, 2012

Jed Jacobsohn/Getty Images
Teams that survived the opening round of the NCAA tournament are now just five victories away from cutting down the nets in New Orleans. Several underrated squads are still flying under the radar after their second-round wins but are worth keeping an eye on moving forward.
Let's take a look at a few sleeper teams that could advance to the Sweet 16 with another victory this weekend. For a complete look at tournament scores, check out the NCAA's website.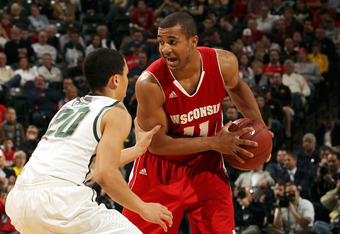 Jonathan Daniel/Getty Images
Wisconsin
The Badgers dismantled Montana with a combination of strong outside shooting and tremendous patience on defense. They love to play at a snail's pace, which presents a matchup problem for teams like the Grizzlies, who like to get up and down the court.
Jordan Taylor leads Wisconsin at nearly 15 points per game. He's the team's go-to star in crunch time and has knocked down his fair share of big shots during his four years with the Badgers. Having somebody with his ability and experience gives Wisconsin an immediate advantage over most teams.
Vanderbilt enters the Round of 32 on fire, but the Commodores are an offense-first team. The Badgers' combination of suffocating defense and slow playing style will lead to a narrow Badgers win.
New Mexico
New Mexico hasn't garnered much hype—mostly because the Lobos play in the Mountain West Conference—but it is dangerous. It survived a tricky test against Long Beach State and will now face off against Louisville.
Drew Gordon and Kendall Williams provide the Lobos with the star power to keep up with anybody. The pair is averaging 25 points per game while knocking down nearly half their shots. Add in the team's three-point gunners, and they become very difficult to defend.
Both teams play solid defense, especially the Cardinals, but New Mexico's offense gives it the edge. Look for the Lobos to pull away late in the second half after a close battle throughout.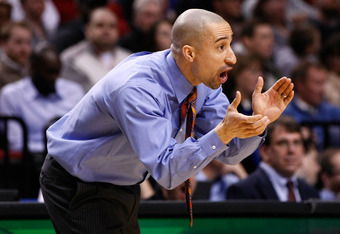 Jonathan Ferrey/Getty Images
VCU
The Rams are back. After a thrilling run last season that took the sports world by storm for a couple of weeks, Shaka Smart is once again putting his team in a position to succeed with smart game plans. He's proving to be one of the nation's brightest coaching stars.
VCU is relentless on defense, picking up the full-court pressure on basically every possession. Opponents know it's coming and still can't figure out a way to get easy baskets out of it, which is why the Rams just keep pulling off upsets.
Indiana has an elite offense, but if it isn't able to break the press consistently, it won't matter how well it can shoot. Don't be shocked if the Rams pull off another stunner.