College Football 2012: 37 Guys We Forgot About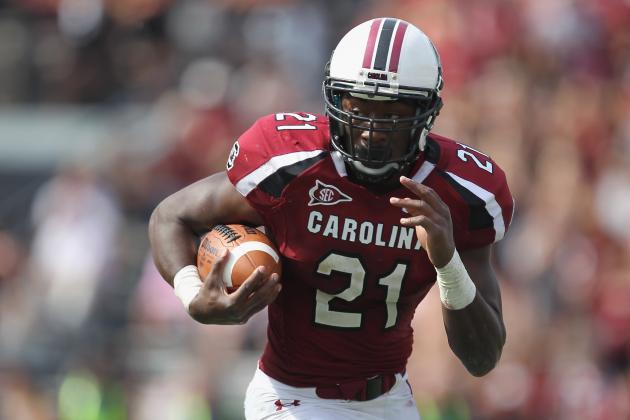 Streeter Lecka/Getty Images

The college football season is over five months away, but it is never too early to brush up on some names that many fans may have forgotten during the offseason.
Every year there are players who transfer or get hurt and are forced to miss an entire season. These players can have a big impact when they return, and in 2012 there are some marquee names who could make an impact on their respective teams.
Think of this as a college football refresher and a look ahead to some big name players and some guys many people have never heard of who are coming back for 2012.
Begin Slideshow

»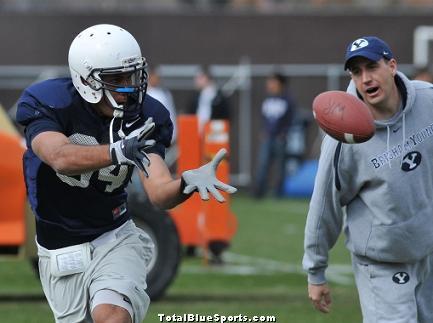 BYU tight end Devin Mahina was expected to play a large role on offense for the Cougars in 2011, but it was discovered just a few weeks before the season that he had a fractured neck.
Mahina didn't put up big numbers in 2010. He finished the season with 11 catches for 118 yards, but much more was expected from the big 6'6", 236-pound tight end in 2011.
If he can come back healthy, he will be a big threat over the middle for the Cougars.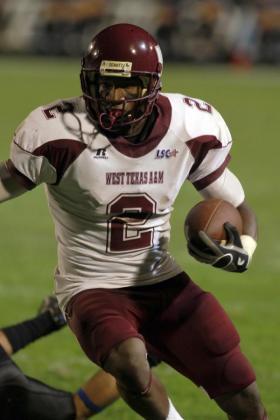 Wide receiver Tyson Williams sat out last season after transferring to Texas Tech from tiny West Texas A&M, where he excelled in his two seasons.
The receiver caught 162 passes for 2,168 yards and 13 touchdowns over two seasons, and even though the competition will get tougher, the Red Raiders will be counting on Williams to step in and contribute immediately.
The junior has all the talent to do just that.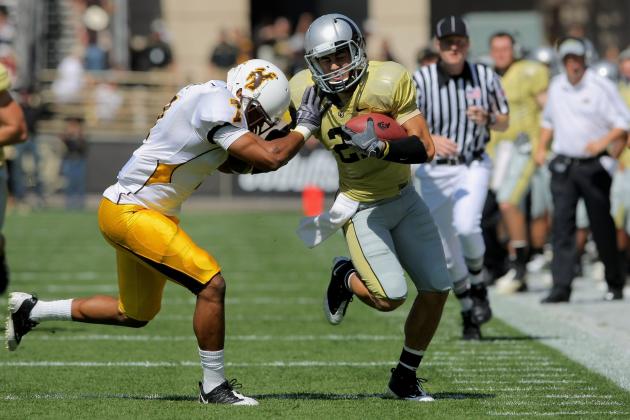 Doug Pensinger/Getty Images

Shamiel Gary is one of a few Wyoming transfers who has a chance to make a larger impact at the next level.
The defensive back played his first two seasons at Wyoming, where he totaled nearly 192 tackles, and after sitting out last season, he could potentially step in and start immediately for the Cowboys.
Not only can he tackle, but he is also a good cover guy and totaled four interceptions over the past two seasons.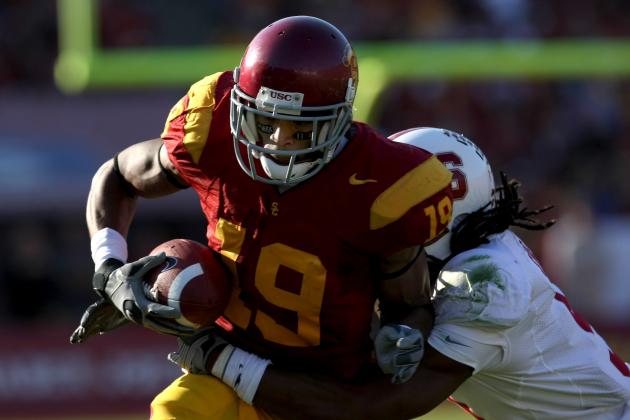 Stephen Dunn/Getty Images

Brice Butler was a very talented receiver who arrived at USC with a lot of potential.
He has spent the better part of the last three seasons as a backup at USC, but a transfer to San Diego St. could mean big numbers for this talented receiver.
Over that three-year period, Butler totaled 554 yards on 41 receptions with three touchdowns.
He will be counted on more heavily next season with the Aztecs.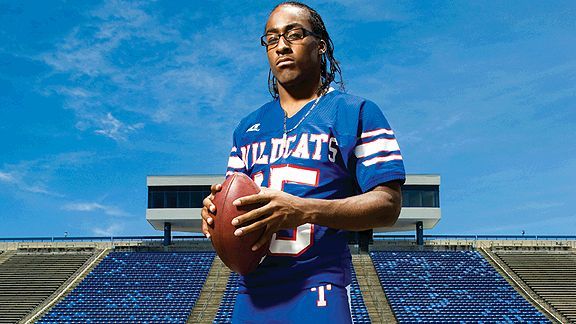 Many people may not have heard of this running back, but he has the talent to keep Baylor above water next season.
Seastrunk originally committed to Oregon (and was a key part of the Willie Lyles scandal) but did not play a down in his first season in Eugene. He has moved his talents to Baylor and will be counted on heavily next season for the Bears.
He was one of the top recruits in the country coming out of high school and will be a factor down the road for Baylor.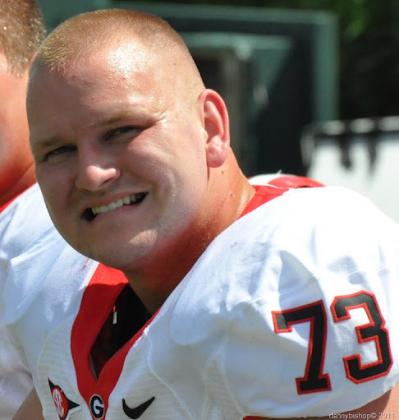 Offensive lineman Brent Benedict was a highly touted prospect coming out of high school in 2010 and suffered a knee injury during his freshman campaign at Georgia.
He decided to transfer to Virginia Tech after the 2010 season and sat out last year.
The Hokies are trying to replace four starters on the offensive line, and Benedict has the talent to step in and start immediately for the Hokies in 2012.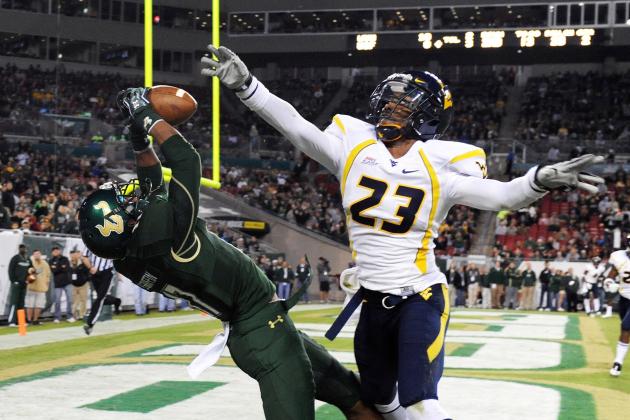 Al Messerschmidt/Getty Images

South Florida receiver Sterling Griffin missed a good portion of last season with an ankle injury and will look to come back healthy in 2012.
He was off to a fast start last season with 530 yards on 43 receptions to go along with three touchdowns before the ankle injury.
He was the leading receiver for the Bulls at the time of his injury and will play a big role next season for South Florida once completely healthy.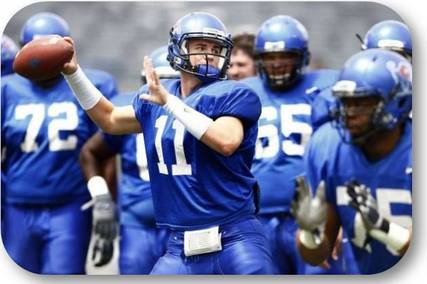 Ryan Williams had a successful true freshman campaign with the Memphis Tigers, and after transferring to Miami, he is eligible to play in 2012 and will be competing for the starting role.
He passed for 2,072 yards and 13 touchdowns in only 12 games during his freshman campaign.
Williams has all the tools to win the starting quarterback job and will be battling with Stephen Morris in spring practice and on into the fall.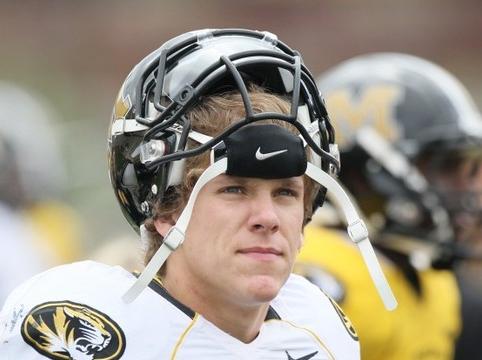 New Central Florida quarterback Tyler Gabbert had a chance to be the Missouri starting quarterback last season, but after he lost the job to James Franklin, he decided to transfer to Central Florida.
He sat out last season, and after originally leaning toward Louisville, he decided on Central Florida.
Even though he was not highly recruited out of high school, he will be the starter for Central Florida in all likelihood and should make an immediate impact in 2012.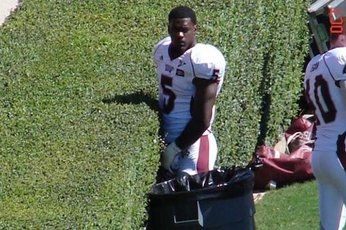 Defensive back Nickoe Whitley is one of the hardest hitters in the SEC and missed the final six games last season due to an injured ankle.
He is ready to return in 2012 to help anchor the Mississippi State defense. In only eight games last season he had four interceptions and has a chance to be one of the best defensive backs in the SEC.
Mississippi State will need him to have a chance next season.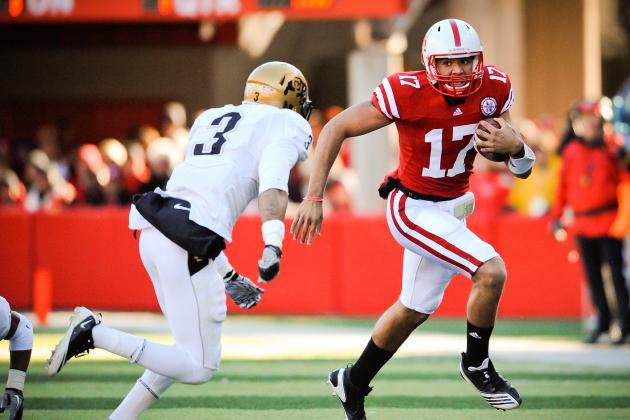 Eric Francis/Getty Images

This former Nebraska Cornhusker quarterback started four games during his two seasons in Lincoln.
He sat out last season after transferring to Tulsa and will battle with Kalen Henderson for the starting job.
Like many other Nebraska quarterbacks, he can do it with his feet, too.
Replacing G.J. Kinne will be tough, but Green has the potential to make Tulsa fans forget about their departed quarterback.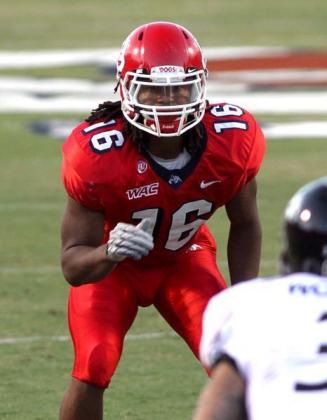 Fresno State safety Phillip Thomas was injured just before last season with a broken leg and will try to bounce back in 2012.
He was a key contributor in 2010 and will be counted on heavily by the Bulldogs in 2012.
He had three interceptions in 2010 and is also a solid run stopper.
His return will certainly help the Fresno State secondary.
Ethan Miller/Getty Images

Many people may not have heard of Austyn Carta-Samuels, but come October, he may be a household name in the SEC, as he is likely to be Vanderbilt's starting quarterback.
The junior passed for 1,953 yards in 2009 as a freshman at Wyoming and followed that up with 1,702 yards in 2010. He can also do it with his feet, rushing for 758 yards over the two seasons.
He sat out last season and will battle Jordan Rodgers for the team's starting quarterback position.
Odds are he will win it and lead the team next season.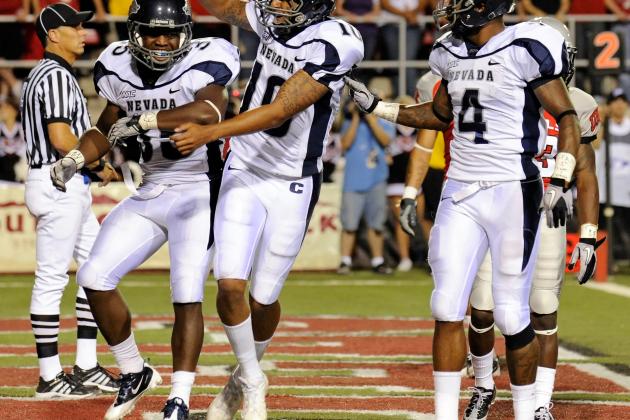 Ethan Miller/Getty Images

After over 1,200 yards on 94 catches to go along with six touchdowns in his first two seasons at Nevada, wide receiver Brandon Wimberly missed all of 2011 after being shot in the abdomen last summer.
He is hoping to return to the field for Nevada in 2012, where he will be counted on heavily.
There is no shortage of talented receivers in Reno, and Wimberly is one of them.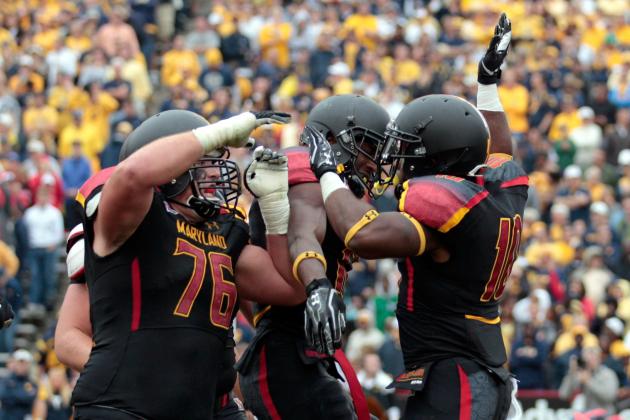 Rob Carr/Getty Images

This offensive lineman may not be as well known as some other names on the list, but he has been steady over the past three seasons, helping to anchor the Maryland offensive line.
He decided to transfer to Rutgers for his final season of eligibility and will step in and start right away.
Dill has NFL talent, so fitting into a new system rather quickly will be no big deal, and he has a chance to mesh with a talented Rutgers recruiting class in 2012.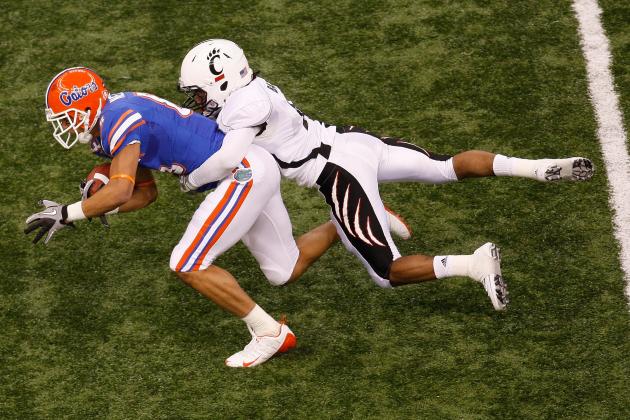 Chris Graythen/Getty Images

When it comes to injuries, Dominique Battle has been through the ringer. After receiving playing time as a true freshman in 2008, Battle started the entire 2009 season and was set for a big 2010 campaign before a major knee injury.
Battle came back last season and suffered another season-ending knee injury.
He would be a big addition to the Cincinnati secondary that already has a lot of experience.
If he can get healthy, he will find himself on the field next season for the Bearcats.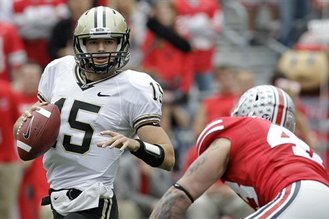 Rob Henry was in line to be the starting quarterback for Purdue last season before suffering a season-ending ACL tear just before the season began.
In 2010, Henry passed for 996 yards and eight touchdowns while starting the final two games of the season.
He showed signs in those two games, helping Purdue put up 31 in each contest with five total touchdowns.
Purdue will need Henry to come back healthy in 2012.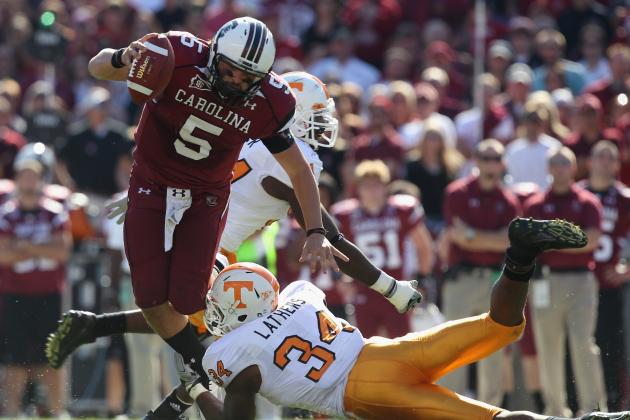 Streeter Lecka/Getty Images

Herman Lathers was the second-leading tackler for Tennessee in 2010 and was injury plagued last season.
Lathers broke his ankle before the season began and never even saw the field. He was the second leading returning tackler heading into 2011, and now will be counted on even more heavily heading into 2012, despite coming back from injury.
If healthy, he will help anchor the Tennessee defense.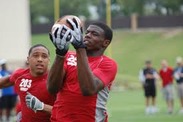 Josh Gordon may be one of the most talented receivers in the country people have not heard of.
As a sophomore at Baylor in 2010 he caught 42 passes for 714 yards and seven touchdowns.
He was a big play receiver who averaged about 17 yards a catch.
His off-the-field troubles led him from Baylor to Utah, where he will be an impact player immediately after sitting out last season.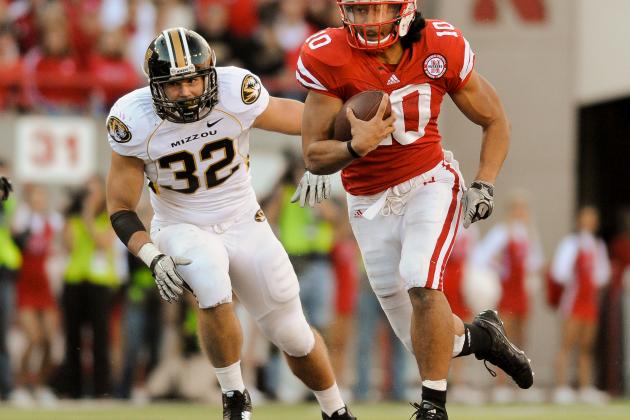 Eric Francis/Getty Images

Will Ebner is a very talented linebacker who was sorely missed last season by the Missouri Tigers.
He was injured in the first game of the season and did not play again the rest of the year.
After being granted a medical red-shirt, Ebner will be back for his fifth season and will be a key to the Missouri defense in 2012.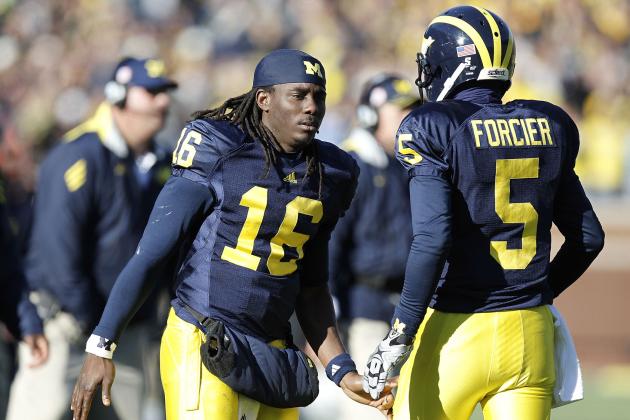 Gregory Shamus/Getty Images

Tate Forcier was a starter for Michigan at one point and put up some large numbers playing in front of Denard Robinson.
He passed for 2,050 yards and 13 touchdowns along with 240 rushing yards in 2009.
In 2010, he lost his starting job to Robinson.
Forcier originally committed to Miami and then was enrolled at San Jose State, but has since left the program due to academic reasons.
It is unclear now where he will turn up, but wherever he may be, he has a chance and the talent to play immediately.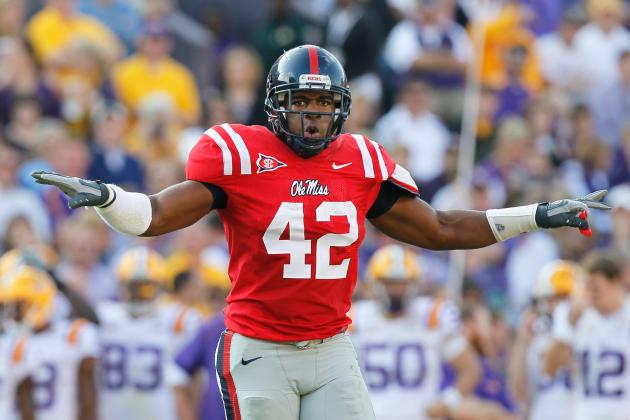 Kevin C. Cox/Getty Images

Linebacker D.T. Shackelford was a key contributor on the Mississippi defense in 2010 but missed all of last season because of a torn ACL.
He is on schedule to return in 2012 and will likely be back in the starting role.
The junior played a huge role in the Mississippi defense in 2010 and if healthy will be a leader on that side of the ball in 2012.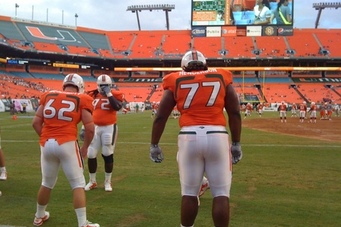 Seantrel Henderson was the biggest recruit in the country coming out of high school and has battled injuries and off-the-field troubles.
He had a successful freshman season in 2010, but a lack of conditioning and a knee injury cost Henderson parts of last season.
At 6'8" and 345 pounds, he is one of the largest players in the country, and he can dominate with that size.
The offensive tackle is as talented as any lineman in the country and will need to put it all together in 2012 for Miami both on and off the field.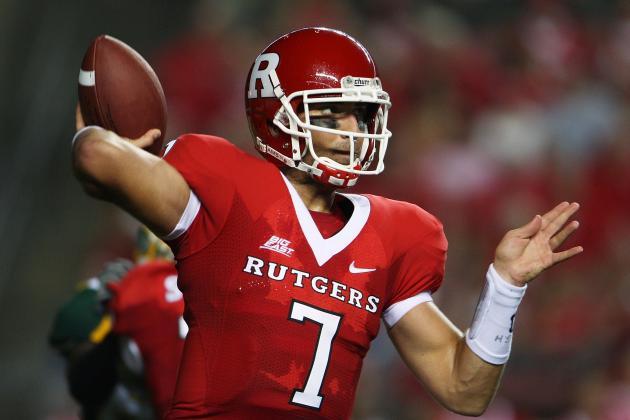 Andrew Burton/Getty Images

As a true freshman in 2009, Tom Savage passed for 2,211 yards and 14 touchdowns for the Rutgers Scarlet Knights.
After a sub-par sophomore season in 2010, Savage decided to transfer to Arizona.
He sat out last season, and now is in limbo after the hiring of Rich Rodriguez.
Savage has recently left the University of Arizona and is trying to come back to Rutgers. Doesn't look like the NCAA is going to let him though.
Stay tuned on this one.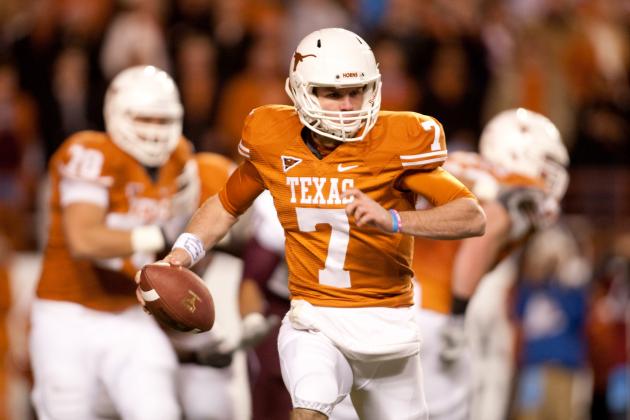 Darren Carroll/Getty Images

Former Texas quarterback Garrett Gilbert has a chance to be one of the biggest impact transfers in 2012.
He sat out last season after transferring, and is in line to be the starting quarterback for SMU.
Gilbert has had an up and down career. As a sophomore he passed for 2,744 yards and 10 touchdowns, but threw 17 interceptions to go along with it.
He injured his shoulder last season and decided to transfer.
Gilbert will have a huge impact next season for SMU.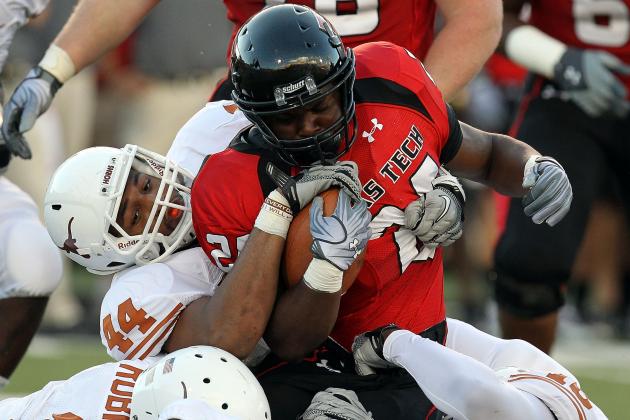 Ronald Martinez/Getty Images

Texas Tech running back Eric Stephens was off to a fast start last season until a knee injury during the fifth game of the season ended his year.
Stephens had already rushed for 565 yards and eight touchdowns.
He was well on his way to a solid junior season. The injury also hurt the Red Raider football team as they were 4-0 before the injury and finished the season 5-7.
If Stephens is healthy in 2012, he will be one of the best running backs in the conference.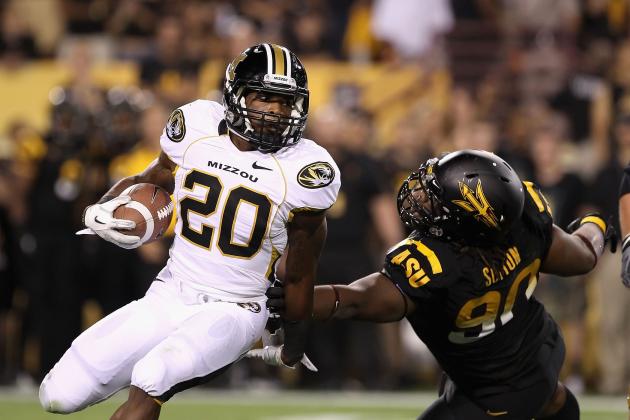 Christian Petersen/Getty Images

Missouri running back Henry Josey spent most of last season running all over the Big 12, but was hurt midway through the Big 12 season and was lost for the year.
He rushed for 1,168 yards and nine touchdowns, while averaging over eight yards a carry.
Josey will not put up numbers like that in the SEC, but his return will have a huge impact on a young and talented Missouri team.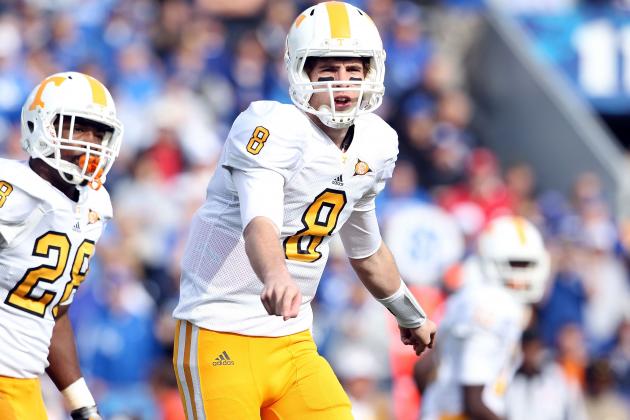 Andy Lyons/Getty Images

Tennessee quarterback Tyler Bray was available for much of last season, but did miss some action because of a thumb injury.
He missed five games and the Volunteers lost four of them.
In only seven games last season, he passed for 1,983 yards and 17 touchdowns with only six interceptions.
Bray is set to return healthy and ready to go in 2012.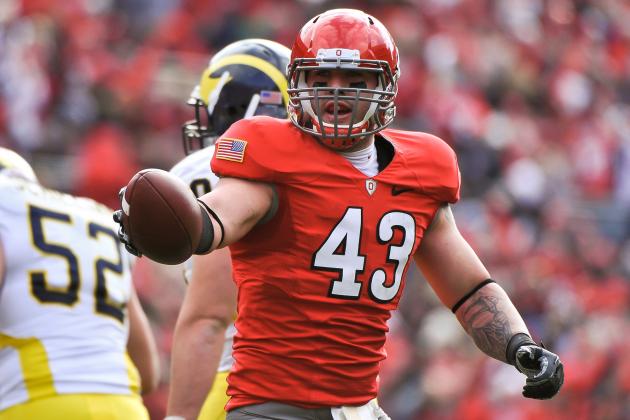 Jamie Sabau/Getty Images

Nathan Williams was the heart and soul of the Ohio State defense in 2010 and missed most of last season with a knee injury.
That drastically affected the Buckeyes defense, and what was once a staple of the team was no more.
If his ailing left knee can get better, Williams will have a huge impact next season for Urban Meyer and the Ohio State defense.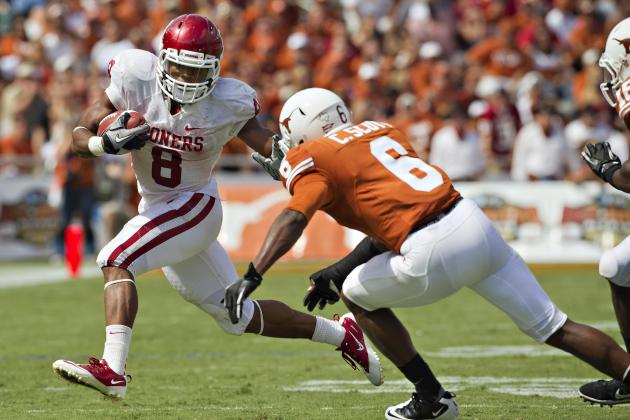 Wesley Hitt/Getty Images

Oklahoma running back Dominique Whaley was off to quite a fast start during the beginning of his junior campaign in 2011, before suffering a season-ending leg injury.
He had already totaled 627 yards and nine touchdowns in just six games.
Whaley is a workhorse who should be fine to return to the starting role in 2012 for the Sooners.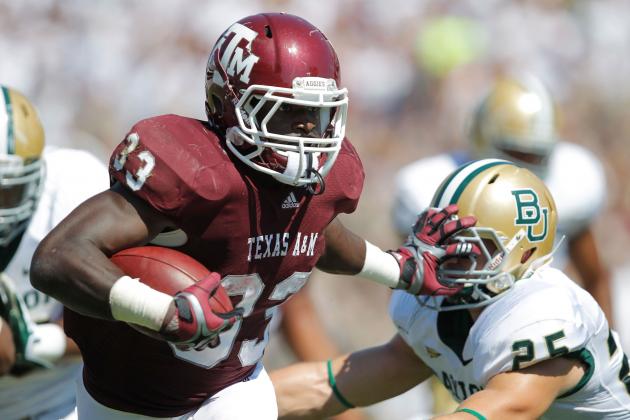 Sarah Glenn/Getty Images

Christine Michael did not miss a lot of action last season, but went down with a season ending torn ACL, missing the final four games of the season.
He had already rushed for 899 yards and eight touchdowns, while averaging 6.0 yards a carry and splitting carries with Cyrus Gray.
Gray is now departed and Texas A&M is preparing to enter the SEC. The going will be a little tougher for the Aggies, and they need Michael to recover quickly to be successful next season.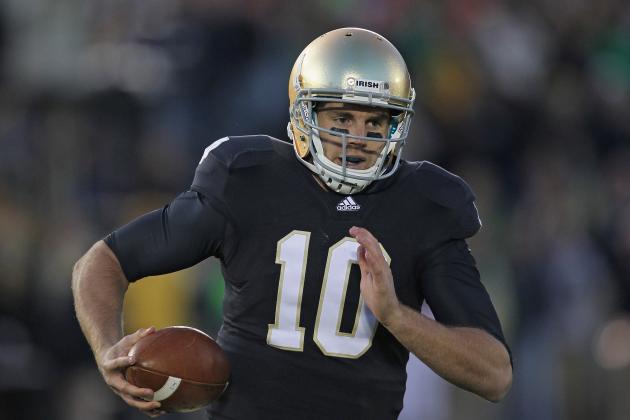 Jonathan Daniel/Getty Images

With only one season of eligibility remaining, Dayne Crist decided to leave Notre Dame midway through 2011, eventually ending up at Kansas with his former head coach Charlie Weis.
Crist had a very successful 2010 campaign. He passed for 2,033 yards and 15 touchdowns with only seven interceptions.
Last season, he could not quite get on track and struggled with injuries before leaving the program.
He will likely be the starter for Kansas and will try to lead them to a bowl game in Weis' first season.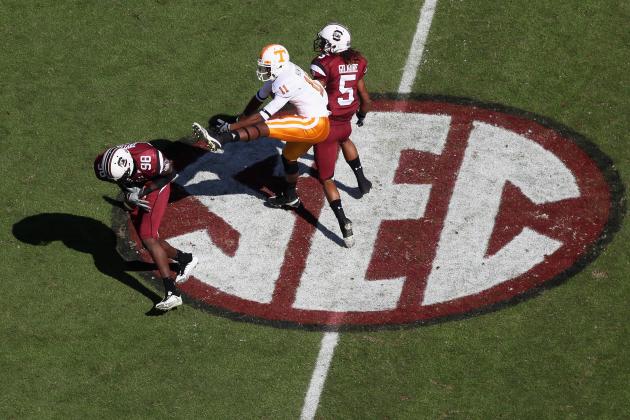 Streeter Lecka/Getty Images

Tennessee wide receiver Justin Hunter was having an All-American season through his first two games last year for the Vols before tearing his ACL the third game of the year against Florida.
Hunter was only in his second season, and after seven touchdowns as a freshman, he already had two as a sophomore in his first two games.
Hunter also had 302 yards on 16 receptions in those first two games.
He is a difference maker, and Tennessee struggled mightily in SEC play without him.
His return along with that of quarterback Tyler Bray will make 2012 better for the Vols.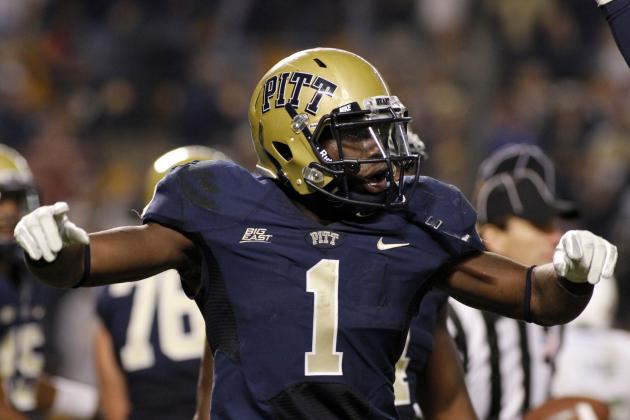 Justin K. Aller/Getty Images

Pittsburgh running back Ray Graham was one of the best players in the country last season when he went down to a devastating season ending knee injury.
The junior had already rushed for 958 yards and nine touchdowns in only seven games.
He missed the final five games last season and Pittsburgh lost three of those.
Graham will be back next season and big things are expected from him in 2012.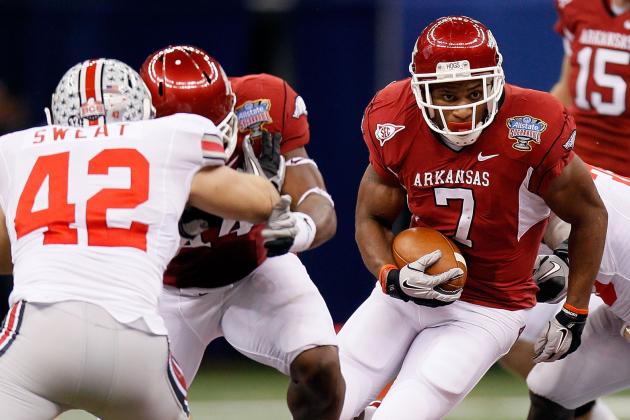 Kevin C. Cox/Getty Images

When it comes to talented running backs, few rank higher than Knile Davis.
Davis missed all of 2011 with an ankle injury, and Arkansas will be very good next season if he can return to full health.
As a sophomore, Davis carried the ball 204 times for 1,322 yards and 13 touchdowns. He is a workhorse and one of the best ball carriers in college football.
If Arkansas plans on contending for a national championship, they will have to ride the back of a healthy Davis to do so.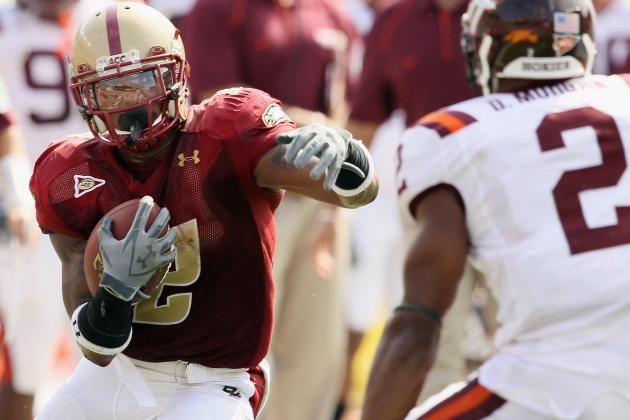 Elsa/Getty Images

Boston College running back Montel Harris missed almost all of last season with a knee injury.
He carried the ball only 31 times for 135 yards with no touchdowns.
That came after rushing for 3,600 yards and 27 touchdowns in his first three seasons at Boston College.
He will miss spring practice and still seems aggravated by the injury, but if he can come back healthy, he is one of the best running backs in the country.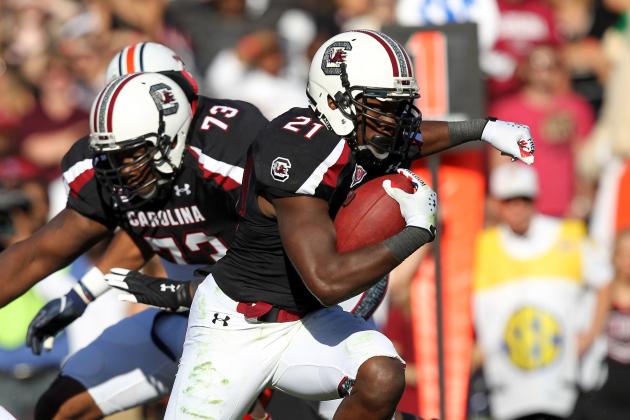 Streeter Lecka/Getty Images

South Carolina junior Marcus Lattimore is arguably the most complete running back in the country heading into 2012, but will be coming back from a major knee injury.
He did play in seven games last season and totaled 818 yards with 10 touchdowns. He was on track to go over 1,500 yards and had a chance for 20 touchdowns.
As a freshman he rushed for over 1,000 yards, and if he can come back healthy next season, South Carolina could be a national title contender.