Knicks vs. Pacers: TV Schedule, Live Stream, Spread Info and More
March 16, 2012

Rob Carr/Getty Images
The New York Knicks and Indiana Pacers will do battle for the second consecutive night on Saturday as the teams travel from the Big Apple to lock horns in Indianapolis.
The Pacers are trying to maintain their strong standing in the Eastern Conference, while the Knicks are in a battle for eighth place.
Saturday's game will mark Mike Woodson's third as the interim bench boss since Mike D'Antoni's resignation. Woodson is making an effort to make Carmelo Anthony and Amar'e Stoudemire the focal points of the offense as they were lost a bit in D'Antoni's speed-ball system, which rewarded point guard Jeremy Lin.
The Pacers continue to thrive without the benefit of superstar players like the ones the Knicks have. Indiana has excelled thanks to a bevy of solid players who have meshed together as a unit.
Danny Granger gets plenty of accolades, but players like Roy Hibbert, David West, Paul George, Darren Collison and so many others have contributed as well.
Continue reading for all the information you're dying to know about the Knicks' and Pacers' matchup on Saturday night.
Where: Bankers Life Fieldhouse in Indianapolis, IN
When: Saturday, March 17 at 7 p.m. ET
Watch: MSG
Live Stream: NBA League Pass
Betting Line: Indiana (-3.5)
Knicks Key Injuries
Out: SG Bill Walker (elbow)
Pacers Key Injuries
Doubtful: C Jeff Foster (back)
What They're Saying
Despite the fact that interim head coach Mike Woodson is planning on running the Knicks' offense primarily through stars Carmelo Anthony and Amar'e Stoudemire, that doesn't mean that Linsanity has met its demise.
Woodson still considers Jeremy Lin an integral part of the offense, according to Marc Berman of the New York Post.
Jeremy is a big part of what we do, he's our starting point guard, Woodson said Friday. He's a big part of what we do. We're on the same page. I thought the other night he played extremely well.

 
Most Important Player to Watch: Amar'e Stoudemire
When the New York Knicks had their best season and year and made the playoffs last year, power forward Amar'e Stoudemire was the main reason for that. Before the Knicks traded for Carmelo Anthony, Stoudemire was the unquestioned star and was putting up big numbers.
Things haven't gone as well for him this season, though, as he is averaging under 18 points and eight rebounds per game.
For whatever reason, Stoudemire had lost his way a bit in an offense that he had always produced in. With Mike Woodson's new emphasis on him, though, Stoudemire figures to be of the utmost importance moving forward.
It won't be easy for him to break through against Indiana's deep frontcourt, but if he does, then the Knicks will be in great shape.
Key Matchup: Knicks Frontcourt vs. Pacers Frontcourt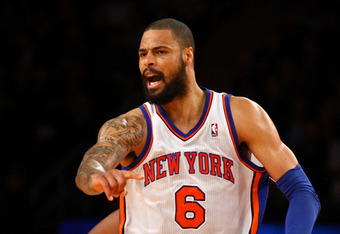 Chris Chambers/Getty Images
This particular matchup will pit the Knicks' stars against the Pacers' depth. In addition to the aforementioned Stoudemire, New York boasts Tyson Chandler at center. Although he doesn't put up dominant offensive numbers with 11.4 points per game, he is averaging nearly 10 boards and 1.5 blocks per contest as well, so he is a force on the defensive end.
The Pacers may be just as productive in the paint, but they use a large rotation that includes Roy Hibbert, David West, Tyler Hansbrough and Louis Amundson among others.
While Indiana's frontcourt may not be quite as talented as New York's, the Pacers can keep their players fresher, and it will be interesting to see what type of role that plays.
Prediction
Knicks 98, Pacers 96