Chelsea Transfer Rumours: 7 Strikers Who Could Replace Fernando Torres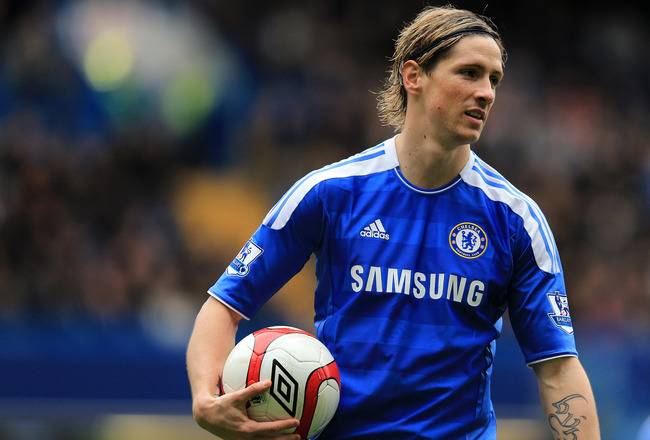 Richard Heathcote/Getty Images
Chelsea have been nothing but disappointed by the underwhelming amount of goals that Fernando Torres has produced since joining the club.
A record £50 million signing, Torres was thought to be the next strike signing to push the club back to the top of the English Premier League.
However, that is yet to happen as a sputtering run with the club has only returned minimal results in comparison to what he produced for Liverpool in his time on Merseyside.
Rumors of his exit have circulated for well over the past six months now, and if he continues to fail to produce, despite a recent spike in form, he could see the exit door this summer.
Alexandre Pato
Valerio Pennicino/Getty Images
AC Milan's young Brazilian striker Alexandre Pato has seen his budding career in Italy stifled this season as an in-form Zlatan Ibrahimovic and Robinho have kept him largely out of primary game time.
Additionally Antonio Cassano and the recent addition of Maxi Lopez have allowed his role to diminish even more so lately, and have him linked to an exit this coming summer.
Chelsea appear to still be interested in Pato, while Paris St. Germain and his former boss Carlo Ancelotti has reportedly dropped his intention of signing the youngster according to Goal.com.
Steven Fletcher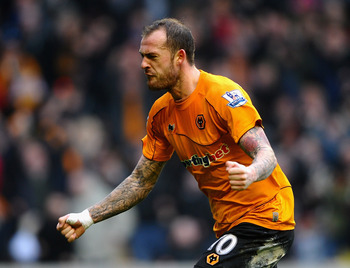 Laurence Griffiths/Getty Images
Wolverhampton Wanderers striker Steven Fletcher could be a cut rate deal in the summer if Wolves succumb to the drop.
Fletcher has vowed to fight on for Wolves in an attempt to avoid relegation according to the Daily Mail:
"It was a bit of a surprise (McCarthy's sacking) to be honest. We all came in on Monday morning thinking we were going to pick ourselves up after the Albion defeat and then heard the news."

"The gaffer brought me to the club after Burnley had been relegated and I've managed to score some goals since I've been here so it's a bit disappointing he's away."

"It's football and the gaffer has been in it a long time. Now for him, and for us and all the fans we have to make sure we stay in the league and prove we are a good enough side."

"We know what our capabilities are and what we can do on the pitch and if we produce that we can stay up."
However, the 10-goal scorer has been in fine form, and could be perhaps even better with more quality players around him.
Chelsea could offer him just that while the former Burnley attacker could offer the Blues a much less pricey option.
Mario Gomez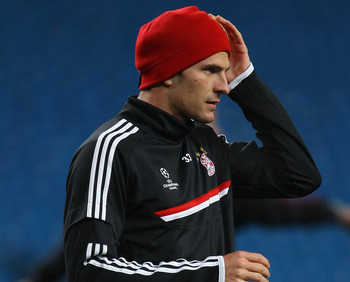 Alex Livesey/Getty Images
If the Blues want to start looking at breaking the bank, one of their first stops should be Bayern Munich striker Mario Gomez.
The German attacker has been in impressive form this season and would offer a strong target front man that has been a characteristic of the Blues attack for some time.
Although he is unlikely to leave Germany and move for a club that is not looking to be in the Champions League next season, he would be a huge pick up if Chelsea could work the deal.
Peter Odemwingie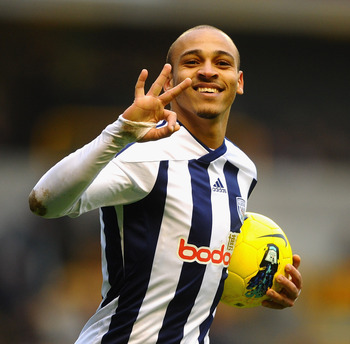 Laurence Griffiths/Getty Images
West Bromwich Albion striker Peter Odemwingie is another lower cost signing that Chelsea could make if they look to rebuild the frontline of the club in lue of Torres.
The 15 goal man from 2010-11, had a slow start to 2011-12 due to injury, but has hit top-form the last two months and looks set to roll through the remainder of the season on point as his goal tally is now up to nine this campaign.
Arsenal have been linked to him in the past few weeks by the Guardian while at the start of this season the "hitman" claimed he would only leave for a top calibre club according to a twitter comment quoted by ESPNsoccernet.com:
''To my dear WBA supporters: 'I love this club and will leave only to a TOP team which is understandable. Nothing abnormal is going on. Contract is not signed because of the duration of it. Figures agreed long time ago because I know this is not Real Madrid. Please be patient.''
Gonzalo Higuain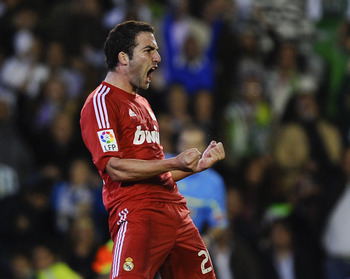 David Ramos/Getty Images
Real Madrid have made it appear as though Argentine striker Gonzalo Higuain is surplus to their requirements despite his 17 La Liga goals that have helped the club rise about Barcelona in Spain so far this season.
Metro and the Daily Mirror both have him looking at a possible Chelsea transfer, with Manchester City also looking at hijacking the talented striker.
Chelsea are in need of an out-and-out goal scorer like Higuain, and can be if Torres does indeed leave as well as Didier Drogba, who could also walk out the exit door.
Edinson Cavani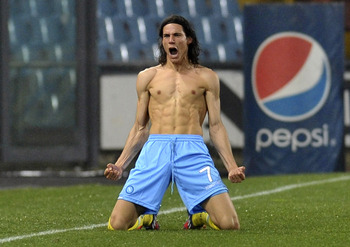 Dino Panato/Getty Images
The end of February saw Edinson Cavani's Uruguayan national team manager Oscar Washington Tabarez according to the Daily Mail:
"I think he will surely leave Napoli...I don't know when, but he must go to England or Spain."
Such comments have led to continued speculation that the goal machine could make a move to Stamford Bridge.
After his current club Napoli were ousted by Chelsea in a heroic comeback in the UEFA Champions League, it is all the more reason why Cavani could fancy a move to London.
Metro claims that Chelsea or Manchester City could have Cavani and his teammate Ezequiel Lavezzi, who scored a brace against the Blues in Italy, for a cool £100 million.
Fernando Torres
Michael Regan/Getty Images
Fernando Torres could yet save his Chelsea career with a strong run in both the remaining league fixtures, FA Cup ties and the UEFA Champions League.
Since the departure of Andre Villas-Boas the Spaniard has looked visibly a better player under Roberto Di Matteo.
The lack of faith that AVB showed in Torres could be a reason he is now looking more up for it than before as he feels that the current caretaker may have some faith in him, even with Di Matteo taking a shot at Torres' mental state in the media.
While two goals and three assists in the league will not cut it for a player of his ability, his two goals and four assists in the FA Cup have been vital to the club making the last four.
The last game he was on the pitch he scored a brace and added another two assists in his best performance in Chelsea Blue against Leicester City. The fact that it was against Championship opposition matters not as sometimes it takes a strong game against a weaker opponent to finally get the engine in gear.
There is still time for Torres to right his ship before the end of the season and finish strong to reclaim his place at the top of the clubs striking order.
Conclusion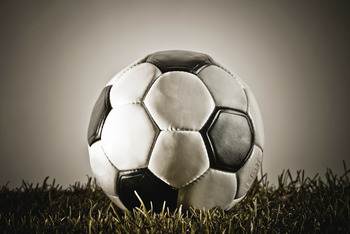 If El Nino can blow in his storm of talent in skill for the remainder of the EPL season and perhaps lift Chelsea to a Champions League fourth place spot in the league, he could certainly remain at the club.
More importantly Torres still has time to be a hero for the Blues in the FA Cup and Champions League.
His potential moment of glory that makes me and every Liverpool fan cringe would be to see a Liverpool and Chelsea FA Cup final, and as a result, see Torres beat his former club at Wembley.
That scenario could crush the soul of Liverpool fans, including this one, even with my respect for Torres as a player still remaining since his departure from Anfield.
Thanks for reading and be sure to check out more on Bleacher Report and at the links below. You can follow me on Twitter @thedailyatz and Facebook, or visit my website.
Keep Reading

Chelsea: Like this team?