NHL Playoffs: Why Adding More Postseason Teams Is a Bad, Bad Idea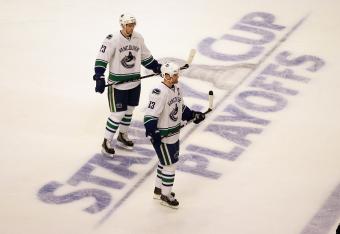 Jonathan Daniel/Getty Images
"The playoffs have to represent merit."
That quote, put into words by Brian Burke in a December interview with ESPN, has always defined the universal concept of the postseason.
Across the wide spectrum of sports, the playoffs are meant to showcase continued strength, dedication and domination in an elite competition to determine a league's best. The very fight for such an invitation is often glorious on its own, as there are few more exciting occasions than a last-second battle for a final playoff spot.
But in the NHL, the annual postseason field is only loosely tied to greatness. The eight playoff berths from each conference add up to 16 seeds in all—more than half of the league's 30-franchise total.
Nevertheless, with the overtime/shootout loss column skewing the standings, the fact that the NHL has more playoff teams with losing records than any other major professional league is easily overlookable.
Squads with records of .500 or worse are definitely a common sight in hockey's playoffs, though; 2010-2011 was actually the first season since the lockout without a playoff team boasting 41 regular-season wins or fewer. The previous year, '09-'10, contained three.
That trend seems especially shameful for a postseason as legendary as the Stanley Cup Playoffs, and is also a major argument against the latest hot topic in the NHL realignment debate—playoff formatting.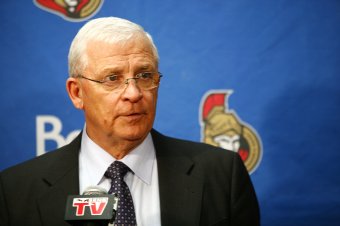 Phillip MacCallum/Getty Images
The dispute over future divisional distribution, conference systems and playoff arrangement has been raging for months now. As the soon-to-expire CBA looms a little bigger in the headlights with every passing day, both the NHL and NHLPA are starting to really dig the trenches for a summer of heated warfare.
During that time period, common ground will be at a premium, and both sides will be unlikely to find it on the issue of a new postseason design.
From the players' perspective, the math is simple. And it's focused, 100 percent, on the money. Said ESPN's Craig Custance early last month:
"But many of the ideas centered around expanding the playoffs, and it's easy to see the appeal from a players' point of view. The salary-cap number is based off of league revenues, so if the playoffs are expanded, revenues go up. So does the cap. So do salaries."
Most owners and GMs strongly reject this playoff expansion proposal, however, and for good reason.
In a league where 53.3 percent of the teams already make the playoffs, increasing that number to 60 percent (18 teams) or 66.7 percent (20 teams) would be both pointless and utterly stupid.
How many teams should make the playoffs each season?
A 20-team playoff group would amount to a cutoff line of approximately 84.8 points, based on statistics over the past five seasons. Not only is that well over seven points lower than the current average cutoff line (92.1 points), but it also amounts to a sub-par record of about 39-36-7 or so.
That's not the kind of record that should define a playoff team.
Such a format would also make the final months of the regular season nothing more than wasted time for many top-tier clubs. The Detroit Red Wings hit the 85-point plateau all the way back on Feb. 23rd—a good six weeks before the end of their 82-game schedule.
If a 20-team playoff system was in place already, there would be little incentive for the Wings to keep playing aging stars like Nicklas Lidstrom, Pavel Datsyuk and Johan Franzen. After all, they might appreciate, and benefit from, a little pre-playoff vacation—and Detroit could still cruise into a high seed, anyway.
So if money is the deciding factor this summer, expect NHL playoff expansion to be an outcome sitting right over the horizon. In the end, few things generate more increased revenue than increased games.
But, whether it happens or not, make no mistake that expanding the postseason is a mistake—and a colossal one, at that.
Mark Jones is currently a Bleacher Report featured columnist for the Carolina Hurricanes and the NHL as a whole. In his 41 months so far with the site, he has written more than 355 articles and received more than 440,000 total reads.
This article is
What is the duplicate article?
Why is this article offensive?
Where is this article plagiarized from?
Why is this article poorly edited?