2012 NFL Free Agents: Tennessee Titans Still Interested in Scott Wells
March 16, 2012

Jonathan Daniel/Getty Images
Despite signing one veteran on the offensive line in the last 24 hours, the Tennessee Titans are still interested in upgrading their center position in free agency.
According to Bob McGinn of the Milwaukee Journal-Sentinel, free-agent center Scott Wells remains very much in play for the Titans even after the team signed guard Steven Hutchinson on Thursday:
The Tennessee Titans' signing of former Minnesota Vikings guard Steve Hutchinson hasn't diminished the team's keen interest in signing center Scott Wells of the Green Bay Packers...The Titans aren't overly thrilled with center Eugene Amano and would easily release him if they can sign Wells, according to an NFL source. They're looking to upgrade the offensive line.
Wells left Tennessee to visit the St. Louis Rams on Thursday, but it is still assumed that the Titans are the front-runners to land the 31-year-old center. 
Amano, who signed a five-year, $26.24 million deal with the Titans back in 2010, is a candidate to be cut if the Titans get a commitment from Wells.
Swapping the two would mark a significant upgrade for the Titans.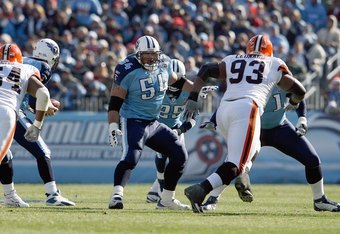 Kevin C. Cox/Getty Images
According to Pro Football Focus, Amano ranked as the No. 32 overall center in the NFL last season. Wells came in at No. 4.
Amano's poor grade came almost exclusively from run blocking, where the 30-year-old ranked as the league's second worst center.
While Wells is far from a mauler in the run game, he's one of the very best in pass protection. Given the Titans' flirtation with Peyton Manning, upgrading the pass protection up the middle makes a lot of sense. 
Wells likely has a strong interest in playing in Tennessee.
As McGinn points out, Wells played high school football outside Nashville before going on to college at the University of Tennessee. A league official told McGinn that it would be "a gift" if Wells could return home to finish out the final leg of his NFL career.
It would be premature to rule out the Rams and Packers, who each have pressing needs at center. But given a scenario with equal contract offers from all three teams, it appears that the Titans would be the one gaining Wells' services.