Should Phil Kessel Be Traded? No, and Here's Why It's a Bad Idea
March 16, 2012

Jim McIsaac/Getty Images
For those unfortunate enough to have the media filter of their favorite team be that of the Toronto media, you may have seen up and down sportswriter (in regards to rationality) Damien Cox's recent piece in the Toronto Star on why the Maple Leafs should give up on Phil Kessel.
While Cox is certainly more reputable than many other Toronto writers like the Sun's Steve Simmons (though, who isn't?), this argument falls flat on its face in many ways. Not only that, but the 56 percent of people who answered "Yes" in the poll featured in said article are really out of touch.
Let's start with the obvious: Why would Brian Burke trade Phil Kessel?
Because he lost his mind?
While there's always the possibility of a trade which involves any given player, probability rules the day. The probability of Brian Burke even wanting to trade Kessel has got to be among the lowest on the current Maple Leafs roster. Simply, if you think Burke would do it, you are probably very impressed with fire and those who can make it.
What's in it for the Leafs?
That aside, in considering Kessel's value, The Star's own follow-up piece on what unnamed GMs thought of Kessel brought mixed results. Some considered trading for Kessel a sideways deal, at best. Others, knowing the hefty price associated with acquiring Kessel, flat out denied that they'd pay the same price.
There was even speculation about including Kessel in a deal to get Rick Nash in a blue and white uniform, or that Kessel could just be a cog for a playoff team looking for more offense.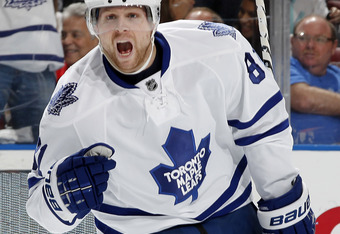 Joel Auerbach/Getty Images
Despite being on pace for a career season in goals and points, which has had him within the top five scorers all season, Kessel's "Worst of the Best" moniker sticks as if the glue is still drying.
What could the Leafs even hope to get for Phil Kessel, if say, the return was not equal to the price tag, and we're going by the opinions of other GMs in that Star article? A prospect? A first-round pick? A capable roster player? 
If I'm trading Phil Kessel for a prospect, that prospect better be on an NHL roster right now, and contributing at a competitive level for their age with considerable upside.
Trading established talent for picks is always going to be a gamble. You're trading the tangible for the intangible. Will your team finish low enough in the standings to validate such a cost? It would be a bitter pill for Leafs fans to trade Kessel this summer and end up with a pick in the 15-20 range next June, which is possible. Probable? Well, the hope of the Leafs playing even that good without Kessel is a long shot.
What if you head to the draft and Alexandre Daigle II is waiting for you? What if you draft a good kid, but he's just a career 25-30 goal guy? Let's say, 60 points during his best seasons. That's not a bad player. Certainly many of those can be found in the first round. But they aren't worth Phil Kessel.
How about a roster player? The thought that Phil Kessel alone couldn't get you Rick Nash might sound completely valid without putting such a notion to further scrutiny.
Nick Rash 
Kessel is 24 years old. Nash turns 28 in June. Kessel is trending up. Nash, twice a 40-goal guy, has been trending down since he last scored 40 in 2008-09 (he had 79 overall points).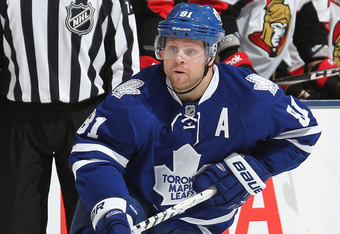 Claus Andersen/Getty Images
33 goals and 67 points in 2009-10.
32 goals and 66 points in 2010-11.
Currently on pace for 28 goals and 54 points this season.
You know what? I agree. Kessel doesn't equal Nash after all.
Is Kessel a Randy Carlyle-Type Player?
Is this, or is this not, up to Carlyle to decide? Carlyle's ideal player prototype mirrors his boss': robust, physical, skilled. However, the question keeps popping up. Can it even be accurately gauged in the short amount of time Carlyle has been behind the bench? What about until the end of the season?
A larger sample size is needed to proceed here. Making assumptions at the dawn of the Carlyle-era is foolish.
Considering that it was Burke who felt that two first-round picks, and a second, were worth the services of the smallish, speedy, offensively-gifted Kessel, if he is okay by Brian Burke's standards, then it may well be logical to assume that Carlyle won't have many issues with Kessel's game either.
What is Phil Kessel Worth to the Toronto Maple Leafs?
A lot more than he is given credit for. 
Consider Cox's take on Kessel from his article:
In this spectacular 18-game crash that began after that impressive Saturday night victory in Ottawa, Kessel has continued to produce numbers—seven goals and 11 assists—but hasn't asserted himself in any way as a player who can carry or lead a struggling team.
What? 17 points in 18 woeful games and Kessel isn't doing enough? This is one of my favorite moments during the presentation of a point to pounce—the "but."
"The player has performed admirably, not much more could be asked, his teammates need to get in on the action, too, but..."
But. But we're going to immediately dismiss what was mentioned just spaces ago, so that we may delve deep into cognitive dissonance in order to prove the point without having to worry about pesky reality. This is attention-getting, not sports analysis. It can be if done right, but the cost-benefit nature of this concept puts the onus on the advocate to prove that the cost outweighs the benefit.
It doesn't here. Sorry, Cox. That's the reason why your niche is sports writing and not teaching algebra at the University of Toronto. The former is admirable, and you've done a lot with it. No slight intended.
The most annoying facet of the Leafs' season-ending crash in the standings has surely been the reaction of the fans. It's not fun to watch a team that was on pace for 96 points on February 7th fall out of playoff contention and into lottery-pick contention instead. That's understandable.
But, the reality is, Toronto held a playoff position all season. Sure, they fell out of the eighth spot two times prior, but it only lasted a game. On February 7th, they were nine games above .500 and two points from fourth in the Eastern Conference.
Were they playing over their heads earlier in the season when they were in the top five teams in the NHL? Yes. Are they underacheiving right now? Absolutely. Their true potential lies in the middle, and though that represents a hell of a gap now, it's probably right where they were playing in January and early February.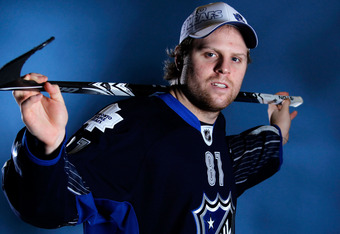 Gregory Shamus/Getty Images
So, astigmatic fan analysis aside, what kind of player is Kessel?
Dynamic. Elite. A solid offensive pillar for any team to build from.
Oh, Toronto, how you've overlooked this kid. Kessel is tied for third in most 30-goal seasons under the age of 25 since the lockout. Some bums named Ovechkin and Crosby rank above him. None of them hail from Ontario either (for you Cherry zombies among us).
Of those players who have achieved the same number (four) of 30-goal years in that age bracket are Evgeni Malkin, Rick Nash, Eric Staal, Zach Parise and Ilya Kovalchuk. I don't know about you, but I've never heard of any of these players. Bad example I guess. Maybe Kessel is duly unappreciated.
Players who have scored less than Kessel before the age of 25? Marian Gaborik, Jeff Carter, Mike Richards, Alexander Semin, Thomas Vanek, Dustin Brown, Simon Gagne, Dany Heatley, Patrick Kane, Vincent Lecavalier—need this list continue? Because it can.
Take into account also, as pointed out on the Leafs blog Pension Plan Puppets, that Kessel is a player who has consistently been among the top scorers all season while playing with, "a salary dump throw in and an undrafted kid."
But...But the Crash!
The exponential dive that the Maple Leafs are suffering through is going to leave many fans recklessly abandoning logic, statistics and other crucial things that should matter when forming an opinion. Thus, a lot of Kessel's good (and the good that Burke has done overall) is going to be dismissed in the crushing wave of disappointment that will culminate in Toronto's next loss or two (if you haven't admitted it already).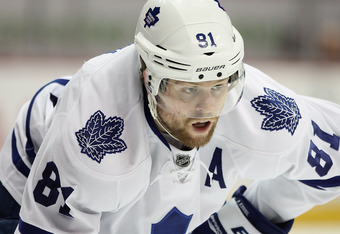 Jeff Gross/Getty Images
To think that the Maple Leafs would be better off without Phil Kessel is plain stupidity. There's nothing else to say about it. A dynamic player who is basically the Leafs offense. No slight to Lupul or Grabovski, they're wonderful in their own right, but check out which one of Lupul's stats is the most outstanding: his 42 assists which have primarily gone to Kessel.
Kessel's first 40-goal season is in jeopardy, it's true, but consider the factors:
A devastating spiral down the standings, which continues as the Leafs are well out of playoff contention.
A mid-season coaching change, and current shift into a defense-first system from a run-and-gun, offense-first one.
The season-long lack of a first-line center.
The recent loss of Joffrey Lupul.
Name a player who keeps pace, or increases it, under such conditions? Also, keep in mind that Kessel has 22 points in his last 20 games, so he's far from ineffective and far from impotent. In conclusion, he himself could be one of few answers to that question.
Yet, in going from a 45-goal pace to a 39-goal pace, it's evident that he has been affected by the recent challenges, which include the loss of his right hand man who was finding him in many of those nice scoring positions. Still, given his current 1.03 PPG, it means that he is capable of even more. This indicates that a point-per-game pace is Phil Kessel facing adversity, late in the season no doubt.
Cox raised cap issues, too. I think it's negligible as the cap, as suggested in the follow-up article, may go up to $70 million under the new CBA. It's also two years in the future and will likely depend on his performance to that point. That's plenty of time for Kessel to prove his worth, or not, in the event of a pay raise.
The Bottom Line Is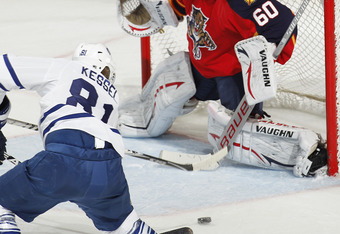 Joel Auerbach/Getty Images
If you have a player like Phil Kessel, you don't dump him at the first sign of trouble. The kid is a dynamo on a team that is going through a lot of changes, and while he may not be scoring as many goals, he's still producing admirably in the face of considerable diversity for any player.
There's not much out there to replace him with. The talent deficit that has struck trades, drafts and free agency in recent years also indicates that any return for Kessel proves to be a high-risk situation.
Did the Colorado Avalanche dump Matt Duchesne last season when they collapsed? Do the Bruins look like they're going to dump Lucic or Seguin because they have the second worst record in the NHL in 2012, with the same roster that won the Cup last year no less?
The Maple Leafs should keep Kessel, because Leafs Nation will be collectively rueing the day he left if he ended up being traded. You don't know what you've got 'til it's gone, Toronto.
As the Cup drought grows, and the playoff drought along with it, chasing top-end players out of town,—and in the process erecting warning signs to any others who might want to come play in Toronto—is not going to be what ends either.