NFL Free Agency 2012: Grading This Week's Cleveland Browns Transactions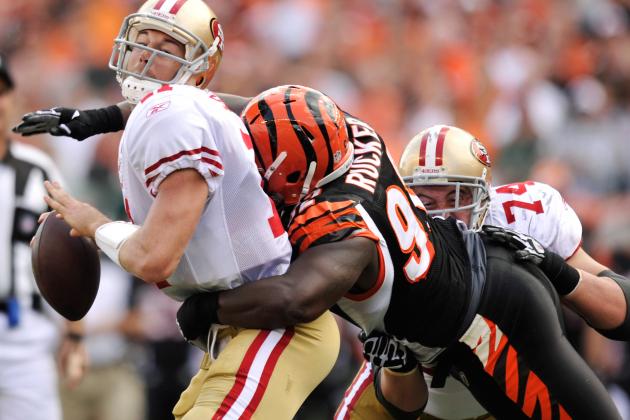 Jamie Sabau/Getty Images
Frostee Rucker has a reputation as a run-stopping DE: a tremendous asset in the AFC North.
It's been three days, and though the alterations individually may seem trivial, they paint a clearer picture of the Cleveland Browns' intentions with respect to the 2012 Draft, and building for the future.

Through who the Browns retained, cut and allowed to walk, we can construct an outline of how the Browns will look to compliment their additions and compensate their losses through the draft.

Hit me up on the TweetMachine @StepanekButton
Begin Slideshow

»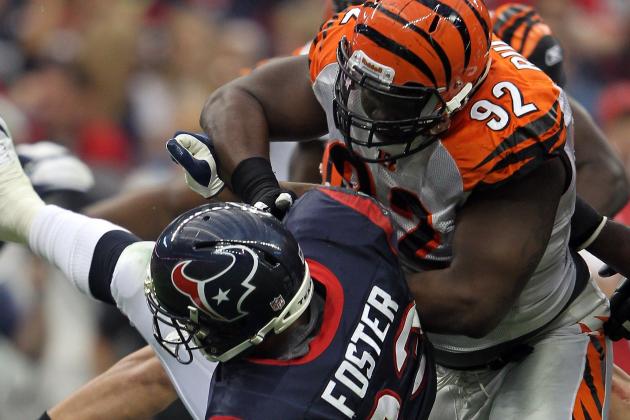 Jamie Squire/Getty Images
Frostee Rucker stops Arian Foster cold. (Sorry, couldn't resist.)
Contract:
5 years, $21 million, $8 million in 2012
Key stats:
19 starts, 69 tackles, seven sacks, one interception
Ratings:
According to a very interesting study at ProFootballFocus, by adding Frostee Rucker the Browns have locked up two out of the top 15 run-stopping defensive ends in the league. This certainly bodes well for a division we've persistently insisted revolves around the run.

Concerns:

Fans may remember Rucker's well-publicized run in with the law after being drafted in the third round by Cincinnati. As long as he doesn't get himself suspended, Tom Heckert may have to echo shades of John Hart and explain; "We don't necessarily pay Frostee to have a good image."
Grade:
Heckert clearly signed Rucker cognizant of the fact that Jayme Mitchell rated nearly the most deficient in the league against the run at defensive end in 2011. I wonder if Heckert reads my column...

A-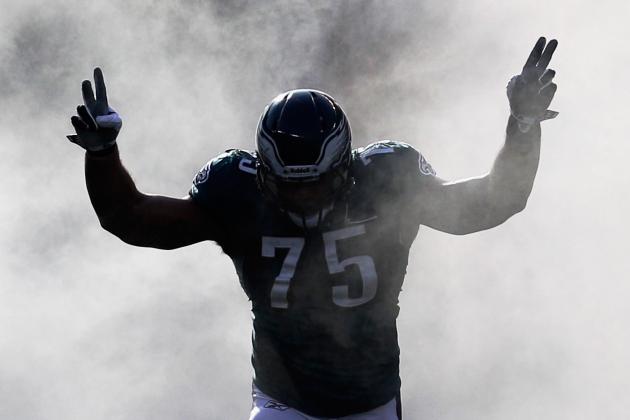 Rob Carr/Getty Images
Juqua Parker may have shut the door for Jayme Mitchell in Cleveland.
Contract:
One year, $3 million
Key stats:
46 career stats, 187 tackles, 36.5 sacks, one interception
Concerns:
Who's running this team anyway, Butch Davis? Parker committed his requisite misdemeanor in the form of a possession charge at training camp in 2009. You just can't find good pass rushers without priors these days.

Grade:
For the price of Peyton Hillis, the Browns secured the services of a 3rd down defensive end who will be 34 this season. Somewhat troubling. Parker could live up to his contract, but Hillis was custom built for the AFC North.

C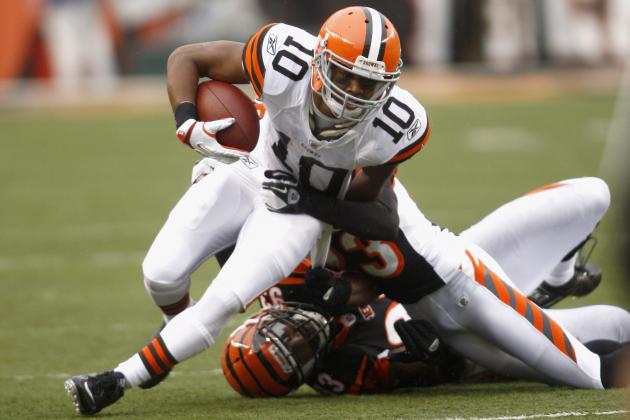 John Grieshop/Getty Images
Norwood proved he can be a piece of the puzzle in 2011.
Contract:
1 year, $465,000 base salary
Key stats:
4 starts, 23 catches, 268 yards, one touchdown

Concerns:
For less than 1% of the salary cap, Norwood could surprise fans given the opportunity.
Grade:
The price is right, and the Browns could still afford to strengthen their receiving corps through the draft. Norwood has made some tough catches and played well in his exhibition and regular season appearances. He could challenge Massaquoi and any new draft picks at receiver.
B+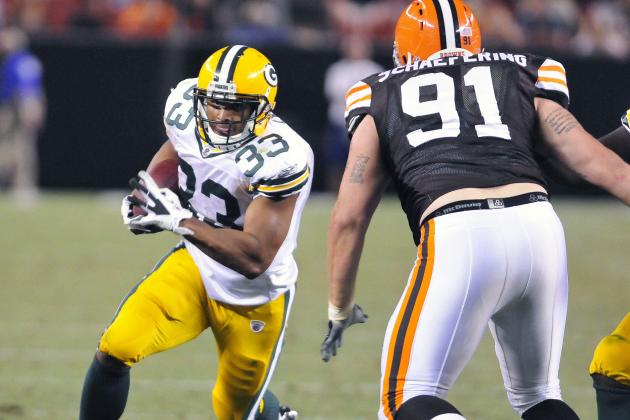 Jason Miller/Getty Images
Brian Schaefering has taken advantage of his opportunities.
Contract:
One year, $615,000 base salary
Key stats:
10 career starts, 52 tackles, 2 sacks

Concerns:
Like most of their retentions, hard to argue with depth and guys who stay healthy.
Grade:
Schaefering adds 10 career starts to the Browns' newly re-vamped defensive line. Now the Browns' defensive line features three quality players at each position.

B+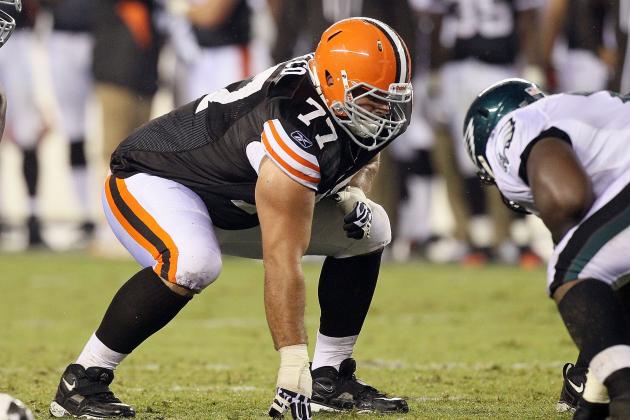 Jim McIsaac/Getty Images
Greco's role will be to provide depth to a rebuilding offensive line.
Contract:
Undisclosed

Key stats:
4 career starts, 3 sacks allowed

Concerns:
Greco could earn up to $1.5 million, the Browns could get three or four rookie offensive linemen of similar physical ability for that price. But Greco has experience, clearly made an impression on the Browns after arriving from St. Louis and has earned the favor of Pat Shurmur.

Grade:
I felt like of all the weak links in the Browns' offensive line 2011, Greco wasn't one of them. Greco provides depth, and has made the most of his opportunities in Cleveland and St. Louis- don't be surprised to see him start some games for the Browns in 2012.

B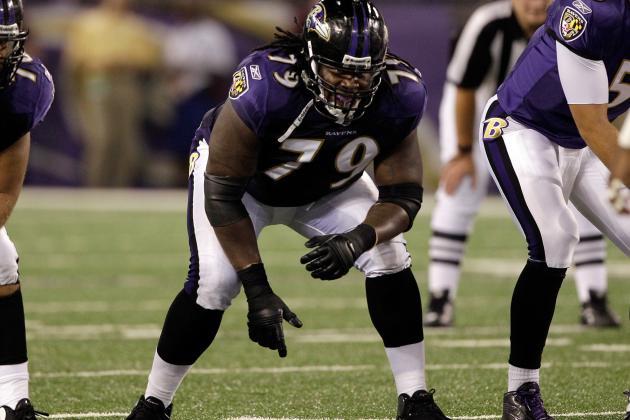 Rob Carr/Getty Images
Oniel Cousins began his career with the Browns' arch-rivals, the Baltimore Ravens.
Contract:
Undisclosed

Key stats:
5 career starts, 3 sacks allowed
Concerns:
The Browns haven't guaranteed Cousins a roster spot, so they've got nothing to lose.
Grade:
Cousins will provide depth like Greco, but the Browns cannot rely on Cousins alone to answer the question at right tackle. In Schaefering, Cousins and Greco, the Browns have ensured experienced depth on the offensive and defensive lines at bargain prices- hard to argue with.

B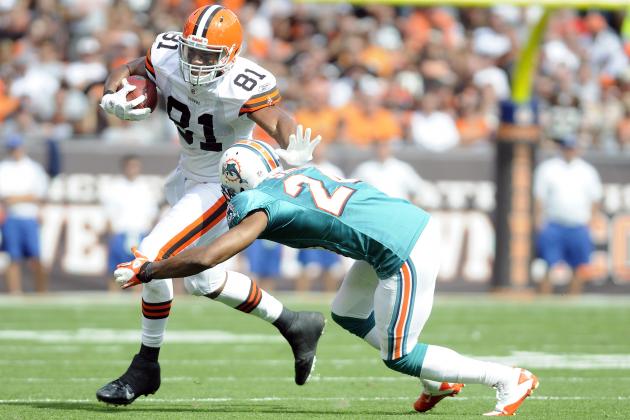 Jason Miller/Getty Images
Alex Smith provides depth and experience.
Contract:
Undisclosed

Key stats:
53 career starts, 147 catches, 1,414 yards and 12 touchdowns
Concerns:

Grade:
Though they're more than adequate pass catchers, neither Ben Watson nor Evan Moore block as effectively as Alex Smith. In a division full of quality fullbacks and blocking tight ends, Smith will contribute to the Browns significantly in tough yardage situations. Not many tight ends can play with the physicality of an offensive tackle and serve effectively as a safety valve. Alex Smith's skill set fits well with what the Browns need to do to make the playoffs.

B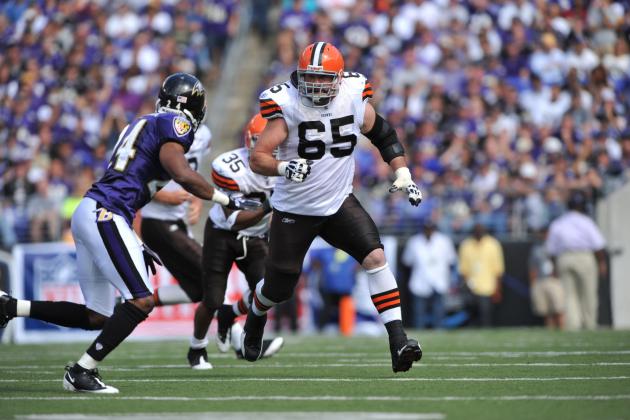 Larry French/Getty Images
Eric Steinbach had a good run as a Brown.
Building the Browns into a contending force could take the next two to three seasons, if done through the draft. Though excruciating, this method of franchise reconstruction augurs well for franchises who master the process. Consider the consistent competitiveness in Philadelphia, Pittsburgh, New England and Baltimore the path the Browns pursue, as opposed to the volatile, 6 to 9 game swings from year to year in places like Washington, where management pursues big names like the fans run the operation.

Jayme Mitchell failed to live up to expectations and no doubt will remember his time in Cleveland with frustration after being deactivated by Eric Mangini's regime, and subsequently cut under Shurmur.

Tony Pashos allegedly feels salty about his departure because he played through a torn ligament in his foot. When the Browns cut him, he learned the hard lesson that professional sports will always be a one way street. Though Pashos struggled last seasons, his story still breaks Browns fans hearts.

Eric Steinbach's equally tragic tale at least included several years of very good football from the veteran guard. Browns fans met Steinbach's arrival from Cincinnati with excitement, as their offensive line looked to have two Pro Bowl quality players in Steinbach and rookie offensive tackle Joe Thomas. Steinbach didn't disappoint and played through injury and poor team performance at a very high level with the Browns. Steinbach's contribution became even more apparent as the Browns struggled mightily without him in 2011. During his time in Cleveland, Steinbach was one of the most under-rated offensive linemen in the NFL, but after his surgery and given his large contract, the Browns had to swallow this one.

Grade:
It hurts, but I have to credit the Browns' front office for doing what they needed to do to free up cap space. Both players had great attitudes and will be missed.
A-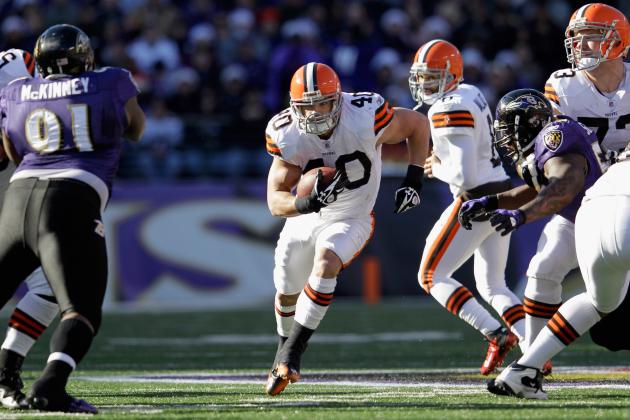 Rob Carr/Getty Images
For 14 glorious games in 2010, Hillis personified the franchise.
Of course it was too good to be true!

You thought the Browns could somehow redeem a draft bust for a Pro Bowl quality running back almost engineered for the hard knocks division in which they compete...and retain the guy?

You believed the guy when he went as far as to claim the city and the team's colors represented him, so he would stay?

You probably thought LeBron appreciated the unconditional support of Cleveland's fans.

Hillis' bizarre run with the Browns has concluded. After missing most of 2011 with various contractual ailments, Mike Holmgren and the gang in Berea had had enough. Regardless of Hillis' talent, if he hijacked another season through personal drama, it would undoubtedly cost Pat Shurmur his job.

Hillis signed for $3 million with Kansas City- the same price the Browns paid for Juqua Parker. Despite his personal issues last season, a well-paid Hillis on a one year contract would intrigue me. Let's see how he does in Kansas City- and if he does well, I promise to be right here saying, "I told you so!"

Grade:

Mike Adams outplayed his contract, and Usama Young looked good when Adams missed some games this season, making 47 tackles and an interception. Adams earned fans' respect after arriving from San Francisco in 2007, intercepting 7 passes in 32 starts. If Usama Young looked suspect, this loss would hurt far more.

B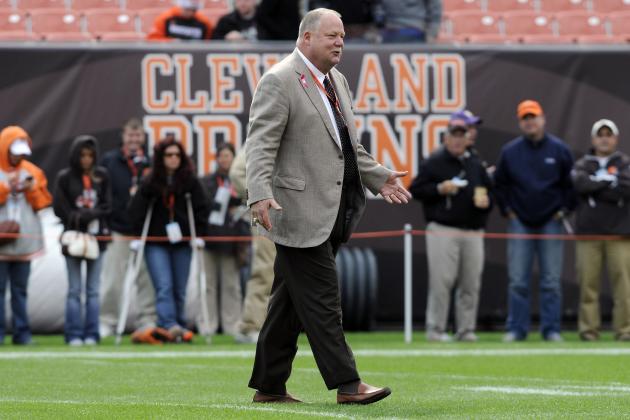 Jason Miller/Getty Images
The Browns' eggs are in Holmgren's basket.
It looks like the Browns are out of the Matt Flynn Derby. Mike Holmgren divulged this week that the Browns indeed tried to trade up to draft Robert Griffin III. Given what Washington offered and that Holmgren claims they topped it, they must have really liked something they saw in Griffin. A quarterback with running ability is of limitless value in the AFC North. Had RG3 been available to the Browns at their number four spot, it would have been a no-brainer. While I applaud aggression and loathe the idea of the Browns carrying themselves like a second-class franchise, learning from Holmgren what the Browns offered for one player in terms of their future frightens me.

Grade:
D+

Enter Matt Flynn, the free-agent-to-be analysts have hyped for two off-seasons during dead-air June broadcasts of NFL Live. Fans and pundits marveled at Flynn's pedigree as a Green Bay Packer back-up quarterback. Flynn could be the next Mark Brunell, or Matt Hasselbeck.

Or he could be the next Doug Pederson.

Mike Holmgren kind of invented that whole Green Bay QB trend, if you recall. The Browns' front office created just enough buzz to throw teams off, but correctly refrained from overpaying the unproven Flynn.

Grade:
A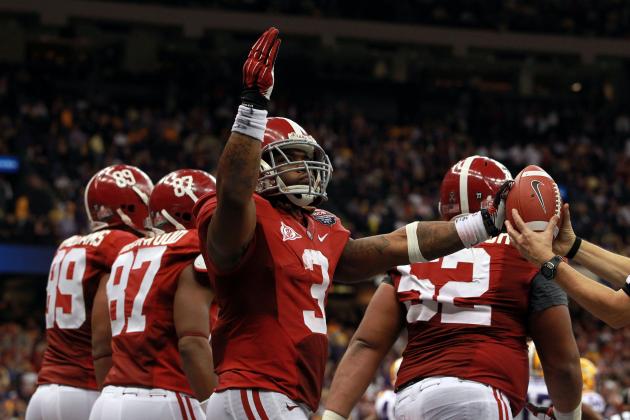 Ronald Martinez/Getty Images
Richardson a Brown in 2012?
The Browns have behaved conservatively through free agency, and that pattern may very well continue into the draft. Having lost out on Robert Griffin III and cleared cap space, the Browns could trade down their first round pick and potentially find themselves with some of those second round picks in which Tom Heckert reputes to specialize.

If the Browns pull the trigger at number four, many fans presume they will pick up Trent Richardson. Richardson could become a franchise player and if a running back ever merited a top ten selection, Richardson fits the bill.

As for the later round picks- Cousins and Greco should at the least face stiff competition, as should Shawn Lauvao. The Browns must draft a quality guard if not two, and find a permanent answer at right tackle. At receiver Norwood and Cribbs suffice as role players, but I would be disappointed if the Browns failed to draft someone capable of displacing Massaquoi.

Additionally, the Browns still need help at outside linebacker. Even if they've decided to commit to Fujita as their guy for 2012, the Browns should approach the OLB position in the draft the same way they addressed DE in free agency. By taking a two-pronged approach, the Browns can test out a pass-rushing OLB or a run-stopping OLB from the second, third and/or fourth rounds and hedge their bets.