Mike D'Antoni Resigns from the Knicks: Was It the Right Choice?
March 16, 2012

Stephen Dunn/Getty Images
Mike D'Antoni has resigned as the head coach of the New York Knicks.  D'Antoni appeared to be at odds with Knicks star player, Carmelo Anthony. 
The resignation, which some believe to have been forced onto D'Antoni by Knicks officials, comes after plenty of speculation about his job security all season long. 
D'Antoni's departure from the team was long overdue.  Clashes with Anthony, lack of motivation, and apparently no attention to defense were problems that D'Antoni's coaching style were unable to overcome without a player like Steve Nash in control of the offense. 
By quitting now, D'Antoni is getting out of coaching what is perceived to be a very good team, but one that comes with some major flaws.  If D'Antoni were to have failed in the playoffs with this group of talent, his entire coaching system would have come into question. 
By resigning early, D'Antoni retains his image as an offensive genius, while giving himself the opportunity to get a new job with a team looking to revamp their offense, allowing him to acquire players that fit his offense. 
The last head coach of the Knicks to leave with a winning record was Jeff Van Gundy.  Van Gundy resigned when the Knicks were 10-9.  They went on to have eight losing seasons after that. 
Some argue that Van Gundy saw what was ahead and took the chance to flee before his coaching reputation went down the drain.
Could this be what D'Antoni was trying to achieve as well?
Maybe he was smart and saw failure ahead like Van Gundy did, after a brutal 2-8 stretch the team had just endured.  Or maybe he was wrong, evidenced by the performance the team displayed beating the Trail Blazers by 42 points hours after his resignation.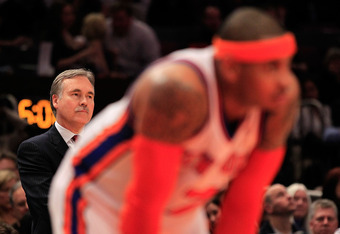 Chris Trotman/Getty Images
The Knicks have the talent to be a very good team.  The problem with the team is a lack of defensive intensity and exhibiting a cohesive offense. 
When the Knicks went on their winning streak upon Jeremy Lin's arrival to the starting line-up, they were performing better on the defensive end of the court.  In order to win in the NBA, you need to be solid defensively, something the Knicks were not under most of their time with D'Antoni as head coach. 
Mike Woodson has been named as interim head coach for the remainder of the season.  Woodson was brought in during the off-season as an assistant coach, mainly to be in charge of teaching defense. 
If Woodson can impart more of a defensive mindset while installed as head coach, there may be a chance for the Knicks to make the playoff run that the world was predicting when Linsanity was taking off. 
If Woodson's first game as head coach is any indication, the Knicks held the opposition to a mere 79 points, the Knicks could be a force to be reckoned with. 
In Wednesday's victory, the team seemed to be making the statement that they are happy to be rid of D'Antoni. 
However, the chances of this actually happening are slim.  Woodson was the head man of the Atlanta Hawks for six years, a very talented team at the time, but didn't experience much postseason success, never reaching the conference finals. 
Jeremy Lin will likely be at odds with Woodson's run-and-gun style of offense, as he seems to strongly prefer a pick-and-roll style offense that was a big part of D'Antoni's system.
The quest for next year's head coach is currently underway.  Phil Jackson is the fan favorite.  With 11 NBA championships to his coaching credit, he is at the top of any list of coaches.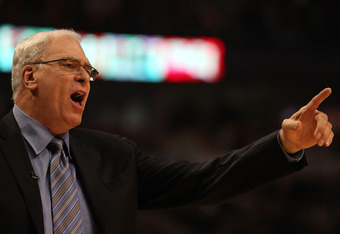 Jonathan Daniel/Getty Images
Jackson, who is a former player for the Knicks, would be a great fit.  Jackson's coaching strategies would also help the Knicks' offensively. 
By installing the triangle offense, Jackson would take the ball out of Anthony's hands and keep him from constantly trying to take on his defender one-on-one, instead of passing the ball. 
These methods proved successful with great scorers in Chicago and Los Angeles in Michael Jordan and Kobe Bryant, respectively.  Jackson's trademark triangle offense would help the flow of the offense, without making his top scorer any less of a threat. 
D'Antoni may have picked the wrong time to resign if Jackson becomes the next coach and leads the Knicks to a championship. 
In this scenario, D'Antoni's name will be thought of in the same light as Doug Collins and Del Harris, former head coaches of the Bulls and Lakers before Jackson took over: good coaches who were unable to lead their talented teams to the top.
However, Jackson is not likely to take over the Knicks unless he thinks they are a championship contender.  As of now, that is simply not the case. 
Beyond Jackson, there are plenty of names on the list.  New York has always been able to attract the biggest stars, so naturally the list is filled with a host of successful coaches. 
The Knicks are a team with all the weapons they could ask for on offense.  Therefore, their best bet for a coach going forward is a defensive-minded coach who is able to control the large egos that inhabit New York.   
As coach, D'Antoni experienced problems fitting Carmelo Anthony into his offensive system, as well as the team as a whole.  If D'Antoni were to continue down this path, his "offensive genius" mind as Jeremy Lin once called it, would come into question. 
The great coaches are all able to fit their teams into their systems or make crucial adjustments if they don't have the personnel to fit them.  It appeared as if D'Antoni wasn't able to accomplish this, and could be said to have led to his downfall in New York.