Chael Sonnen Calls Rampage Jackson a Crybaby, but Not a Cheat
March 16, 2012

Chael Sonnen has called Quinton "Rampage" Jackson a crybaby for whimpering about the supposed arduous fights the UFC has been assigning him, according to ESPN.
 "I like him, but look, he's a crybaby," Sonnen told MMA Uncensored. "I find it entertaining. I like it when he goes on his campaigns about entitlement and how he should be given easy fights.

"I don't agree with any of it, but, you've got to understand, everybody's going to stumble, at times.

"But to miss weight at a fight poorly, when you're paid what he's paid - he's the second highest paid fighter in the industry now that Brock Lesnar is retired - it kind of puts him in a different ballpark.

"A lot of things are expected of him and he's not quite delivering. But as far as retirement talk, the guy ought to be able to have a bad performance here and there. Randy Couture, the greatest of all time, had bad performances, but he always came back."
Following his unanimous decision loss to Ryan Bader at UFC 144, the former light heavyweight titlist has gone on a rampage (no pun intended), criticising the Zuffa-based hierarchy for his recent spate of defeats and everything else in between.
First, Rampage (32-10 MMA, 7-4 UFC) tweeted he was discontented with the status quo of the company and thus would be leaving the firm after his next fight.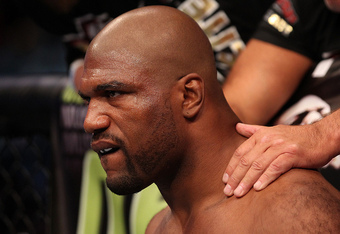 He then upped the ante by tweeting he could compete in better fights elsewhere, and as a result, requested that the firm release him from his existing contract. In addition, Rampage took a swipe at Joe Silva, saying the matchmaker should be "shot in the face."
That said, the former PRIDE combatant is set to honor the aforesaid contract (one last fight) and is scheduled to take a bow when he faces off against Mauricio "Shogun" Rua.
However, before that fight can materialize, Rampage will have to undergo minor surgery on both of his knees, which suggests his next and final outing for the UFC could transpire sometime later this year.
Though Uncle Chael thinks the 33-year-old Memphis native comes across as a whiner, he was quick to point out that he doesn't believe Rampage is a cheater, apropos his use of TRT (Testosterone Replacement Therapy), which Rampage admitted using prior to his bout with Bader.
There's two things there. If you're going to associate the guy with TRT, make sure you also associate the fact that it's legal and it's not banned.

Second thing with TRT is people are really getting confused. They look at TRT and they're missing the stuff that really is good. TRT is eight, nine or ten on the list of things they could take to help their careers.

Secondly, any time a person says 'performance enhancer,' stop talking to them, because they don't have the intellect to debate with you.
For additional information, follow Nedu Obi on Twitter.