2012 NFL Free Agency: One Signing Every Team Still Must Make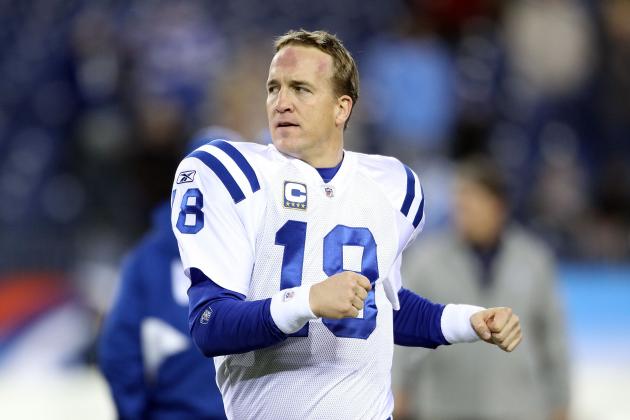 Andy Lyons/Getty Images

Even though the NFL is almost a week into the 2012 free-agency period, there are still plenty of moves that teams need to make before the 2012 NFL draft.
With the top players like Vincent Jackson, Brandon Carr and Carl Nicks off the market, the second-tier players are now starting to get looks.
Today we'll let you know which player each team still needs to sign in order to contend in 2012.
Begin Slideshow

»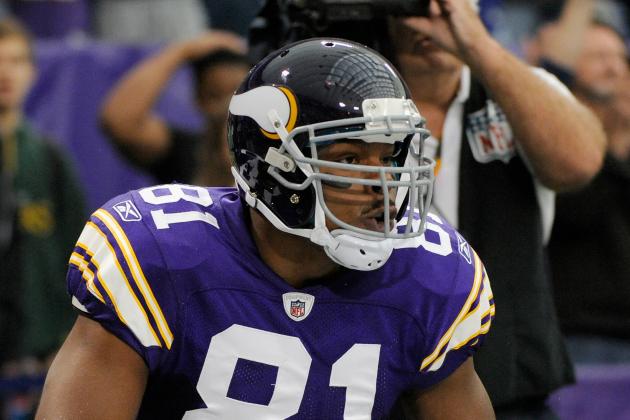 Hannah Foslien/Getty Images

With the Indianapolis Colts likely to be without Dallas Clark and Jacob Tamme for the 2012 season, there is a big hole on the roster at the tight end position.
While Visanthe Shiancoe might not be the biggest-named free-agent tight end, he is one of the more talented ones. Remember, Shiancoe is only two years removed from posting double digits in touchdowns.
Teaming a red-zone threat like Shiancoe with rookie quarterback Andrew Luck is a necessary move for the Colts. Young quarterbacks need a player they can trust when they get close to the end zone and Shiancoe could definitely be that player for Indianapolis.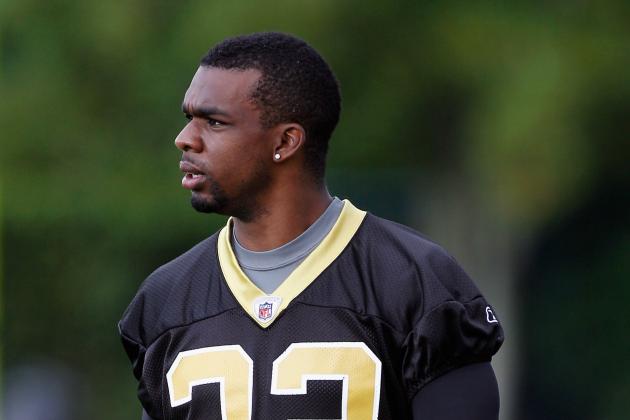 Chris Graythen/Getty Images

The signing of Johnathan Joseph in 2011 proved to be the best move the Houston Texans have made in a long time. Joseph instantly improved an awful secondary, actually giving the Texans one of the better units in the league.
If Houston wants to continue moving in the right direction, adding a talented cornerback opposite Joseph would be a wise move. A player like Tracy Porter who is experienced and still relatively young seems like a perfect fit.
In fact, the tandem of Joseph and Porter would make Houston one of the tougher teams in the NFL to throw the ball against.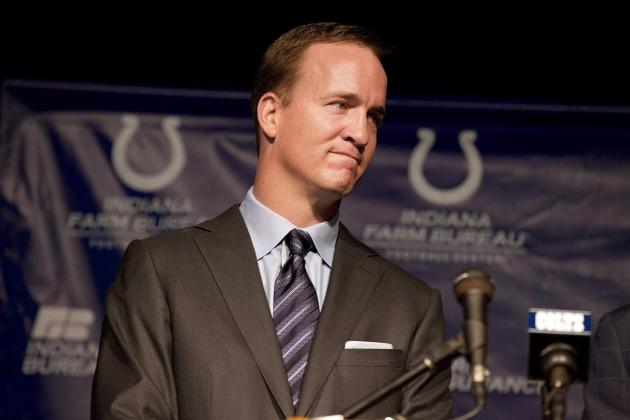 Joey Foley/Getty Images

Peyton Manning joining the Tennessee Titans would be the ideal situation for a team that struggled in 2011. Not only would Manning be a huge upgrade over Matt Hasselbeck, but the Titans would also have the greatest possible mentor for Jake Locker.
Teaming with offensive players like Chris Johnson and Kenny Britt must be a tempting offer for Manning. His addition to Tennessee would make the Titans the team to beat in the AFC South.
Add to that the opportunity to play his old team twice a year and Tennessee has a great chance to bring Manning home.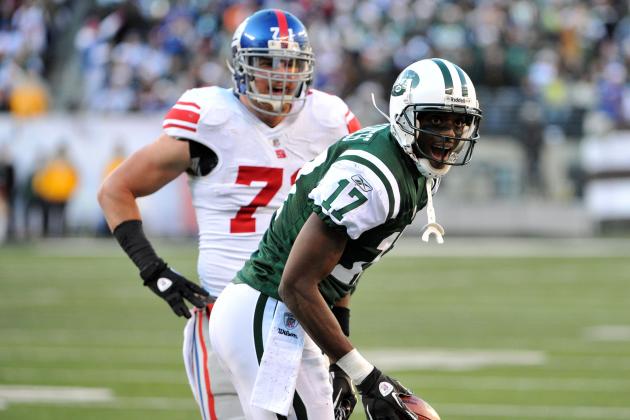 Christopher Pasatieri/Getty Images

The Jacksonville Jaguars gave Laurent Robinson a $32.5 million contract to become their No. 1 receiver. While you may not believe Robinson has the talent to be a team's top receiver, Jacksonville clearly does.
Even with signing Robinson, the Jaguars need to continue to add weapons for the development of Blaine Gabbert. A player like Plaxico Burress would be an ideal fit. He's a tall possession receiver who excels in the red zone.
Burress' character issues are a concern for a young locker room, but Jacksonville needs receivers bad and Burress would be an instant upgrade for this roster.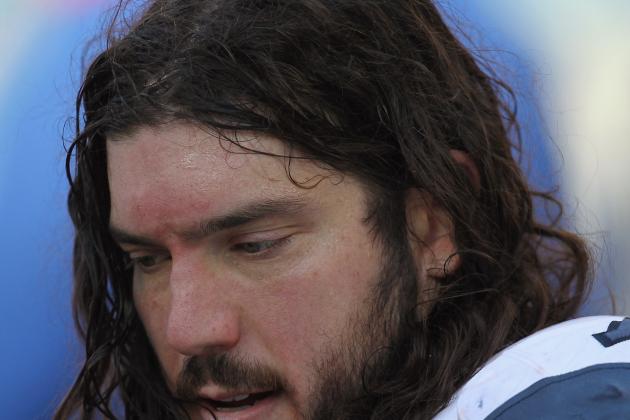 Jonathan Daniel/Getty Images

Before re-signing John Abraham, the Atlanta Falcons were looking hard at defensive ends. Now that defensive end has been addressed, the Falcons need to turn their attention to their offensive line.
With big names like Carl Nicks and Ben Grubbs already off the market, an experienced player like Robert Galley makes sense for Atlanta. He is a physical player who loves getting into open space and hitting defensive players. His versatility to play a few positions across the line would also be a huge plus for Atlanta.
With a run-oriented offense like the Falcons run, Gallery would be a nice upgrade across that offensive line.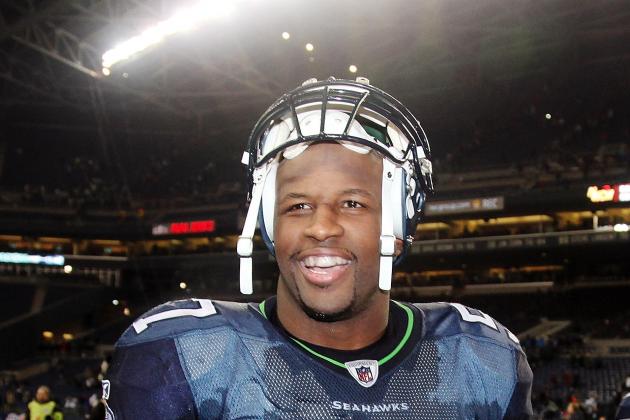 Otto Greule Jr/Getty Images

David Hawthorne is a name that has been on the New Orleans Saints' radar and he even visited the team this past Friday.
With major question marks to the linebacker corps in New Orleans, a young player like Hawthorne would be the best move they could make. His ability to play either inside or outside linebacker would open up some possibilities for New Orleans' defense.
The futures of Jonathan Vilma and Will Herring are still undecided for the Saints, so adding Hawthorne seems likely and needs to happen.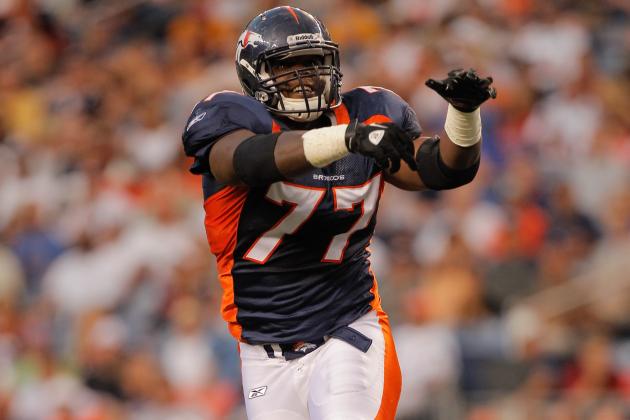 Justin Edmonds/Getty Images

One position that the Carolina Panthers drastically need to improve is their defensive line—specifically their defensive tackles. While they'll like address this need through the draft with a player like Michael Brockers of LSU or Devon Still from Penn State, they should also bring in an experience free agent for depth.
Brodrick Bunkley, who previously played with the Denver Broncos, is an extremely underrated free agent. He's a perfect fit for the 4-3 defense that Carolina runs and his ability to play against the run and pass would instantly make the Panthers a much better team.
If the Panthers do add Bunkley, they could even use their first-round pick to add a talented receiver for Cam Newton and make their offense all the better.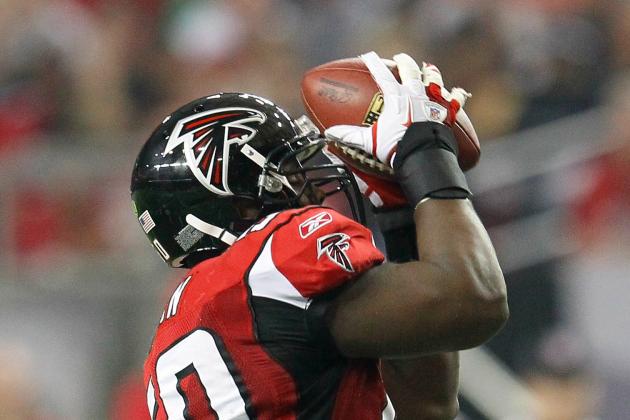 Kevin C. Cox/Getty Images

Few teams were as big of a mess as the Tampa Bay Buccaneers on defense during 2011 and their lack of leadership was the main reason why.
Adding a talented and vocal leader like Curtis Lofton would be another impressive move for the Buccaneers. While Tampa Bay already has a young middle linebacker in Mason Foster, both Foster and Lofton are versatile enough to play together.
Tampa Bay has already added big-name free agents like Vincent Jackson and Carl Nicks.
Adding Lofton would make the NFC South an interesting division in 2012.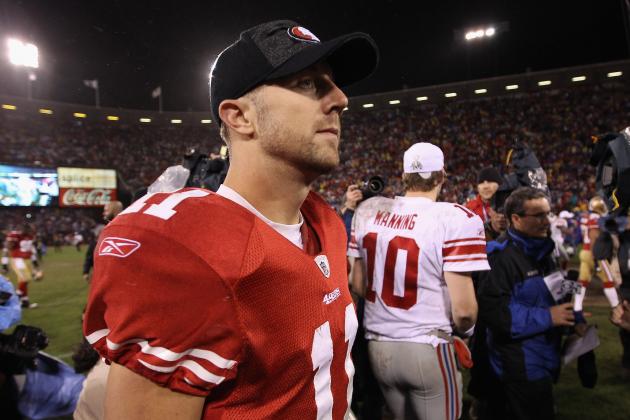 Ezra Shaw/Getty Images

With two first-round picks in the 2012 NFL draft, the Cleveland Browns have an opportunity to greatly improve their roster. If the Browns could also add a quarterback like Alex Smith via free agency, they would have the potential to be a playoff team.
While Smith may not be as sought after as Peyton Manning or Matt Flynn, Smith improved greatly in 2011. He got back his confidence by leading the San Francisco 49ers to the NFC Championship Game and would be the perfect game-manager for Cleveland.
Smith would give the Browns the chance to win games, something that has been difficult in recent years.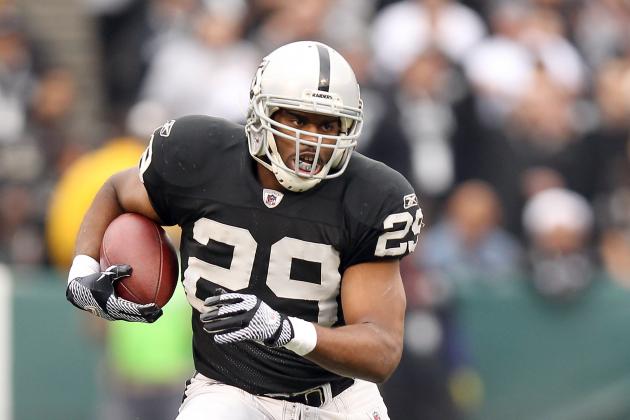 Ezra Shaw/Getty Images

With Cedric Benson unlikely to return to the Cincinnati Bengals in 2012, they'll need to find a competent running back to team with Andy Dalton and A.J. Green.
Michael Bush could be the exact player that the Bengals need. When Darren McFadden went down with an injury, Bush stepped in and was extremely impressive over the last half of the season. In fact, he was a huge reason why the Raiders were in playoff contention right up until Week 17.
The one thing that Bush has never done in his career is carry a full load of carries for a full season. However, if the Bengals can add a running back with one of the their two first-round draft picks, that would relieve the pressure on Bush and provide a solid one-two punch.
Al Bello/Getty Images

Losing a player like Ben Grubbs was a major hit for the Baltimore Ravens and replacing him needs to be the top priority for the Ravens.
The problem for Baltimore is that after Grubbs and Carl Nicks, the offensive guard position really goes downhill. However, Jake Scott—who spent the last four years with the Tennessee Titans—is they type of hard-nosed football player that the Ravens love.
He wouldn't be the long-term answer for Baltimore, but would be a great fit until the Ravens can develop his replacement.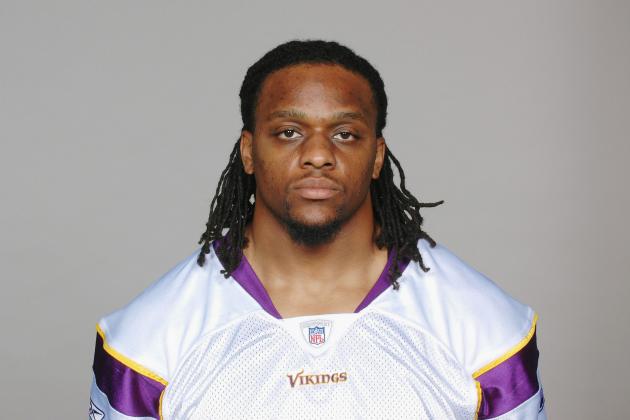 Handout/Getty Images

The Pittsburgh Steelers decided to not re-sign James Farrior, so they'll likely be searching for his replacement via free agency.
What a player like E.J. Henderson would bring to the Steelers would be huge. He isn't the youngest free agent out there at 31 years of age, but the Steelers tend to like grabbing experienced players.
Henderson's ability to roam the middle of the field and make plays against the run and the pass would fit beautifully with Pittsburgh's defense. We've seen players appear to get better once their join the Steelers and Henderson might be the next in line to do so.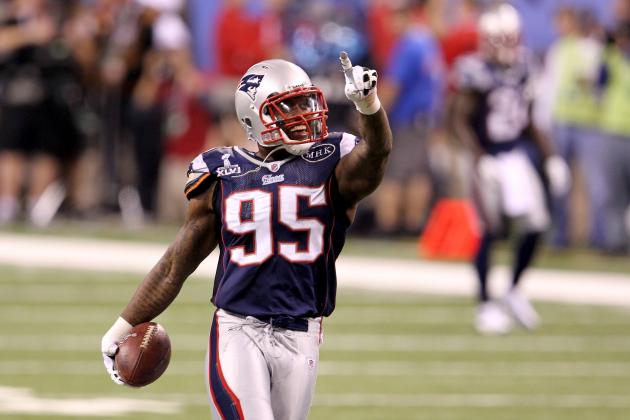 Andy Lyons/Getty Images

With Mario Williams getting signed by the Buffalo Bills last week, Mark Anderson may be the next defensive lineman to get a huge deal. Anderson is coming off a career year which saw him record 10 sacks during the regular season.
With Mike Neal being suspended the first four games of 2012 and C.J. Wilson and Ryan Pickett being rather ineffective in 2011, the Green Bay Packers desperately need to add a pass-rushing lineman to their roster.
With Anderson's versatility and familiarity with the 3-4 defense, he would seem to be the perfect fit for the Packers. The only problem might be his price tag, but if Green Bay wants him bad enough, they'll figure out how to make it happen.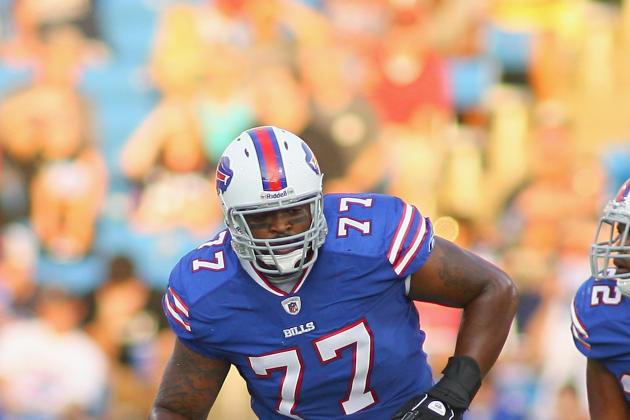 Rick Stewart/Getty Images

Even though the Detroit Lions brought back left tackle Jeff Backus, I still think they'll be looking to improve this position across their offensive line.
Demetrius Bell is younger and is coming off a decent season for the Buffalo Bills. He isn't the most physical or athletic left tackle, but with Backus entering the 2012 season at 35 years old, Bell could fight for a starting spot and be a valuable piece of insurance in case of injury.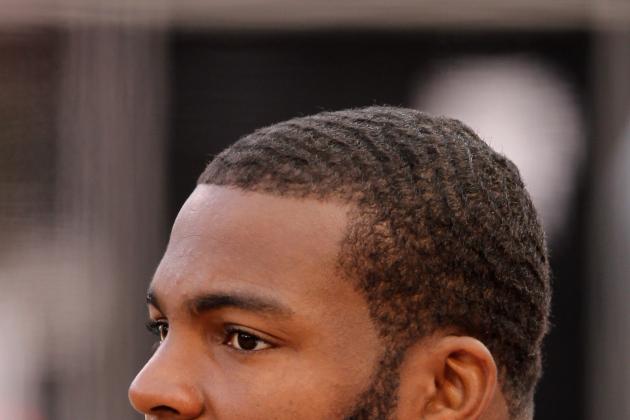 Ezra Shaw/Getty Images

The Minnesota Vikings need to do everything within their power to surround Christian Ponder with talented wide receivers.
Even though the experiment with Braylon Edwards with the San Francisco 49ers was a complete disaster, Edwards is still young and talented enough to make an impact in this league. With Percy Harvin and Kyle Rudolph as the likely top targets for Ponder, all Edwards would have to do for Minnesota is provide consistent production as a third or fourth option.
If Edwards can't do that, then it's time for him to hang up the cleats.
Handout/Getty Images

With the Chicago Bears trading for a top receiver in Brandon Marshall, they've already had an extremely productive offseason. Jay Cutler has been waiting for an elite receiver since joining the Bears and these two played well together for the Denver Broncos.
Chicago still needs to improve their secondary, and signing a talented player like LaRon Landry would have to make the Bears the favorite in the NFC North (yes, even over the Green Bay Packers).
Landry has simply been fantastic during his career with the Washington Redskins, as he is one of the most proficient safeties in the game.
Landry will likely have plenty of suitors. But a place like Chicago would have a lot to offer him, especially along the lines of being a legitimate Super Bowl contender.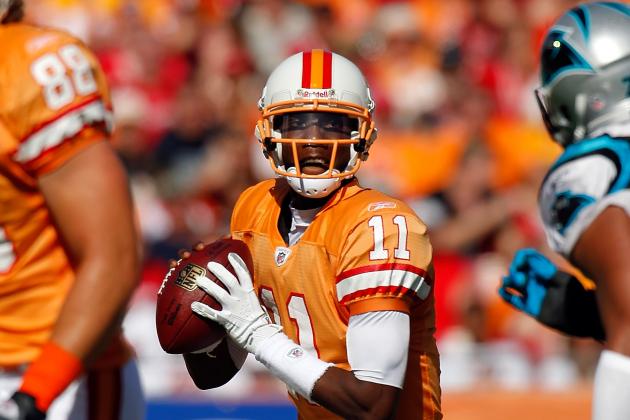 J. Meric/Getty Images

The Miami Dolphins desperately need an upgrade at quarterback. With the team missing out on Matt Flynn and probably Peyton Manning, they'll need to look elsewhere for their 2012 starting quarterback.
They really only have two options. The first option would be drafting a quarterback like Ryan Tannehill, Kirk Cousins or Brandon Weeden to lead the team in 2012.
The other option would be to sign a free agent like Josh Johnson and see what he can do. Johnson is an athletic quarterback who has shown brief flashes of brilliance during his time with the Tampa Bay Buccaneers.
It's possible that Johnson would flop, but I still believe he is a better option than starting a rookie quarterback in 2012.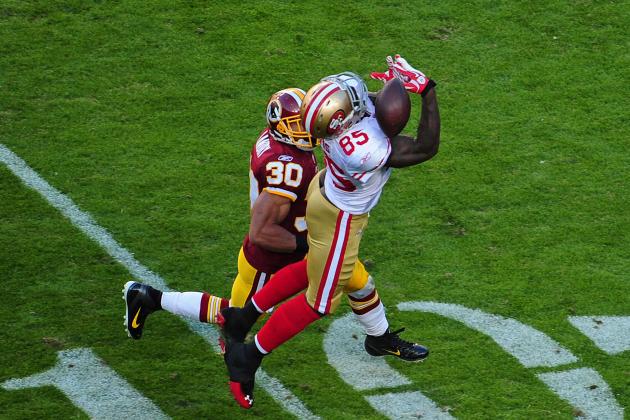 Scott Cunningham/Getty Images

The New England Patriots got their receiver when they signed Brandon Lloyd. Now they need to address their secondary.
We've already talked about how talented LaRon Landry is and he'd be a perfect fit for the Patriots' defense. He's athletic, versatile and knows how to make plays all over the field.
In fact, New England hasn't had a safety like Landry since Rodney Harrison was roaming the middle of the field for them. If the Patriots do indeed add Landry, they'll easily be the preseason favorites to represent the AFC in the Super Bowl.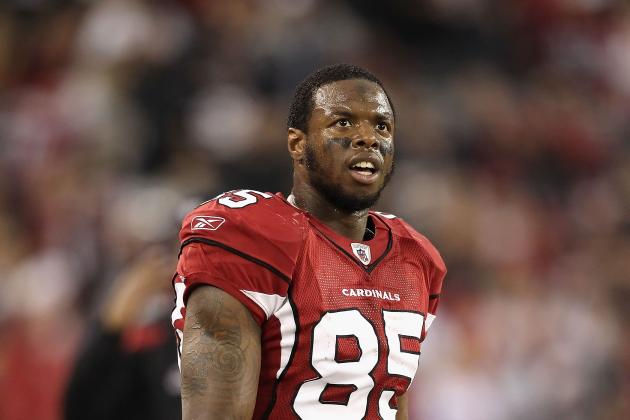 Christian Petersen/Getty Images

Early Doucet is coming off his most productive season in the NFL and the New York Jets need to add a receiver to play alongside Santonio Holmes.
While Doucet clearly isn't talented enough to be a No. 1 receiver for a team, he definitely has the ability to be a solid second option for a quarterback. He's a physical receiver who has the ability to make plays after the catch.
He's also a solid all-around individual which is exactly what the Jets need right now.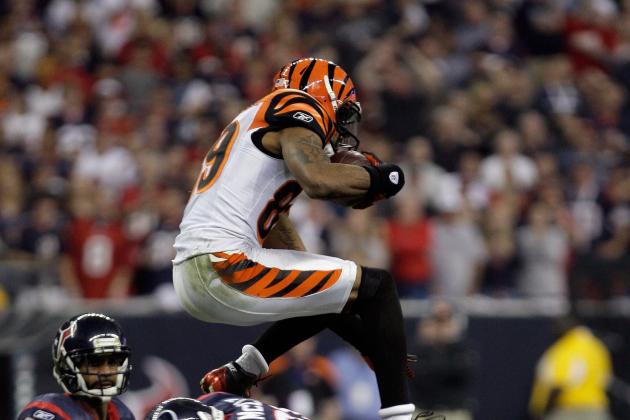 Thomas B. Shea/Getty Images

After signing Stevie Johnson to a five-year contract, the Buffalo Bills still need to find him a sidekick.
An athletic receiver like Jerome Simpson might be the perfect fit for Buffalo. He is a young receiver who showed extremely capable when forced to be a premier receiver when A.J. Green was injured. His 50 receptions for 725 yards and four touchdowns in 2011 prove that he is ready to make a bigger impact in 2012.
Pairing Simpson with Johnson would give the Bills a difficult one-two punch to defend for teams in the AFC East.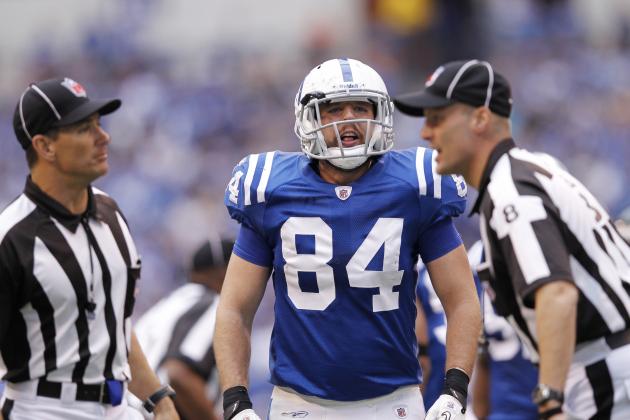 Joe Robbins/Getty Images

Losing tight end Martellus Bennett to the New York Giants was a big loss for the Dallas Cowboys. They now need to replace him with a player who can compliment Jason Witten.
When Dallas Clark was injured for the Indianapolis Colts, Jacob Tamme stepped in and played beautifully. While he may not be "elite" starting material, he is a solid player who can contribute every single game.
Adding another weapon to quarterback Tony Romo's arsenal would make Dallas a scary team in 2012.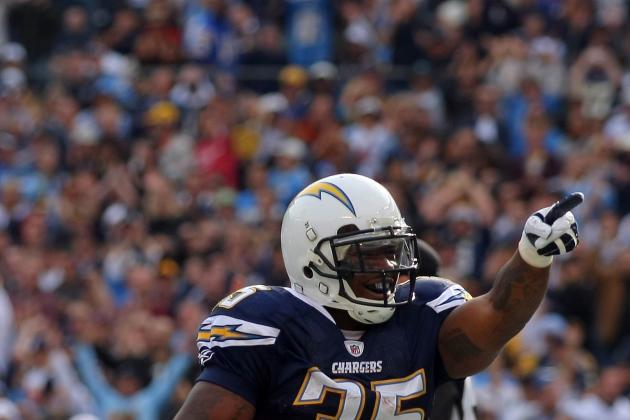 Donald Miralle/Getty Images

With Brandon Jacobs hitting the free-agent market in 2011, the New York Giants need to find a replacement to compliment Ahmad Bradshaw.
With Bradshaw's speed, a player like Mike Tolbert would be the ideal signing for New York. He's a powerful runner who doesn't turn the ball over and is extremely difficult to slow down near the goal line.
The tandem of Bradshaw and Tolbert would be a scary situation for every other team in the NFL.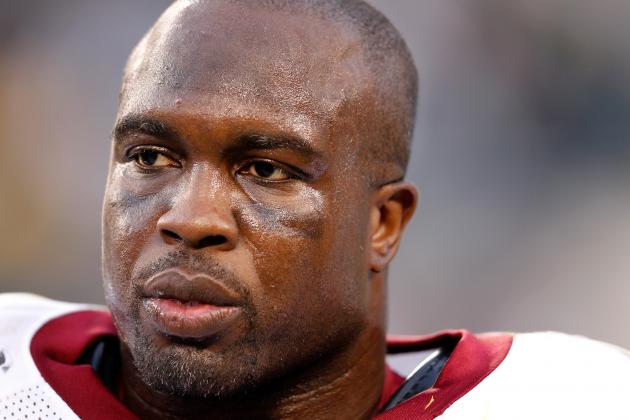 Rob Carr/Getty Images

The Washington Redskins need to do everything in their power to re-sign London Fletcher. It simply needs to happen.
There isn't a more underrated player than Fletcher in the NFL right now. All he does is produce incredible season after incredible season, but he never gets the recognition he deserves. While he has been voted to the past three Pro Bowls, that isn't enough for a player as good as Fletcher.
Fletcher is the leader of Washington's defense and if they really want to compete defensively in 2012, they need to bring him back.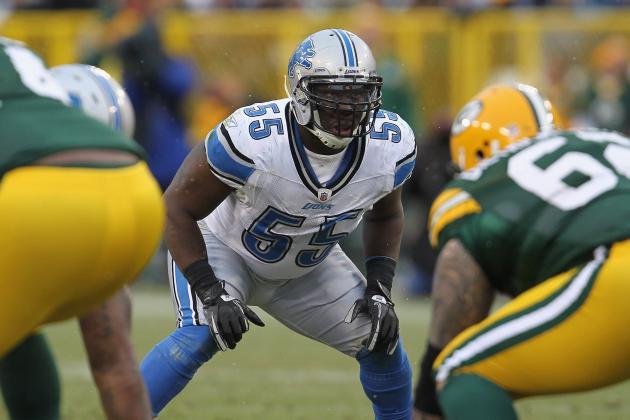 Jonathan Daniel/Getty Images

What the Philadelphia Eagles desperately need is a tackling machine at middle linebacker. Stephen Tulloch fits that description perfectly.
Tulloch has been one of the most valuable players on the Detroit Lions' defense for the past few seasons and he would be an instant upgrade over any linebacker currently on Philadelphia's roster.
While the Eagles could look to draft a middle linebacker like Luke Kuechly, it's possible that he will be gone before Philadelphia picks with the 15th pick. Instead of trading up for Kuechly, the Eagles would be wise to go after a proven player like Tulloch.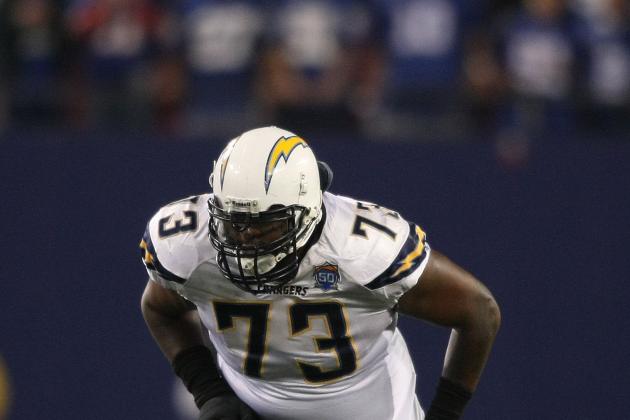 Nick Laham/Getty Images

The Kansas City Chiefs have holes across their entire offensive line and need to address this need rather quickly.
With the Chiefs loving the ground game, a big-bodied offensive tackle like Marcus McNeill would be a great signing for them. Standing at 6' 7" and 336-pounds, McNeill has the strength to be extremely effective moving defensive lineman off the line of scrimmage.
Even if the Chiefs sign McNeill, they'll likely look to add another offensive lineman early in the 2012 NFL draft.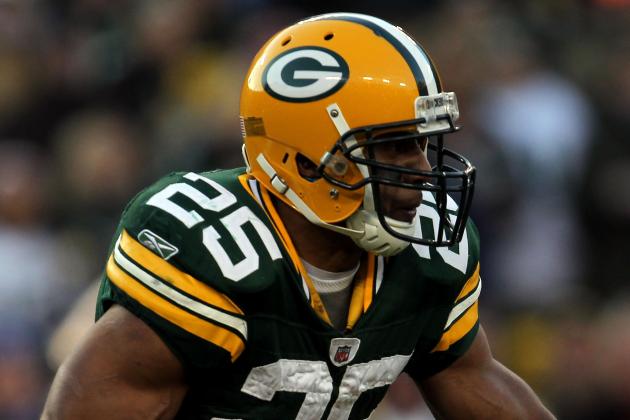 Jonathan Daniel/Getty Images

Considering the major liability that Darren McFadden is at succumbing to injuries, the Oakland Raiders need to find an insurance policy in case McFadden once again gets hit with the injury bug.
Ryan Grant should be that player. While he may not be capable of being an every-down back these days, he can still be a solid contributor. He may not be as explosive as he was three years ago, but he can still make plays in both the run and pass game.
Hopefully, McFadden doesn't get injured in 2012 because he is one of the most enjoyable players to watch when he's on the field. However, it would still be wise for Oakland to have some insurance for a worst case scenario.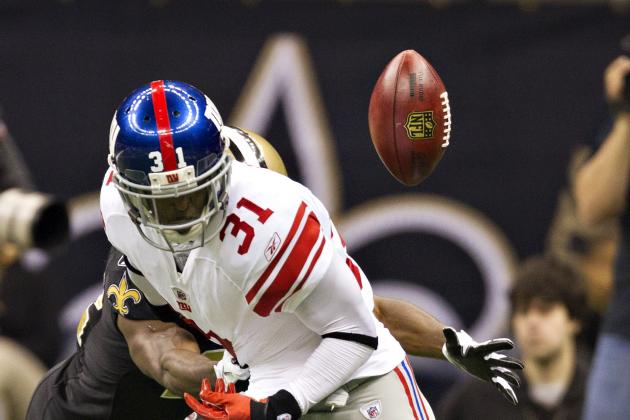 Wesley Hitt/Getty Images

The San Diego Chargers boast a rather solid roster without many holes. However, they still have some room for improvement in their secondary.
Enter Aaron Ross, who is coming off a career season for the New York Giants. The biggest issue with Ross has been injuries, but when he is on the field, he is a talented cornerback. He has the ability to succeed in both man and zone coverage and can make plays once the ball is in his hands.
Adding Ross would make San Diego an extremely complete team heading into 2012.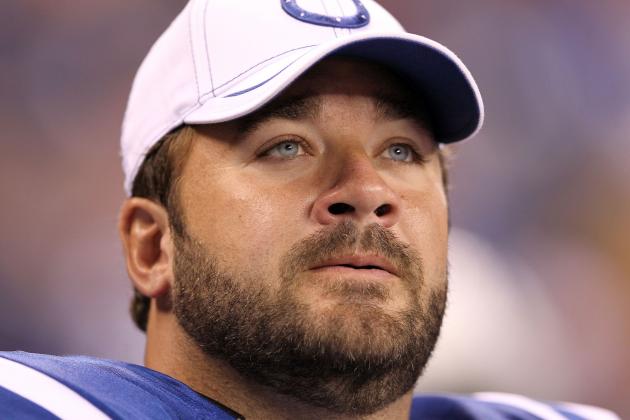 Andy Lyons/Getty Images

Look, there is no doubt that Jeff Saturday is old (36 to be exact), but age is something you want from a starting center. Age generally means experience and experience is exactly what Saturday would bring to the Denver Broncos.
Plus, if the Broncos sign Saturday, they will be able to show Peyton Manning a familiar face to attempt to persuade him to come to Denver.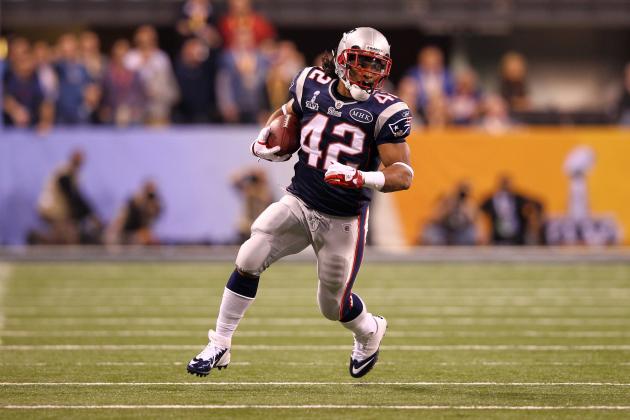 Al Bello/Getty Images

As good and talented as Steven Jackson is, he has only played in every game of a regular season twice in his eight-year career. Simply put, the St. Louis Rams need to find a capable running back.
BenJarvus Green-Ellis came out of nowhere to be productive for the New England Patriots. While he would likely enjoy a starting job, that simply won't happen. He'd be wise to join a young team where he could still see plenty of action.
The Rams would also be wise to sign Green-Ellis to help alleviate some of the load that Jackson carries on his shoulders.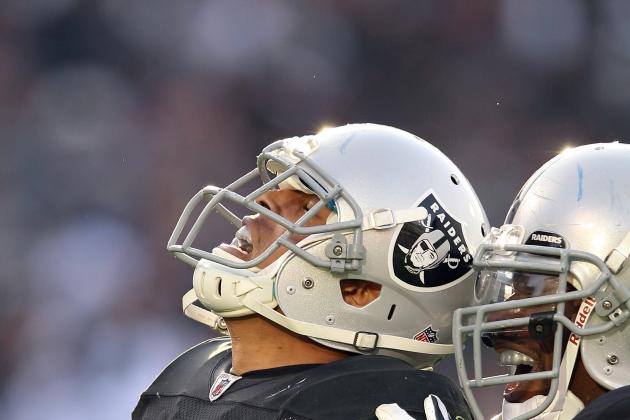 Ezra Shaw/Getty Images

The Arizona Cardinals desperately need help at outside linebacker and Kamerion Wimbley is the best available player at that position.
With Joey Porter being old and unproductive, it's time for Arizona to move on from him. While Wimbley isn't quite as explosive off the edge as Porter, he still brings quite a bit to the table.
His 42.5 career sacks show that he can get after the quarterback. But Wimbley is also a talented defender against the run and in coverage. He's the type of player that can help a defense in many different ways.
Arizona might only be a piece or two away from being a playoff team and Wimbley is one of those pieces.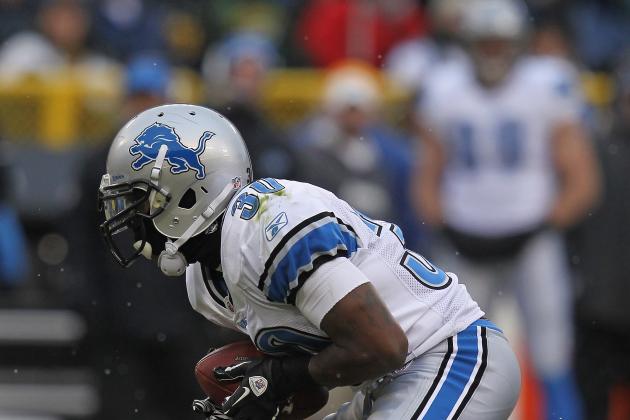 Jonathan Daniel/Getty Images

Kevin Smith has been riddled with injuries during. He now appears to simply be a backup running back in the NFL.
With Marshawn Lynch signed for the long haul, the Seattle Seahawks could use a versatile running back like Smith on their roster. Where Lynch runs with intense power, Smith is more of a finesse and speed back who can also make an impact in the screen game.
With Lynch, Matt Flynn, Sidney Rice and a talented defense, the Seahawks could become a sleeper pick for a deep playoff run if they add a talent like Smith.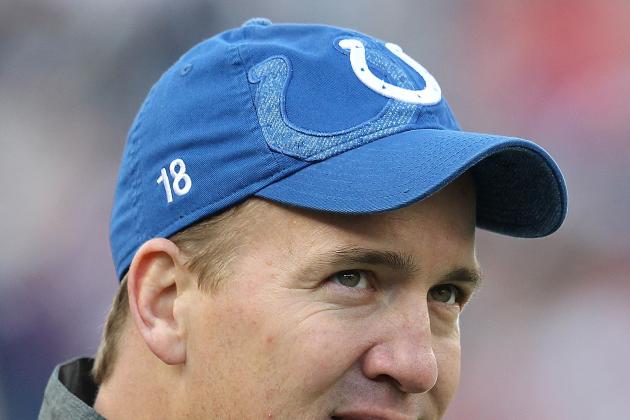 Jim Rogash/Getty Images

Look, I'm a fan of Alex Smith. But the choice between Smith and Peyton Manning is a rather easy one.
With Smith at the helm, the San Francisco 49ers will have an incredible defense with a decent offense. However, with Manning, the 49ers will have an incredible defense with an equally incredible offense. Forget NFC Championship Games, we are talking Super Bowl lock for the next three years.
Sorry Alex, but it's the truth. If it wasn't true, San Francisco wouldn't be pursuing Manning.