Borussia Dortmund: Top 10 All Time Club Legends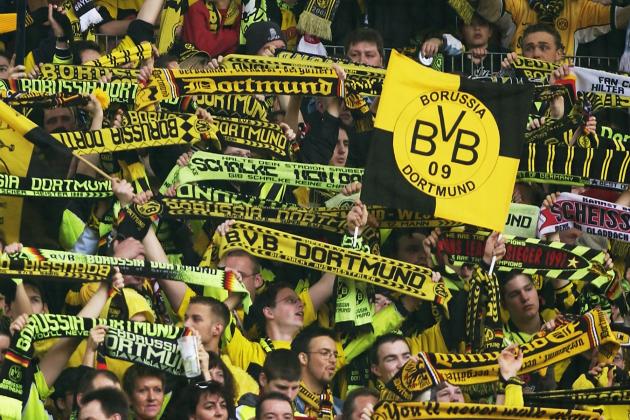 Stuart Franklin/Getty Images

Borussia Dortmund, current holders of the German Bundesliga title are on course to retain it for a second consecutive season.
Jürgen Klopp's current crop of young stars are being touted as one of the best sides that has ever been assembled by the German club.
But this club has experienced success in the past—particularly the "Golden Generation" of the mid-nineties, to which so many comparisons with today's team are being drawn.
Here's a look at the top ten all time BVB stars that have helped bring success to Dortmund over the years—and who, for their loyal fans, will always be legends.
Begin Slideshow

»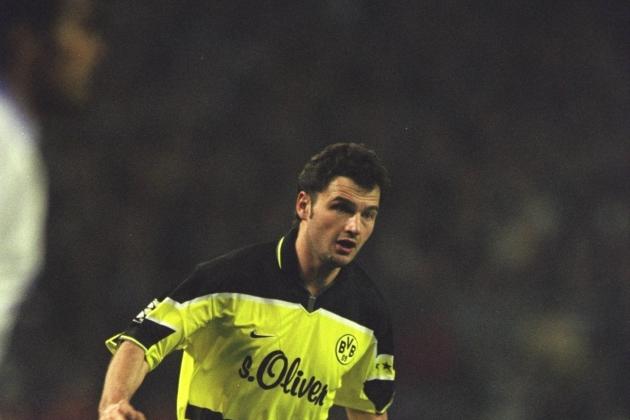 Stu Forster/Getty Images

This Swiss striker played 228 games for Dortmund during most of the 1990s, scoring an impressive 106 goals along the way.
Scoring 20 in his first season, Chapuisat went on to secure back-to-back league titles with BVB, as well as winning the Champions League in that famous victory over Juventus in 1997.
An important figure for his national side, Chapuisat also made 103 appearances for Switzerland, netting 21 times in his 15 years representing his country.
In 2003, he was voted Switzerland's most outstanding player of the last 50 years.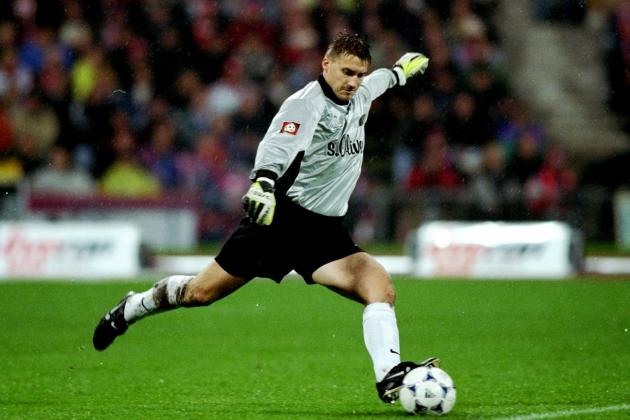 Gary M. Prior/Getty Images

Stefan Klos spent his entire 17-year career playing for just two clubs.
The first of these was Dortmund, where he played over 350 games during the span of eight years as the undisputed starting goalkeeper for much of that period.
Klos was also part of the team that won back-to-back Bundesliga titles in the 1994-1995 and 1995-1996 seasons, and played every single game of the Champions League winning 1996-1997 campaign.
After leaving Dortmund, Klos moved to Glasgow Rangers, playing a further 300 games and winning nine major Scottish titles.
He was later inducted into the Rangers' hall of fame.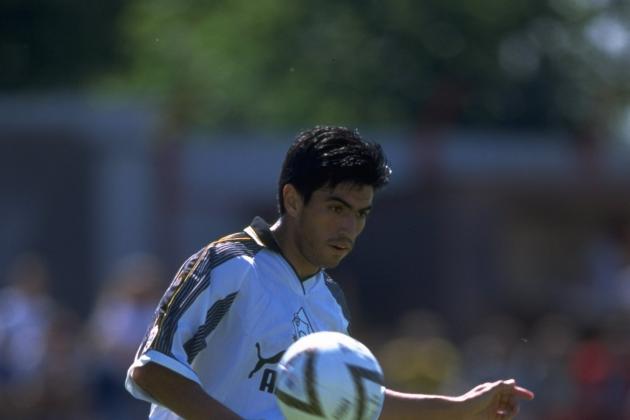 Shaun Botterill/Getty Images

As well as winning consecutive titles, Riedle also played a key role in BVB's Champions League win.
He scored the first two goals against a strong Juventus side that included players such as Zinedine Zidane and Alessandro Del Piero.
Known as "Air" Riedle for his aerial prowess, he also made over 40 appearances for Germany, winning the World Cup in 1990.
He went on to finish his 18-year career in England, playing for both Liverpool and Fulham before retiring in 2001.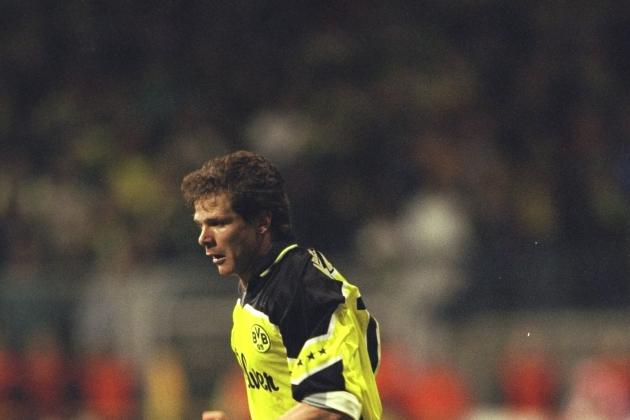 Ben Radford/Getty Images

The playmaker had two spells with Borussia Dortmund, making a total of 228 league appearances.
Yet another member of the "Golden Generation" of the '90s, Möller managed to add great success at international level to the titles he won with Dortmund.
He was part of the German side that won both the 1990 World Cup and the 1996 European Championship. Möller also represented his country at three other major international championships.
However, he will not be so fondly remembered by Dortmund fans for leaving BVB to join bitter rivals Schalke 04 in 2000, but the part he played in their team's success in the 1990's should help to gloss over this "error of judgement".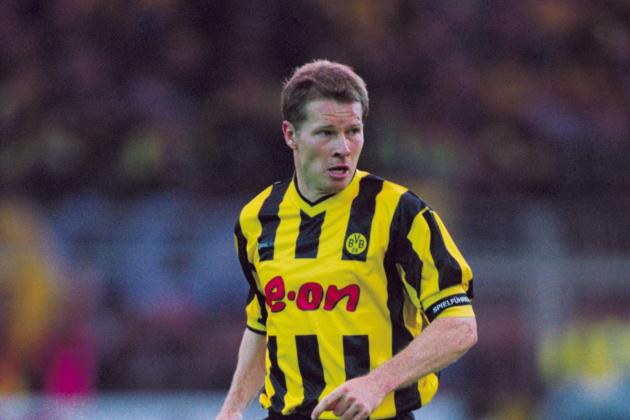 Stuart Franklin/Getty Images

Having already played for Nuremberg, Bayern Munich and Juventus, Reuter moved to Borussia Dortmund in 1992, going on to make 307 Bundesliga appearances over the next 12 years.
This gives him the distinction of having made the second-most appearances ever for BVB.
In addition to this, he will be remembered by Dortmund fans for helping to secure no fewer than seven major club titles.
Part of the same Germany teams as Andreas Möller that won the Italia '90 World Cup and Euro '96, Reuter's shelves would be groaning under the weight of 12 major national and international trophies by the end of his 20-year professional career in 2004.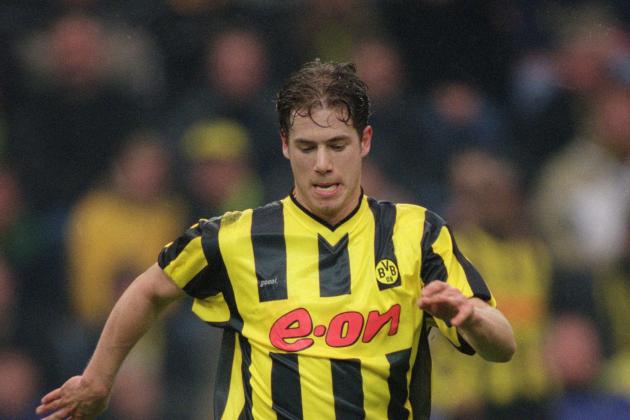 Stuart Franklin/Getty Images

This Dortmund native spent his entire 15-year career at his home town club, a feat rarely seen in the modern game.
Even though he was hampered by injury, he achieved legendary status by scoring Dortmund's other goal in their 3-1 Champions League win against Juventus.
That he did this just :16 seconds after coming on as a substitute makes his feat even more memorable.
As well as his Champions League winner's medal, Ricken won the Bunsedliga three times and was a runner-up in the UEFA Cup.
Due to his frequent injuries, he only made 16 appearances for Germany. However, his loyalty and involvement in the most successful period in Dortmund's recent history will ensure his legendary status at the club.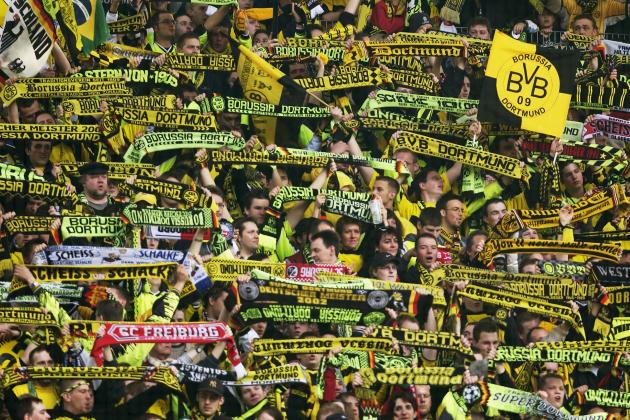 Stuart Franklin/Getty Images

Manfred Burgsmüller deserves a place on this list due to the fact that he is Dortmund's top goal scorer in the Bundesliga.
He netted a very impressive 135 goals from 224 league appearances during his seven-year career with BVB. All the more amazing when you consider that he was playing as a midfielder.
Burgsmüller never managed to win a major honour whilst playing for BVB, but his goal tally cements his place in the club's history books.
He is also due some recognition for his longevity as a professional athlete, retiring in 1990 at the age of 41, after a 22-year playing career.
But he wasn't finished yet.
In 1996 he began a six-year stint as a kicker for the NFL Europa team Rhein Fire, winning two World Bowls.
He holds the record as the oldest-ever professional American Football player, last playing when he was 52.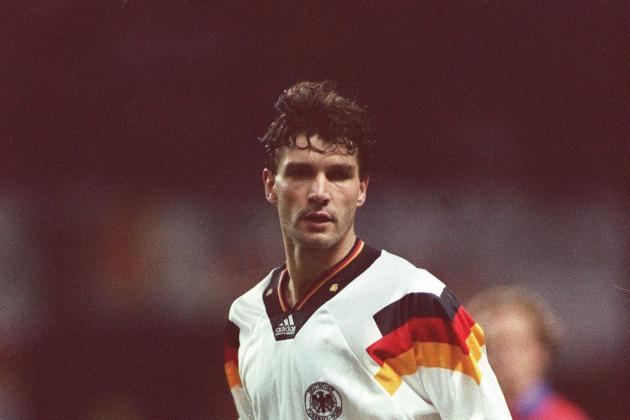 Chris Cole/Getty Images

Another Borussia Dortmund record holder, Michael Zorc has made more appearances for the club than any other player.
Another one club man, Zorc notched up almost 600 appearances for BVB 1981 and 1998. The team captain, and an excellent penalty taker, he scored 155 goals in this time.
Although never successful on the international stage, his playing career saw him win the Champions League, back-to-back Bundesliga titles, the DFB-Pokal cup and the Intercontinental Cup.
Still a fan favourite, he was again involved with the club as they won the Bundesliga last season, this time as general manager.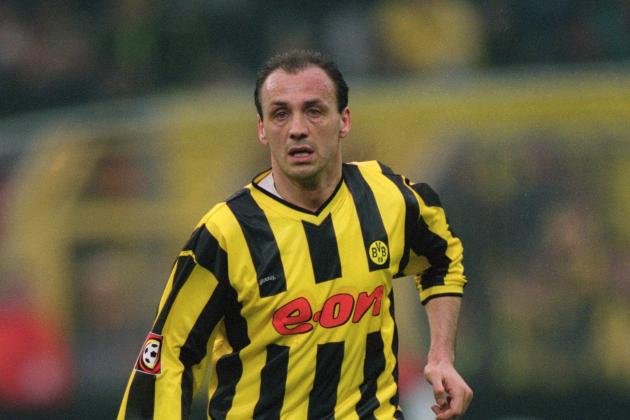 Stuart Franklin/Getty Images

An outstanding centre back, Kohler was capped by his country 105 times, winning the World Cup in 1990 and the European Championship in 1996 alongside Reuter and Möller.
Kohler signed for Dortmund in 1995, remaining at the club until retiring from professional football seven years later.
During this time he won four major club trophies, in addition to four others he had previously won in both Germany and Italy.
Despite his success, his career ended in a rather negative fashion, being sent off in his last ever game as Dortmund lost the UEFA Cup final.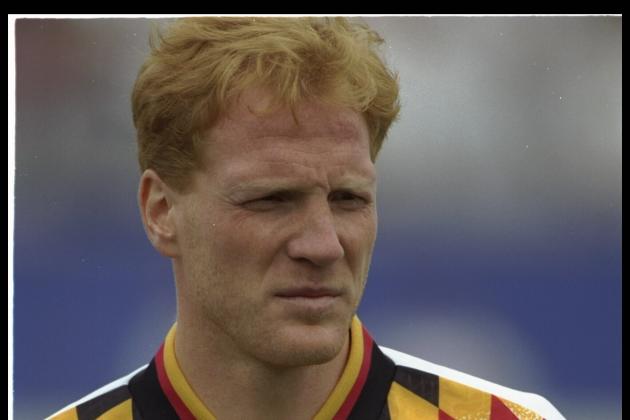 David Cannon/Getty Images

Sammer joined Borussia Dortmund from Inter Milan in 1993.
In 1996 he capped off those tremendous consecutive Bundesliga titles by being named the European Footballer of the Year and winning the European Championship with Germany.
He then went on to win the Champions League with Dortmund the following season.
In 2000, two years after retiring due to injury, he became Dortmund's manager. He then led them to another Bundesliga title and reached the UEFA Cup final in 2002.
He is currently employed as the technical director of the German FA and works closely with national team coach Joachim Löw.
With his success at international and club level, as well as being the only Dortmund player to have won the Ballon d'Or, Matthais Sammer truly deserves to head up this list of past Borussia Dortmund greats.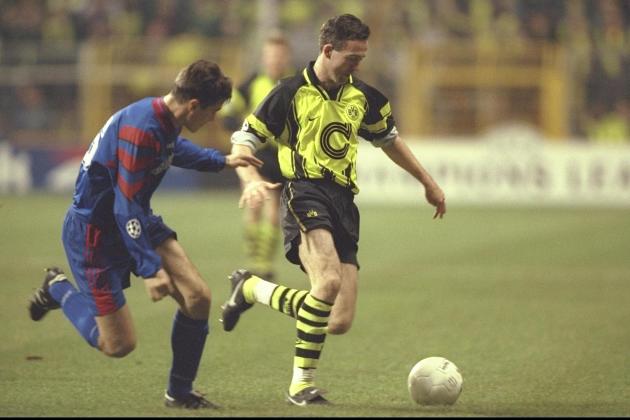 Ben Radford/Getty Images

Paul Lambert
As a Norwich City fan I just had to include Paul Lambert.
Not without good reason though.
He was also part of Dortmund's Champions League winning team, still renowned by Dortmund fans for marking Zidane out of the final.
After leaving Dortmund after just one season, Lambert moved to Celtic, where he amassed four Scottish Premier League titles and three cups under the management of Martin O'Neill.
O'Neill's influence must have rubbed off on Lambert who is currently manager of Norwich City, having guided them to Premier League status after two successive promotions.
Jan Koller
The physically imposing striker played for Dortmund between 2001 and 2006.
During his time there he won a Bundesliga title in 2002.
He has also played 91 times for the Czech Republic and is that country's all-time leading goal scorer.
Jens Lehmann
Although also having won the Bundesliga title with Dortmund in 2002, Jens Lehmann's reputation with the club is tarnished by a poor disciplinary record and inconsistent performances.
He was, however, successful elsewhere.
Lehmann won the Premier League with Arsenal, Serie A with AC Milan and the UEFA Cup with Schalke as well as the UEFA Goalkeeper of the Year award twice.