Jared Sullinger: 5 Reasons Top Prospect Will Succeed in NBA
March 16, 2012

Jared Wickerham/Getty Images
Ohio State's Jared Sullinger is a phenomenal NBA prospect, and he will shine at the next level.
While every player comes with some weaknesses, Sullinger's list of strengths far outweighs his shortcomings and will ultimately lead to his name being called before the first five picks have passed in the next NBA draft.
The only thing that could stop that from happening is if he chooses to return to school for another year, as he did last year.
Since there won't be an NBA lockout this year, it's fair to assume that he, along with other stars who returned last season, will make the leap to his career as a basketball player.
The NBA team that drafts him will have fallen in love with his burgeoning skill-set and sky-high potential. Here's what they'll see.
Legit Post Game
The NBA has suffered in recent times from a lack of players coming into the league who actually like playing with their back to the basket. Too often, big guys get drafted to play in the post, but turn out trying to reinvent the power forward position.
News flash: unless you're Dirk Nowitzki, you're not going to.
NBA teams are jam-packed with guys who have a mid-range game and perimeter shooting skills. They really don't need their power forward to jack up three to four triples every game.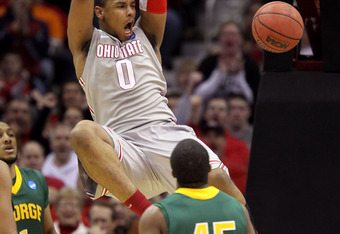 Andy Lyons/Getty Images
Sullinger is not that guy. While he does possess a bit of those shooting abilities (and we'll get to that), his bag is working on the block and driving opponents into their own basket before finishing with either power or finesse.
His soft hands around the rim have provided him a fantastic jump hook. Meanwhile, his frame and considerable athleticism allow him to body up and work deep into the paint for easy lay-ins.
He possesses a number of post moves, most often working through the drop step and spin move.
Frame
At only 6'9", some may question this as a strength of his while projecting him to the NBA.
While it is clearly not an advantage, it is also not a disadvantage. There are plenty of power forwards succeeding in the NBA today that are around the same height, such as David Lee, Antawn Jamison and Paul Millsap, to name a few. And there are many more.
His frame advantage lies in his weight, where he is listed at roughly 280 pounds. None of those other forwards are listed above 250 pounds.
Using that thick body, he can easily out-muscle many players, simply pushing them aside.
Sullingers upper-body strength is largely unrivaled in college basketball right now, and he often goes right through defenders to get to the rim. This leads to plenty of fouls against him, where he converts at a rate of 76 percent.
Nothing special at the line, but also not a detriment to a team. That means a team can leave him in the game late in the fourth quarter without worrying about him being fouled.
Facing Up and Shooting
Sullinger can and will improve at his ability to face up defenders and knock down jump shots. As of now, he's not terrible.
While he generally doesn't look to turn on opponents, he is comfortable if he catches the ball away from the basket and faces up early. Once he has the ball with his back to the basket, he won't look to face up, and that's something he can improve on. Tim Duncan made it an art form, and Sullinger would do well to improve that aspect of his game.
Another thing about Sullinger is that while he has the ability to shoot jumpers, including college-range threes, he doesn't force the issue. He understands his role as a big man, and embraces it. He wants to be a banger in the post, not one of these Euro forwards who too often look to shoot from deep.
Big men who rely on perimeter offensive abilities really hurt their teams in terms of offensive rebounding, as they provide one less big body under the basket to grab missed shots.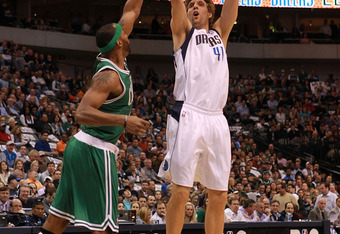 Ronald Martinez/Getty Images
Sullinger averages about one three-point shot per game and hits them at a rate of 41 percent. Luckily, his success shooting the three-ball this year has not led to an outburst of him chucking up ill-advised threes.
High Basketball IQ
Sullinger understands the post game, and knows that positioning is all-important when looking to go to work down low.
Of course, many people know that.
But Sullinger shows it on the floor, routinely getting deep into the paint before catching the ball and converting for an easy two.
When the competition slips up for even a second, Sullinger is there to make the opponent pay, putting his body in a place where you simply won't be able to stop him, barring a hard foul.
Aggressiveness
Though he gets blocked more than you would expect, it doesn't matter nearly as much as when other players get blocked. Sullinger routinely recovers his own misses and simply takes it up again.
He displays incredible hustle every night, and nobody is frowning at that. Offensive rebounds are one of the most glorified hustle stats, and he excels in this area.
In his last five outings, Sullinger has 48 rebounds, 18 of them offensive. That extra three offensive possessions per game can be the difference between winning and losing.
NBA scouts know that.