Lakers Rumors: Latest Buzz Surrounding Free Agents L.A. Could Sign
March 16, 2012

Chris Chambers/Getty Images
The summer of 2012 will produce one of the deepest classes of NBA free agents and the Los Angeles Lakers. While it may be too early to plan for the future, the Los Angeles Lakers will be picking at the bone to get their hands on some of the offseason's treasures.
Headlining this list of top free agents is New Jersey Nets point guard Deron Williams, who holds a player option in his contract next season. While the Lakers have already addressed their point guard troubles this season with a trade for Cleveland Cavaliers point guard Ramon Sessions, the opportunity to sign an elite player like Williams is very tempting for a Lakers team that is home to some of the biggest stars.
It's a little early to catch wind of rumors as to where players will lean toward signing next season but we do know one thing: Williams wants to be a free agent. Star players have tendencies to sign with contending teams in big markets and where better to meet both expectations than under the bright lights of L.A.? Just imagine for a second the combination of Williams, Kobe Bryant, Andrew Bynum and possibly Pau Gasol on the floor together. Pure harmony from backcourt to frontcourt.
On the other hand, there's another young star up for grabs and it just so happens to be Linsanity himself. Jeremy Lin is an unrestricted free agent next season and all the drama in New York with head coach Mike D'Antoni resigning and questions of Carmelo Anthony coexisting with Lin may be distracting for a newly discovered star. Lin's price would obviously surpass his small contract with the Knicks considering he'll be a hot commodity in 2012 and he certainly fits the bill in a younger quicker point guard.
The Lakers freed up a lot of cap space with the recent trades they made and one of their biggest priorities will be keeping Bynum in purple and gold. Bynum's contract is for a team option in 2012 and if the Lakers can keep Bynum then the core of players already with the team will attract interested free agents. Williams and Lin will most likely be interested in a contender and the right price in a team next season. The Lakers could easily come up with both by the end of the season no matter what happens at the end of this season.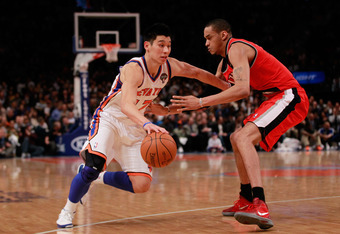 Chris Trotman/Getty Images
Minnesota Timberwolves forward Michael Beasley is another player that could sign in 2012 with Los Angeles. The Lakers expressed interest in Beasley during the trade deadline and a trade was so close to happening. Beasley is a restricted free agent this summer but if the Timberwolves were so willing to give him up this season there's no reason to believe they won't allow another team to snatch him up next season. Beasley is a versatile player who can slip in and play power forward or small forward. The Lakers wouldn't need such a plethora of forwards on the roster if Beasley came their way.
All in all, the summer of 2012 will be a huge stepping stone for the Lakers as they attempt to pump back some youth and even more star power into the organization. So many quality players will be looking for new homes and even if the Lakers don't land the big ticket signings, the depth of players available will allow them to find value in a player who could be underestimated.
To see a copy of the 2012 free agents list yourself fee free to visit the page here courtesy of Hoopsworld.com