Knicks Rumors: Why Reducing Jeremy Lin's Role Is the Right Move
March 16, 2012

Jonathan Daniel/Getty Images
The status of Jeremy Lin's young career has suddenly taken a new trajectory.
With Mike D'Antoni resigning as coach earlier this week, there's a new philosophy being instilled by interim coach Mike Woodson.
Woodson has indicated that Carmelo Anthony and Amar'e Stoudemire will be the players the team looks to in "crunch" time, surely conveying that Lin's role will take a hit in the process. 
And it appears that Lin's role is going to be reduced more than in just "crunch" time. The new trajectory of the Knicks looks like it will feature the team "leaning on its stars" more.
While Lin may be a star in the media, he's yet to be considered a star in the Knicks' locker room.
Apparently, the Knicks want to utilize Anthony and Stoudemire more, and use Lin more in a set up role, likely causing Lin to not be as creative on the floor. 
In the team's first game under Woodson, Lin only recorded six points, six assists and a lofty, but somewhat characteristic, six turnovers.
The Knicks won by 42 points, perhaps conveying to Woodson that the team doesn't need Lin's production as much as everybody thinks.
While a reduced role for Linsanity may not be what the fans desire, it's actually a good move for the Knicks.
Lin proved he's more than capable of playing in this league, but he's been around for over a month and teams are beginning to figure out ways to defend him.
Therefore, cutting back his role and, in turn, "leaning" on Anthony and Stoudemire is now a smart maneuver for the Knicks.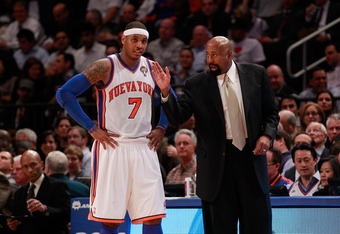 Chris Trotman/Getty Images
The New York offense simply has too many players who desire to create and take shots.
Anthony and Stoudemire are obvious, but guys like J.R. Smith, Baron Davis, Iman Shumpert, Landry Fields and even Steve Novak aren't trigger shy on the offensive end.
All of this offensive aggression can actually end up causing problems, because it takes a toll on team chemistry and leads to a selfish, one-on-one style of play.
For the Knicks to successfully move past the Mike D'Antoni era, they must adopt two things: 1) more chemistry and patience on offense and 2) defense.
The second is more important than the first, but for the sake of Lin, the first is more influential.
Someone on the team needs to accept a reduced role so the "top dogs" can step to the forefront of this team. Lin has had a good ride for the past month or so, but his weaknesses are being exposed and he's not in a position (he's essentially a rookie to playing in the league) to lead a team.
In the month of March, Lin is shooting under 40 percent and he continues to turn the ball over at an alarming rate. It's safe to say that teams are figuring out how to defend him, and the Knicks would be wise to put a limit on his role.
Mike Woodson appears to be completely aware of this, which is promising for the Knicks' playoff chances.
Lin still has a bright future ahead of him, and he by all means deserves to be in the league. But, now is the time for him to take a backseat to the veteran players the Knicks brought in to drive them towards glory.
And quite frankly, this is what Anthony and Stoudemire need.
Both have taken heaps of criticism this year (particularly Anthony), and they need the challenge of being put in the driver's seat to serve as a challenge and motivation.
Melo and Amar'e are recognized as elite players and now they must prove it, and in the process, Lin must be willing to step aside and hand them the reins.
Like it or not, it's the best move for the Knicks.