Murray State vs. Marquette: Game Time, TV Schedule, Spread Info and Predictions
March 16, 2012
Chris Trotman/Getty Images
Murray State and Marquette will battle for a spot in the Sweet 16 on Saturday afternoon. Both teams are coming off comfortable opening-round victories, which should set up a terrific Round of 32 clash.
The Racers endured a shaky first half against Colorado State before taking control after the break en route to a 17-point win. They should feel great about the game because it's hard to imagine the Racers playing much worse, but they still managed to advance with relative ease.
Marquette torched BYU for 49 first-half points to build a sizable lead and then put it in cruise control for the second half. Four players scored at least 10 points, further illustrating the Golden Eagles' depth. They'll need to spread it around in what's setting up to be a close game on Saturday.
Where: KFC Yum! Center in Louisville, Ky.
When: Saturday, March 17 at 5:15 p.m. ET
Watch: CBS
Listen: WNBS 103.7 FM (Murray State) or ESPN Radio 540 AM (Marquette)
Betting Line: Marquette -4.5
Key Injuries (via USA Today)
Murray State: No injuries to report
Marquette: Chris Otule (out, knee)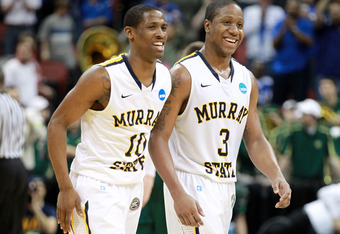 Andy Lyons/Getty Images
What's At Stake?
The NCAA tournament is plain and simple. Whoever wins will advance to the next round while the loser's season comes to an end. There are no computers setting up future matchups or meaningless bowl games to end. Win or go home.
Murray State wants to prove its 31-1 overall record is no fluke. The Racers did go 4-0 during the regular season against fellow tournament teams, including victories over Memphis and Saint Mary's, so the Golden Eagles can't take them lightly.
Marquette is also battling for respect. Despite finishing second in the Big East, the Golden Eagles have flown under the radar during the tournament buildup. A deep run would ensure they don't get ignored for much longer.
What They're Saying
Murray State guard Donte Poole said his team is out to prove something to casual college basketball fans who likely don't know much about the Racers, according to Colin Fly of the Associated Press.
"We don't want to just be here to be here," said Poole, a senior All-OVC first-team selection. "We want to win games. Even though we're a 6 seed, if we play someone higher or lower we still play like underdogs. We feel like we have a lot to prove to our fans and the people who have never seen us."
Tom Enlund of the Milwaukee Journal Sentinel passed along some thoughts from Cougars head coach Dave Rose about the all-around ability of Jae Crowder:
"That's a tough assignment," said BYU coach Dave Rose. "The toughest thing is, when you crowd him on the perimeter, he can get right by you. Then when they don't play through him, he is so aggressive on the weak side, trying to rebound the ball.

"The best way you probably could play him is not let him touch the ball. I would say ... good luck."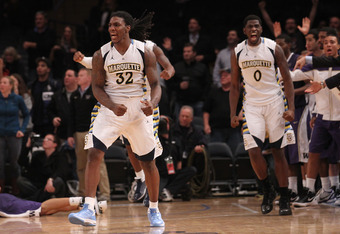 Nick Laham/Getty Images
Most Important Player to Watch: Jae Crowder (Marquette)
If Crowder can garner that type of admiration from an opposing coach, you know he's a special player. The Big East Player of the Year is averaging 18 points, eight rebounds and, perhaps most impressively, more than two steals per game.
Murray State doesn't have a player who can match up with him, so it will have to rely on a combination of Ivan Aska and Edward Daniel to slow him down. The Racers won't be able to stop him completely, but they can't allow him to dominate the game like he did on Thursday.
The magic numbers will be 20. When Crowder has reached or exceeded that point total throughout the season, Marquette is 12-1. When he doesn't, the Golden Eagles are a more modest 14-6.
Key Matchup: Isaiah Canaan vs. Darius Johnson-Odom
Canaan represents the heart of Murray State. So, it's no surprise the Racers struggled to find any offensive rhythm when he struggled in the first half against Colorado State. He can't afford to have any off nights or Murray State will be heading home.
The pressure isn't nearly as high on Johnson-Odom, who has more depth to protect him in case he struggles, but he's still a vital piece. The senior guard leads the team in scoring and is its main deep threat. He's also improved on the defensive end since arriving at Marquette.
Whichever guard is able to generate more opportunities early will give his team the edge. It should be a tremendous matchup, and certainly one worth tuning in to see.
Prediction
Marquette 71, Murray State 68