Miami Hurricanes Football: 2013 Recruiting Targets Still Available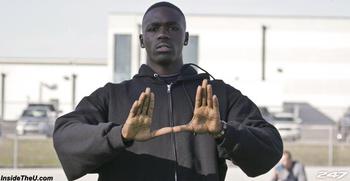 Jayron Kearse
Even though the 2012 season has yet to begin, it is never too early to check up on how recruiting is going for the 2013 season.
So far, the Hurricanes already have four juniors verbally committed to Miami.
Of course, nothing is set in stone, and with the NCAA sanctions still up in the air, it's really hard to predict who will actually come to Miami quite yet.
Here is a breakdown of who verbally committed and who has Miami listed as their early favorite.
Keith Bryant, DT
Height: 6'2"
Weight: 290 pounds
School: Atlantis High School (Delray Beach, FL)
This three-star defensive tackle has great size, already tipping the scale at 290 pounds as a junior.
He has good quickness and great strength.
Considering Miami's defensive line is a questionable position, this would be a great pickup for the Hurricanes.
Alex Collins, RB
Height: 5'11"
Weight: 195 pounds
School: South Plantation High School (Plantation, FL)
The Hurricanes will be losing Mike James next year, so the running back position will definitely need to be a focal point for the Hurricanes.
Three-star commit Alex Collins should bring a lot to the table.
Collins had a breakthrough junior season, running for 1,786 yards and 27 touchdowns. He earned second-team All-State and was named Broward County's MVP.
Collins has good speed (4.5/40) and great lateral quickness.
Lavonte "Kermit" Whitfield, WR/ATH
Height: 5'8"
Weight: 165 pounds
School: Jones High School (Orlando, FL)
If you haven't heard of Kermit Whitfield, just Google him and you will find his name all over the Internet—not just for football but for being one of the best track and field stars in the state of Florida.
Whitfield has tremendous speed and quickness, clocking a 4.35 in the 40-yard dash.
He suffered an ankle injury in his junior season of football and was limited to just 10 catches for 226 yards and four touchdowns.
Whitfield has already been listed as a possible 2013 ESPN150 recruit.
Jayron Kearse, ATH
Height: 6'4"
Weight: 205 pounds
School: South Fort Myers High School (Fort Myers,FL)
The Hurricanes landed their biggest prospect in January when they received word that 4-star athlete Jayron Kearse verbally committed to Miami.
Kearse is an amazing athlete who plays defensive back, quarterback and linebacker in high school.
He is listed on scout.com as a top-five outside linebacker and a possible 2013 ESPN150 recruit.
He is still being recruited by a plethora of teams that include Georgia, Auburn, Florida and Florida State.
Kevin Olsen, QB (uncommitted)
Height: 6'3"
Weight: 189 pounds
School: Wayne Hills High School (Wayne, NJ)
Although the Hurricanes have plenty of quarterbacks on their current roster, adding one as good as Kevin Olsen may be too good to pass up.
The 4-star recruit already is becoming a national target for many teams, but Miami has something only one other school (Virginia) has—family ties.
You see, Olsen is the younger brother of Miami alum Greg Olsen and has already visited Miami's campus when his older brother was in school. He has also attended camps in Miami.
Olsen's other brother, Chris, was a quarterback for the Virginia Cavaliers.
Laremy Tunsil, OL (uncommitted)
Height: 6'6"
Weight: 282 pounds
School: Columbia High School-South (Lake City, FL)
The Hurricanes need to add some serious depth on the offensive line, and there may not be a better option than Laremy Tunsil.
The 5-star offensive tackle from Lake City completely eats up any defender he faces.
He has great length and terrific feet for a guy his size.
Ray Lewis III, RB/ATH (uncommitted)
Height: 5'9"
Weight: 190 pounds
School: Lake Mary High School (Lake Mary, FL)
I can't talk about 2013 recruiting without bringing up Ray Lewis III.
Lewis, the son of Hurricane linebacker and future NFL Hall of Famer Ray Lewis, is a terrific running back, gaining mote than 1,000 yards in his freshman year of high school.
Although he lacks speed (4.7/40) he makes up for it with strength and footwork.
He is very shifty for his size, and with a little more work he could be a steal for Miami.
Lewis rushed for 2,312 yards and 27 touchdowns his junior season.
Denver Kirkland, OG (uncommitted)
Height: 6'4"
Weight: 290 pounds
School: Booker T. Washington High School (Miami, FL)
Denver Kirkland is a terrific high school offensive tackle but will most likely move to the guard position in college.
He has terrific movement and great feet for a big man.
Although he is highly recruited in the state of Florida, I am hoping that he stays at home and picks Miami.
Matthew Thomas, LB (uncommitted)
Height: 6'4"
Weight: 210 pounds
School: Booker T. Washington High School (Miami, FL)
If there was one wish I could make for the 2013 class, it would be for Miami to get the services of Matthew Thomas out of Booker T. Washington High School.
The 5-star recruit is an absolute beast on the field with great size and good quickness.
Miami will be losing two linebackers after the 2012 season, leaving a wide-open position for the talented Thomas.
Jamal Carter, S (uncommitted)
Height: 6'1"
Weight: 185 pounds
School: Miami Southridge High School (Miami, FL)
The Hurricanes are going to lose both starting safeties after this season is over (Ray Ray Armstrong and Vaughn Telamaque), leaving a gaping hole in the position.
I suspect that Deon Bush will be a starter next year, leaving an open spot. In comes Jamal Carter.
Carter is a tremendously talented safety with great range and good speed.
A local kid, I am hoping he chooses to be a Hurricane next year. He would be close to home and have a great opportunity to get immediate playing time.
Keep Reading

Miami Hurricanes Football: Like this team?