Gonzaga vs. Ohio State: Game Time, TV Schedule, Spread Info and Predictions
March 16, 2012

Gregory Shamus/Getty Images
Two impressive second-round victories have set up a battle for the right to play in the Sweet 16, when the Gonzaga Bulldogs take on the Ohio State Buckeyes in an East Region showdown. 
The Bulldogs had no problems with West Virginia in their second-round game. They came out firing on all cylinders, and cruised to a 23-point win. Everything Mark Few's team did worked, both offensively and defensively. These 'Dogs are dangerous and ready to strike. 
The Buckeyes had little problems with Loyola. They didn't shoot the ball well—just 45 percent from the field—but they were too big and physical for the overmatched Greyhounds. Thad Matta's squad will have to play better to keep their title hopes alive. 
Where: CONSOL Energy Center in Pittsburgh, PA
When: Saturday, March 17 at 2:45 p.m. EST
Watch: CBS
Live Stream: NCAA.com
Spread Info: Ohio State (-7), according to Vegas Insider
Gonzaga's Keys to Victory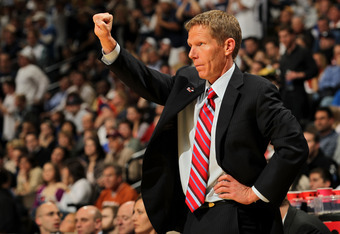 Doug Pensinger/Getty Images
Contain Jared Sullinger inside and attack the defense early to control the tempo. 
Ohio State runs a very vanilla offense. It has been successful for the Buckeyes, but there is not much to it. 
Gonzaga has the speed and athleticism to create problems. The offense has good balance, with Robert Sacre on the inside, Kevin Pangos and Gary Bell Jr. on the outside. 
They have to be forceful with the basketball and force the Buckeyes to play their game. The Bulldogs can shoot, and are not going to be intimidated by anyone. Mark Few has his best shot to get to the Sweet 16 for the first time since 2009.
Ohio State's Keys to Victory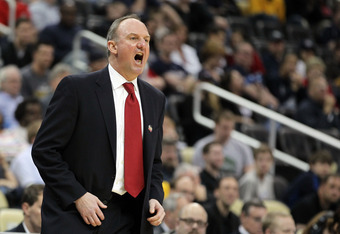 Gregory Shamus/Getty Images
Don't try to outscore Gonzaga, and create more balance on offense. 
While the Buckeyes had no problems against Loyola, there were some issues with their victory. They did not have good balance; only Deshaun Thomas was hitting shots on a consistent basis. 
For them to keep up with Gonzaga, they have to establish their Big Three of Thomas, Sullinger and Buford. 
Defensively, they have to attack the glass and prevent Gonzaga from getting second-chance points. They are not good enough to run with the Bulldogs on offense, but their defense is strong enough to keep them down for 40 minutes. 
What They Are Saying
Doug Lesmerises of the Cleveland Plain Dealer broke down four things that Ohio State should be concerned about heading into this game. The most astute observation he had was about Gonzaga's big center, Robert Sacre. 
He's not as much of an NBA prospect as Leonard, but he certainly looked Thursday night -- after putting up 14 points and six rebounds in the win over West Virginia -- like a guy who could body Ohio State's Jared Sullinger. Sacre, in the West Coast Conference, isn't used to the physical style of play Sullinger deals with all season. But Sullinger will have to rely on his tricks of the trade inside more than just his physical ability.
A matchup of two really good big men in the NCAA tournament is rare, simply because it is a guard-driven sport. Sacre and Sullinger will have a profound impact on the game for their respective teams. 
The winner of that battle in the paint will likely decide who wins the game. 
Most Important Player to Watch: Ohio State G Jared Sullinger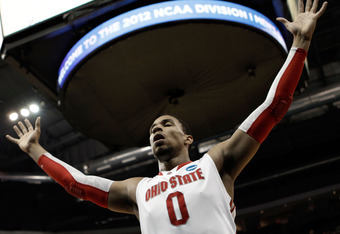 Jared Wickerham/Getty Images
Sullinger has been a superstar since he first stepped on the campus in Columbus. He is the best player the Buckeyes have, and will be the reason that they make a deep run or lose early in the tournament. 
He had a solid game against Loyola with 12 points and 11 rebounds, but he shot just 4-for-14 from the field. He must bring his A-game against a fast and athletic Bulldogs team that is ready to run. 
Key Matchup: Jared Sullinger vs. Robert Sacre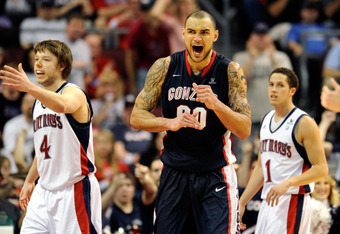 Ethan Miller/Getty Images
Sullinger is going to be matched up against a player who can match his physical play inside. Sacre's game isn't as versatile as the Ohio State star's, but he is going to stand and trade with him throughout this game. 
Both these players can affect the game without scoring points. They are both great rebounders and wreak havoc in the middle for opposing players. 
Whoever wins this matchup on the inside is going to win the game. Sullinger will probably end up with more points. Sacre will have a greater impact rebounding and on defense for Gonzaga.
Prediction
Gonzaga is playing better right now, with a lot more balance and versatility on offense. 
Gonzaga 78, Ohio State 72