New Jersey Devils: 7 Things to Watch for Down the Stretch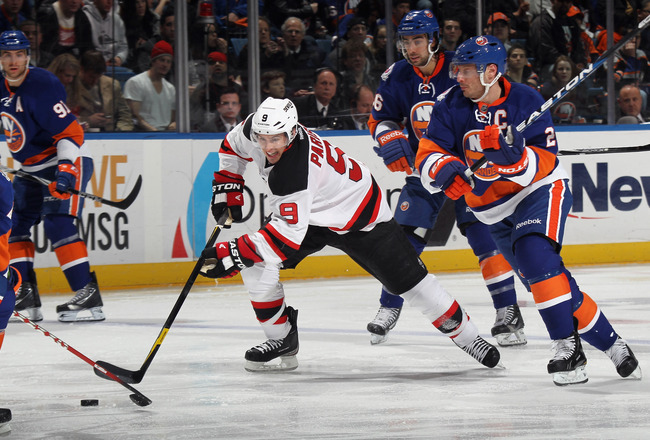 Bruce Bennett/Getty Images
With just 11 games left in the season, the New Jersey Devils should be feeling pretty good.
They're playing well, they're winning games and they sit well within the playoff picture right now. Since January 31, they're 15-6-2. They really seem to have hit their stride.
But of course, those 11 games are still extremely important. With the playoffs seemingly in store, thoughts turn to other matters on the team.
Here are seven things to look for from the Devils down the stretch.
Playoff Posturing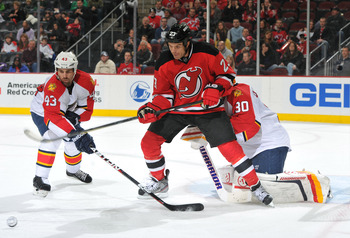 Christopher Pasatieri/Getty Images
As the season winds down, it will start to become increasingly clear where teams will land in the standings. Right now, none of the eight seeds are set in stone.
But with the Devils looking like they'll finish anywhere from fifth to seventh in the East, they need to consider where would be the best spot for the team in the final standings.
Realistically, there are some teams that the Devils have a better chance against than others. The Flyers, currently fourth, are capable of giving the Devils a lot of trouble.
On the other hand, the third seed looks like it will be either Florida or Washington, and conceivably Winnipeg. Any of those teams seem like friendly opponents compared to another Atlantic Division team.
I'm not talking about throwing games or cheating. I'm not even talking about players slacking. I'm just saying the all-out effort doesn't always need to be there. Late in the season, there are some games where you double-shift Kovalchuk and Parise to get the win and some games where Moose gets the start and the lines are rolled.
Once the top four start to solidify, look for the Devils to adjust their intensity accordingly.
Travis Zajac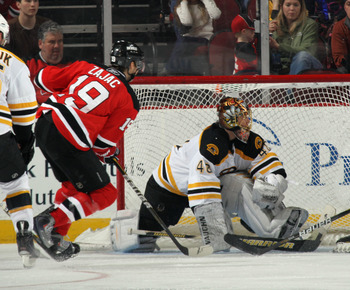 Bruce Bennett/Getty Images
It's weird to think that, with all of the success the Devils have had so far this season, with all the surprises and career years, the Devils are playing without their first-line center.
That's right. Remember Travis Zajac? It's hard to, I admit, with Adam Henrique filling his role so well.
Zajac has been one of the cornerstones of the team for years. He was Parise's center—a member of ZZ-Pops—and one of the first Devils to form any kind of chemistry with Ilya Kovalchuk upon his arrival in New Jersey.
He's a better faceoff man than anyone the Devils have right now, a talented playmaker and, most importantly, he's healthy. The team site reports that Zajac has been cleared for contact and will be practicing with the team
He won't be back immediately, but it suggests that, despite the fact that there's no timetable for his return, his return is coming.
He should be ready come playoff time. Hopefully, he'll even have had some time to get back into top form.
Whatever It Is That David Clarkson's Doing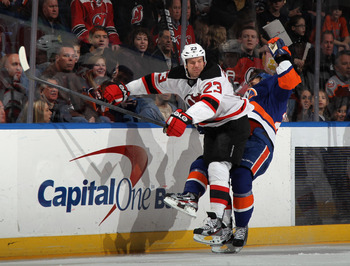 Not in the picture; that's a whole different guessing game.
Bruce Bennett/Getty Images
David Clarkson has been a fan favorite in New Jersey for a few seasons now. His gritty, tough playing style, mixed with his flair and willingness to get physical, make him an entertaining player, and this year he's exploded onto the scoring sheets as well.
Just one of two players in the league with 25 goals and 100 penalty minutes (Scott Hartnell), Clarkson has kept up with the Devils' best in goal scoring this season: he's tied with Zach Parise at 28 goals, and he's only two behind the team leader in Kovalchuk.
It's hard to say what's making Clarkson so successful this year. He's still doing his wrap-arounds and toe drags, and they don't seem to be paying off. But still, he's finding a way to put the puck in the net.
If he can continue to produce like that, the Devils look like a much scarier team to play against.
Rivalry Games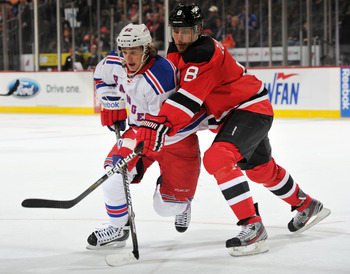 Christopher Pasatieri/Getty Images
In the 11 remaining games, the Devils play the Penguins twice and the Rangers, Maple Leafs and Islanders once each. Regardless of the point implications of the game, these are going to be some emotionally-charged games.
The Maple Leafs may be a less fierce rival, but the two teams still have a long history. The Islanders always play up to the Devils. The Penguins have the standard emotion of divisional games, along with a few of each other's exes—Alexei Ponikarovsky on the Devils, Paul Martin on the Penguins.
And then there's the Rangers. Devils-Rangers games are always intense, hard-fought battles. They are 60-minute contests that do not upset, and you can see how emotionally exhausted each player is at game's end.
These games are important to play well in. Even if they don't come out victorious, the Devils have got to put great efforts into these games. It's crucial to player morale and team momentum.
Some of these games have other important implications as well, though.
'Measuring Stick' Games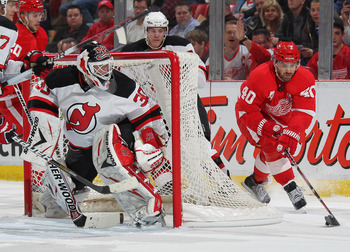 Claus Andersen/Getty Images
It's cliche, yes, but it's true. Games against great teams are a good way of seeing where your team is at. It's pretty standard reasoning, and the Devils have their share of playoff teams left.
Of the 11 remaining games, four are against teams in the top five in the league in points—the Rangers, Red Wings and two with the Penguins. Another three games are against top 10 teams: the Blackhawks, and two with the Senators.
The Senators are a great team that have been playing well this year but don't seem quite as dominant as the others, at least to the Devils. The Devils have generally been great against the Penguins in recent years, but given Pittsburgh's recent success (and 10-game win streak), those games could prove a great deal about the Devils.
In addition, the Rangers, Red Wings and Blackhawks games are extremely important. The Blackhawks are not quite as high in the standings as the other two, but they represent one of the most potent rosters in the league when healthy.
Seeing how the Devils' offense handles Henrik Lundqvist and Jimmy Howard, or how the defense holds up against Jonathan Toews and Patrick Kane or Pavel Datsyuk and Henrik Zetterberg will be important.
These games will expose the weak spots in the Devils more than any others, and regardless of how they ultimately fare, they better notice what areas need improvement and what weaknesses can be exploited.
Goalie Split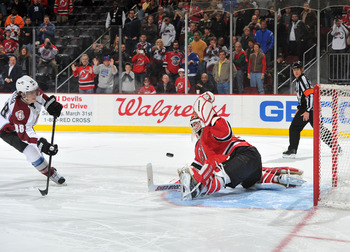 Christopher Pasatieri/Getty Images
Martin Brodeur is having a good season statistically, but Devils fans know that he's really starting to look like his old self out there. In his past six starts, though going only 4-2-0, he stopped 150 of 156 shots, good for a 1.0 GAA and a .962 save percentage.
Because of that, it'll be tempting to have Brodeur play the majority of the remaining games. However, the Devils would be wise to give Brodeur some time off.
The man is 39 years old and regardless of how he looks, he's going to need more rest than he used to in order to be prepared for the postseason. Post-lockout, Brodeur has started 73-plus games four times. In those seasons, Marty had 180 regular-season wins and 12 postseason wins.
Brodeur's by no means the only one to blame for early playoff exits, but it's clear that he simply can't keep playing that much in the regular season and still be good to go for the playoffs.
Likewise, he can't miss too much time, either, as seen in the 2008-09 playoffs, when Brodeur missed the majority of the season and gave up two goals in the span of 40 seconds at the end of Game 7 to lose the first-round series.
In the coming games, the Devils will need to find a balance. Johan Hedberg is a fully capable backup, and coach Pete Deboer should seriously consider giving him a number of starts. He should get at least three, and hopefully something more like five.
It's nothing against Marty, it's simply logical: players need rest. And the older you are, the more rest you need. So look for Marty to sit out a few of the remaining games, just to make sure he's still got something left in the tank come playoff time.
Star Power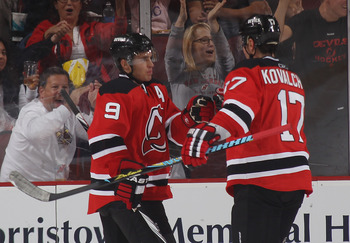 Bruce Bennett/Getty Images
Ignoring the current two-game shutout streak, things have been going right for the Devils' offense this season. Ilya Kovalchuk has become the player fans had hoped for, Parise is fitting back in perfectly and starting to look like his old self and Elias has led by example, leading the team in points for much of the season (until Kovy caught up).
What's important for the rest of the season, as much as anything else, is that they don't lose that spark.
Parise and Kovy, along with Adam Henrique, have developed some scary chemistry. Henrique's production has slowed lately, and it would be reassuring to see him step back up into the role he was playing before. Even without his numbers, though, as long as he can keep his linemates going consistently, the Devils shouldn't have too many nail-biters.
Of course, there's the alternative. As mentioned, the Devils have been shut out two games in a row. They need to rebound quickly to keep there momentum going, or they'll risk burning out too soon.
After all, a team can be hot all year, but if they cool down in April, then it was all for nothing.
Keep Reading

New Jersey Devils: Like this team?