TNA Impact Wrestling: Anderson vs. Daniels, Bobby Roode's Dynamite Promo & More
March 16, 2012

TNA Impact Wrestling opened with James Storm. He's been waiting for a one-on-one title shot and some revenge since losing title.
Storm is selfish and he's exactly what's wrong with the world today. He will take Roode out at Lockdown and will take title.
That brought Bully Ray out. He told Storm to shut up and kiss his calves. Storm won't make it to Lockdown because he was going to take him out at Victory Road.
Storm wanted to fight right then and there, but the bully declared that he wouldn't fight Calvezilla but would fight Gunner.
Storm and Gunner started brawling, but the road agents broke it up.
I enjoyed this segment. James Storm was really good on the mic. He has improved so much since going solo!
Bully Ray was great as well and continues to prove why he's one of the best heels in wrestling today.
I liked Gunner's involvement here as well, mainly because it gets him away from Garret Bischoff!
Backstage, Gail Kim and Madison Rayne yelled at each other about losing the titles last week. They blamed each other as they approached Sting.
Sting didn't want to deal with the Knockout's insanity, so he just booked Gail in a match with Mickie James and Madison against Velvet Sky.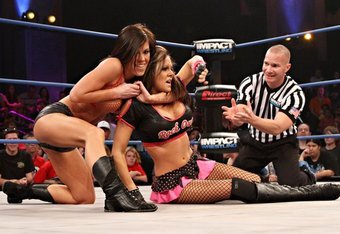 I like the arguing between the two Knockouts, as it continues the tension between them leading to their title match at Victory Road.
What I didn't really like was Sting pretty much ignoring his duties and just booking matches because he didn't want to deal with something.
I hope that once this Roode/Sting feud ends, the Icon can concentrate on something other than the champion.
Madison Rayne vs. Velvet Sky
Madison picked up the victory with the rollup of doom and a handful of tights.
I thought that this was a decent match. It was a little slow and didn't feature much action.
Madison is a great talent and Velvet has improved so much since her TNA debut, but the two of them didn't really mesh too well in this match.
I don't know if it was that they weren't allowed too much time or both were just having an off night, but this match could have been a lot better.
Earlier, Matt Morgan was being sarcastic about his and Crimson's win last week. Crimson said it didn't matter how they won because they still won.
Morgan brought up winning titles and making money and Crimson just bragged about being undefeated.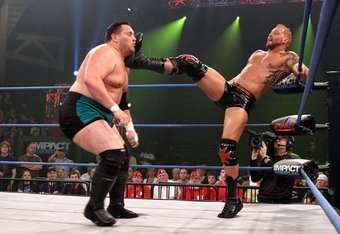 This continues the tension between the former tag team champions. I really hope this team ends at Victory Road, as TNA has put off continuing their one-on-one feud for far too long.
Crimson w/ Matt Morgan vs. Samoa Joe w/ Magnus
Crimson picked up the win when Morgan hung Joe on the ropes and Crimson hit a spear.
I thought this was a good match that saw some decent back-and-forth action. Samoa Joe was the definite star of the match, as he put Crimson to shame.
Even after a year, I'm still not sold on Crimson. While he has certainly improved, he still seems really green at times.
That could be because who he's facing, but I think he could benefit from more work. A trip down to OVW would be a great move.
I find it funny how TNA and Crimson hype the undefeated streak, but he doesn't wrestle every week.
Samoa Joe wrestled every week and on every PPV, so his undefeated streak was far more impressive than Crimson's ever will be.
Austin Aries then appeared in the ring with some champagne. He said that there has been 53 X-Division Championship reigns held by 25 different men.
He was not only the greatest man who ever lived but was now the greatest X-Division champion in history. He just surpassed the previous record for longest reign, which was 182 days.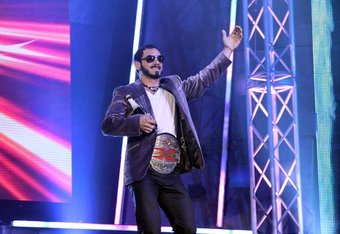 He then showed a video of himself before thanking himself for being the greatest and the other X-Division wrestlers for being good but not great.
He toasted himself and that brought out Zema Ion.
Aries wasn't as smart as he thought, but if he was smart, he'd hand the title over to him now. If he didn't, what happened to Jesse Sorenson could happen to Aries.
Ion gave a toast, then threw the champagne in Aries' face. Aries responded with dumping the bottle on his head and throwing him out of the ring.
I thought this was a great segment, thanks mostly to Aries. Aries was great on the mic here and him breaking the record only adds to his "Greatest Man Who Ever Lived" persona.
Ion really needs to work on his mic skills, though. While he was able to keep up with Aries in the ring last week, he looked like an amateur on the mic here.
Using what happened to Sorenson to get Ion heat is a bit cheap. What happened to him was an unfortunate accident and it shouldn't be used to further a heel character.
Backstage, Joe Parks approached Gunner looking for Abyss. Gunner just blew him off and walked away. I'm very interested to see where this is going!
Backstage, Eric Young and ODB are celebrating their title win but are also planning their wedding.
They brought up the V.F.W., a bowling alley, the Minnesota state fair, a fish restaurant and the middle of the ring as places to have the ceremony. They settled on in the ring on Impact Wrestling.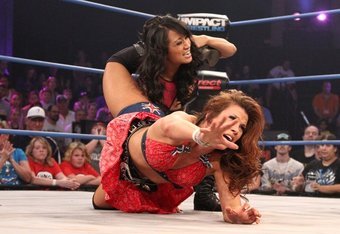 Well, at least it's not happening on pay-per-view. The ceremony itself should be very odd but also quite hilarious.
Elsewhere, Kurt Angle was running down Garret Bischoff. He announced a five-minute challenge match between them and then went onto Jeff Hardy.
At Victory Road, it will be Hardy's last match because he hated him.
With Gunner wrestling James Storm, I was hoping that all we'd see of Garret would be a backstage segment.
A match with Kurt Angle? I don't care what the storyline is; you don't send someone who can barely wrestle into the ring with somebody like Angle.
Gail Kim vs. Mickie James
Gail picked up the victory after hitting Mickie with title belt. I thought this was a good match, much better than their previous matches.
Most Knockouts matches are straight forward, but this one added a little something. I liked how Mickie got "injured" and Gail went right after it.
It shows that Gail is much more ruthless than Mickie and that Madison needs to watch out.
When this match was announced, I let out a huge groan since TNA fans have seen it about a hundred times since Gail won the title.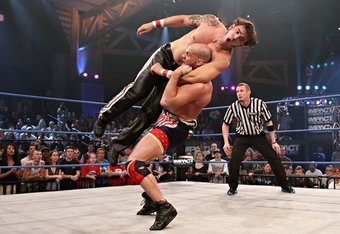 Each match has gone down in quality, but this one pleasantly surprised me!
Earlier, Mr. Anderson admitted it was weird that he and A.J. Styles were together when Christopher Daniels and Kazarian walked in.
They complained that Anderson was inserting himself into the situation and wanted to know why he wasn't aligned with them.
Styles would just end up screwing him in the end.
Anderson was just sarcastic the whole time, giving one-word answers and making faces at the heels. It was Anderson that made this an enjoyable segment.
I've certainly missed hearing him on the mic and hopefully the fans will get to hear him go on a tangent sooner rather than later.
Christopher Daniels vs. Mr. Anderson
Mr. Anderson got the win with the Mic Check. Towards the end, Kazarian tried to interfere but Styles ran down to stop him.
This was a good match that saw some nice back-and-forth action. Anderson and Daniels really worked well together, and that gives me hope for the tag match at Victory Road.
It's already be seen that Styles works well with both Daniels and Kaz, and now that I know that Anderson works well with at least the Fallen Angel, the four of them should be able to produce a good match.
Anderson looked good in his return match here, and I hope that once this feuds ends, he'll at least move onto the Television Championship.
Daniels rarely disappoints and this was no exception. He really needs to get away from Styles, though.
The majority of his and Styles' TNA careers have either been teaming up or trying to kill each other. It's time to separate them!
Backstage, Jeff Hardy brought up Angle's reasons for hating him. Hardy hated Angle as well but only for one reason.
He hated him because he cost him the World Championship.
This segment was short and to the point, which means I liked it!
Kurt Angle vs. Garret Bischoff: 5-Minute Challenge
I guess Garret won the match since he was able to last the entire five minutes. I enjoyed this because Angle beat the hell out of Garret, but as an overall match, this was kind of a waste of time.
Garret really had no business being in the ring with someone like Kurt Angle. There needs to be another injury angle so he can go away and train some more.
TNA, you work with OVW now, take advantage of that!
Post-match, Angle was angry since Garret lasted the whole time, so he knocked out the referee and applied the ankle lock. Hardy then ran out and unfortunately made the save.
With Victory Road this Sunday, I don't think Hardy saving Garret was a good way to build their match at the PPV.
Backstage, the Shore were complaining about their merchandise. The camera man then asked Robbie E about the open challenge for the Television Championship at Victory Road.
He said no matter who accepted it, he'll retain his title.
I sure hope not. I hope that whoever accepts the challenge takes the title away from him.
My ideal situation would be for this to be towards the beginning of the show so that Mr. Anderson could accept the challenge and win the title before his tag match later on.
James Storm vs. Gunner w/ Bully Ray
Storm picked up the win with the Last Call. Though short, this was a good match.
There was some nice back-and-forth action and both wrestlers performed well.
James Storm has been one of the best singles wrestlers in TNA since going solo, and he continued that here.
Gunner is a lot better than some people give him credit for. At the same time, he's stuck wrestling Garret Bischoff, so it's hard to look good in the ring with him.
Gunner was quite good here and has a bright future ahead of him as long as he can get out of the Bischoff family feud.
Bully Ray was great as well, as he screamed instructions to Gunner and teased attacking Storm post-match.
The man is a great heel and deserves a run with the world title, even if it's a short one.
The show came to a close with Sting and Bobby Roode in the ring for a contract signing.
After they both signed, Roode grabbed the mic and recounted the day he won the title. Since then, Sting has been a major thorn in his side.
He had finally figured out why and it was because Sting was jealous.
When he won his first world title 22 years ago, he had it all, and Roode wanted to be him. Now Sting saw himself in Roode.
He has all the traits Sting had but was a better world champion then Sting ever was. His days were over and he needed to stop stealing the spotlight.
Roode made fun of his age and declared that the face paint didn't scare him.
Sting doesn't have what it takes anymore and at Victory Road, he'll expose him for being a washed-up has-been who should have left a while ago.
Sting soon knocked over the table, put on some makeup and beat down the world champion. The entire time he was also smearing face paint all over the face of the champ.
I usually hate contract signings, but I thought this one was great! The reason is because of Bobby Roode.
He delivered a top-notch, dynamite promo here!
While TNA has a decent number of good mic workers, Roode overshadows them all, especially with promos like this.
Sting staying silent the entire time really added to the segment as well.
He was just like a ticking time bomb.
I enjoyed Sting snapping at the end, but the star of the segment was Bobby Roode!
Overall, I thought this episode of Impact Wrestling was another solid one. While there were parts of the show I didn't like, the end segment with Bobby Roode cancelled those out!
There were a few good matches and two great in-ring segments. While the backstage segments were short, I thought there were way too many of them.
The time given to the multiple backstage segments could have been given to the matches that needed more time.
Either way, I enjoyed this episode and I hope they can keep entertaining as the year continues!