NFL Free Agent Rumors: Taking a Look at the 49ers' Wide Receiver Situation
March 16, 2012

Ezra Shaw/Getty Images
I have been noticing on Twitter that some San Francisco 49ers fans are growing worried about their lack of action in the free agent market as it relates to the wide receiver position.
Well, they did sign Randy Moss to a cap-friendly contract prior to the start of free agency, so you have that. San Francisco still has to add multiple upgrades at this position through free agency and the draft.
As of right now they only have Michael Crabtree, Kyle Williams and Randy Moss on the roster at this position. Needless to say, that just isn't going to get it done.
Adding a wide receiver with the 30th pick or shortly thereafter really doesn't change the dynamics moving forward into 2012, either. Do you expect that type of addition to pay immediate dividends in 2012? I don't.
Now you have a dwindled-down wide receiver market with a few good receivers, which the 49ers are in on. So, let us take a look.
Brandon Lloyd
By now, you must know that Lloyd has visited with San Francisco. While it does appear that the New England Patriots are interested, they have not brought him in for a visit. 
At this point, I would conclude that the 49ers are the frontrunners to land the talented receiver. This might be pure conjecture, but he seems to fit exactly what Harbaugh and Co are attempting to build on the outside in terms of a deep threat.
We cannot be sure exactly what Lloyd is demanding and to assume this would be pure speculation. With that said, no other teams appear as interested in his services as do the 49ers.
If that is the case, you can expect him to sign for less than $7 million a year because this is about what San Francisco can offer to stay under the cap, re-sign Alex Smith and find a starting guard.
Mario Manningham
The former New York Giants receiver visiting San Francisco kind of came out of left field. I was extremely surprised that he didn't get more play on the market during the first couple days of free agency, but it works out nice for your 49ers.
He isn't a deep threat that San Francisco is said to be looking for. Instead, Manningham provides them with a solid receiving threat in the possession game. This is something that it seems the 49ers already have in Michael Crabtree.
Despite the fact that Manningham is a good player, I just don't see him as a great fit in San Francisco. Of course, adding depth and talent to this lackluster receiving corps shouldn't be questioned.
Manningham visited the 49ers yesterday but left without a contract. He is scheduled to visit the St. Louis Rams today.
Mike Wallace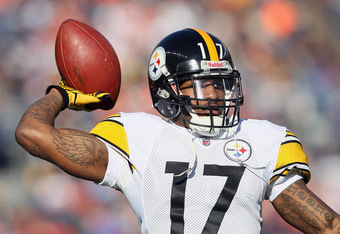 Jeff Gross/Getty Images
Not much to talk about here. The restricted free agent market slowly evolves, so you don't hear much during the early stages of free agency.
With that said, you can bet that the 49ers are having internal conversation about the idea of giving up a first-round pick to acquire the services of this talented young receiver. They have already been mentioned as a possible landing spot for Wallace.
Adam Schefter reported yesterday that "no team is going to make a play for Wallace unless something changes." Your guess is as good as mine in terms of what that means.
Conclusion
Many of my regular readers know that I have preached patience when it comes to the free agency process.
While this might be true, the changing landscape of the wide receiver market might force the 49ers to actually go out of their comfort zone. This means actually paying a No. 2 receiver the cash that he is worth on the open market.
Trent Baalke is one smart individual. There is no way that he believed that the 49ers receiving corps wasn't one of the primary reasons they didn't make it to the Super Bowl last season. If that is the case, he needs to make a move here.
Drafting a receiver at No. 30 will not have the impact that is needed in order for this unit to become stronger in 2012.
Surely he knows that.