NCAA Scores 2012: 10 Jaw-Dropping Stats from Thursday's Games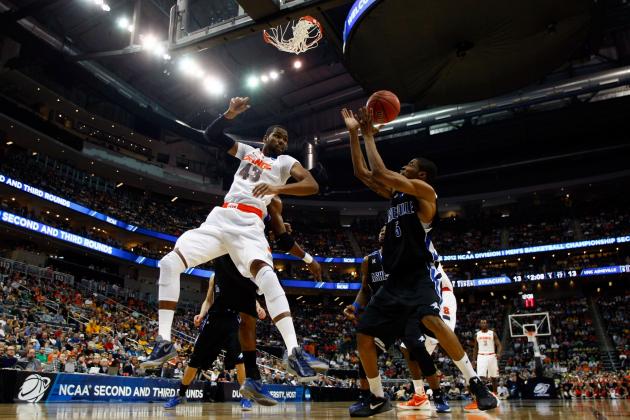 Gregory Shamus/Getty Images

Thursday marked the first full day of NCAA Tournament 2012 action. There weren't any huge surprises in the 16 games played, but there were some very impressive performances that had an enormous impact in deciding the outcome of many of those games.
Here is a look at some of the most interesting statistics from Thursday's action.
Begin Slideshow

»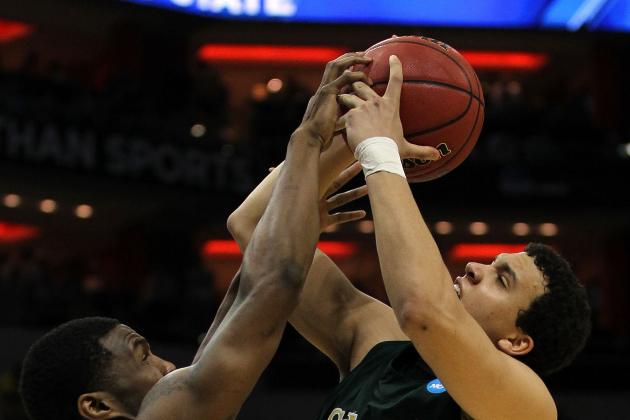 Jonathan Daniel/Getty Images

Through one half of basketball, it looked like Murray State's magical season might end as one of the first teams to be knocked out of the NCAA Tournament.
Trailing by one to Colorado State at the half, Murray State was struggling to get in any flow offensively. Their defense, however, was keeping the Racers in the game. Then, the offense took over.
Murray State held Colorado State to just two points in the first 10-plus minutes of the second half, breaking open a tight game and pushing the Racers to a 58-41 win in the second round matchup.
The 41 points allowed by Murray State was by far the fewest given up by any team playing on Thursday. The Racers held CSU to just 17 in the second half, also the fewest allowed in a half by any team on Thursday.
Overall, the outstanding defensive effort on display by Murray State on Thursday will make its matchup with Marquette on Saturday a must-watch second-round game.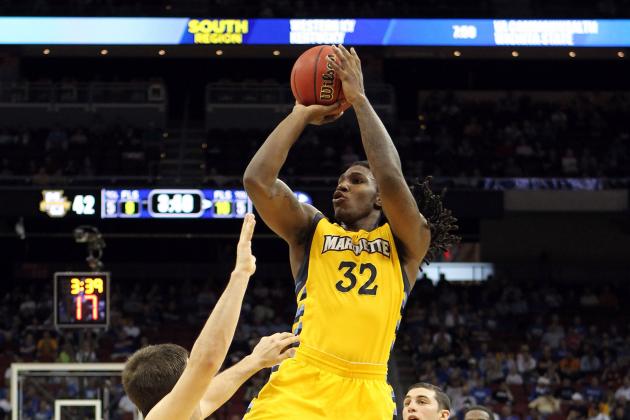 Andy Lyons/Getty Images

The Big East Player of the Year did a very nice job of backing up that honor quickly and convincingly in Marquette's first NCAA Tournament game.
Jae Crowder scored 25 points and added 16 rebounds in Marquette's 88-68 win over BYU. The do-it-all forward was instrumental in getting Marquette out to a 19-point first-half lead over the Cougars. In addition to a very impressive double-double, Crowder also added four assists and four steals, all while knocking down 3-of-6 three-pointers.
Crowder is simply too talented, too versatile and too tough for anyone to slow down defensively. He also poses plenty of problems for opposing offenses with the ability to guard just about any spot on the floor, and quickly help turn defense into offense for the Golden Eagles.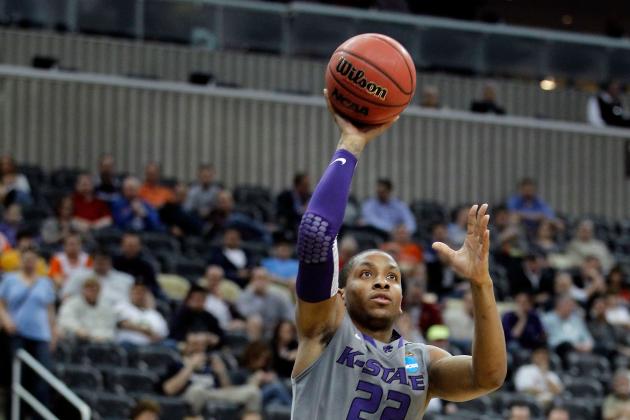 Gregory Shamus/Getty Images

At times this season, Kansas State has been limited by its inability to score consistently. Maybe more accurately, its been limited by the lack of a consistent scorer.
That, however, appears to be changing with the recent play of Rodney McGruder.
McGruder once again was lighting it up in Kansas State's first tourney game, a 70-64 win over No. 9 Southern Mississippi. McGruder scored 30 points on 11-of-16 shooting to lead the Wildcats into a second-round matchup with top-seeded Syracuse on Saturday.
While Southern Miss kept the game tight most of the way, McGruder kept knocking down shots to help keep the Golden Eagles at bay. At times, he was the Wildcats' only offense, before some of his teammates stepped up late to help seal the win.
With their next game against Syracuse on Saturday, McGruder may need to put up another 30 points if Kansas State is to knock off the top-seeded Orange.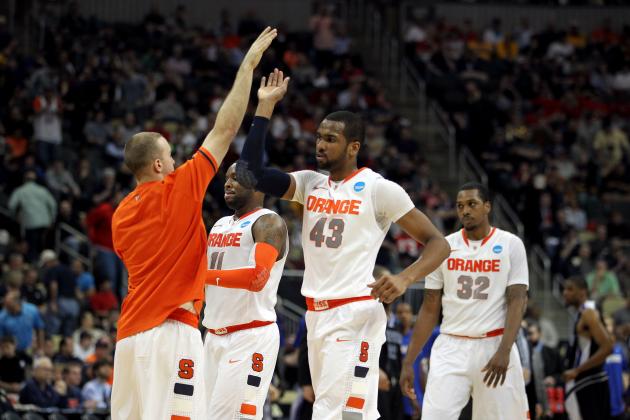 Gregory Shamus/Getty Images

The question everyone has been asking just before Syracuse began play in the NCAA Tournament may at least be partially answered: who will step up in Fab Melo's absence?
The answer may very well be James Southerland.
Southerland led all Syracuse scorers with 15 points, and had a couple key baskets late in the second half of the Orange's come-from-behind win over No. 16-seeded UNC-Asheville. Southerland made 6-of-8 shots, including 3-of-5 from beyond the arc, and also brought down eight boards.
Two of Southerland's three-pointers proved to be huge for Syracuse. The first gave Syracuse the lead for good at the 9:46 mark of the second half, putting the Orange up 50-48. The second came in the final three minutes, with UNCA still hanging around. That three put the Orange ahead by eight, and just about ensured it would avoid an historic 16-over-1 upset.
Southerland played a huge role for Syracuse on Thursday. The Orange will need that to continue on Saturday against Kansas State, and beyond, if Syracuse can survive.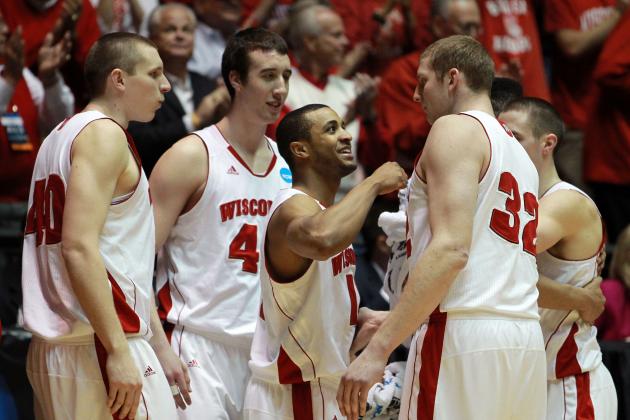 Ronald Martinez/Getty Images

Even with the likes of Syracuse, Kentucky and Ohio State in action on Thursday, it was Wisconsin who came up with the biggest margin of victory of any team on the day.
Wisconsin dominated in a win 73-49 win over No. 13-seeded Montana in Albuquerque. After a fairly close game for much of the first half, the Badgers took over in the second, holding Montana to just 20 points after halftime.
This game was a textbook Wisconsin win: grind-it-out and wear-you-down over forty minutes.
After some inconsistency over the latter portion of the Big Ten season, it looks like Wisconsin is back into form just in time to potentially win a couple more games in the NCAA Tournament.
Gregory Shamus/Getty Images

West Virginia is far from a great offensive team, but Gonzaga made it look downright abysmal on Thursday.
Gonzaga held WVU to just 32.7% (16-of-49) from the field, and 3-of-17 from three-point range, in the Bulldogs' 77-54 destruction of the Mountaineers. In terms of opposing field goal percentage, this was the lowest percentage any team held its opponent to on the day Thursday.
This win was particularly impressive given that Gonzaga had to basically go into the Mountaineers' backyard, with the game played in Pittsburgh. However, the Bulldogs' pressure defense ensured that WVU would not get into any offensive rhythm.
Gonzaga's defense will see a whole new challenge on Saturday, when it takes on Ohio State. The Buckeyes have considerably better guard play than WVU, so pressuring the backcourt ball handlers will not be quite as easy this time around.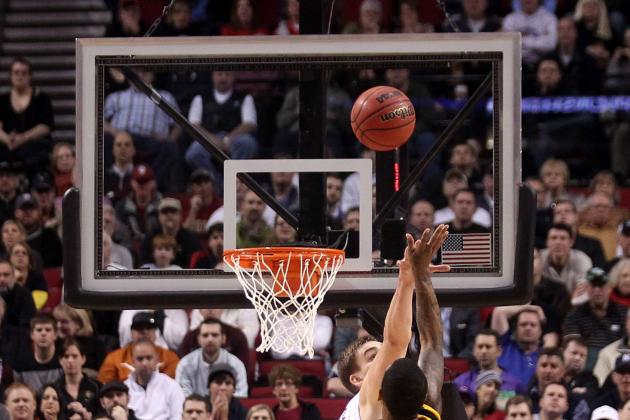 Jed Jacobsohn/Getty Images

In their biggest game of the season, Wichita State's key player was a virtual non-factor. To be fair, a lot of that should be credited to the "havoc" caused by the VCU defense.
Garrett Stutz, Wichita State's seven-footer and All-MVC selection, was held to just four points in 17 minutes in a 62-59 loss to No. 12-seeded VCU. Stutz picked up his second foul midway through the first half, forcing him out until halftime. He then picked up his third a minute into the second half, forcing him to the bench once again.
For the game, Stutz had more fouls (three) than made shots (two). Given VCU's style of play, the pace of the game doesn't favor a guy like Stutz to be at his best. However, the fact that he was unavailable, particularly on the defensive end, for an extended period of time certainly contributed to VCU's late first-half run that put the Rams up by double-digits.
Even though Wichita State battled back and eventually took the lead, it didn't have quite enough left in the tank to get the stops needed to hold on at the end.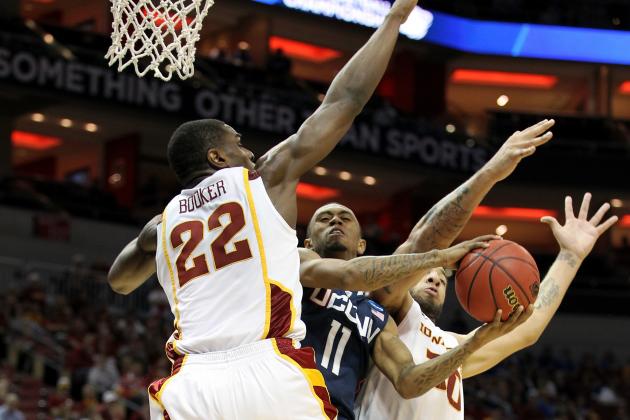 Andy Lyons/Getty Images

When you nearly have twice as many rebounds as your opponent, you're probably going to win. That held true for Iowa State, as it out-rebounded Connecticut 40-21 in a 77-64 win over the defending national champs.
Iowa State's ability to consistently rebound the ball helped fuel a huge first-half surge. The Cyclones got out to a 36-14 lead. Their rebounding also was key later in the game, as UConn made a push and got the back within single digits.
On the offensive glass, Iowa State was able to pull down 11-of-28 missed shots, helping to get a few second chance baskets, which kept UConn from making a more serious second-half run.
Royce White led the way for Iowa State with 13 rebounds, which was more than the entire UConn starting front line (Andre Drummond, Alex Oriakhi, Roscoe Smith).
The rebounding margin was yet another disappointment in a season full of them for last year's champions.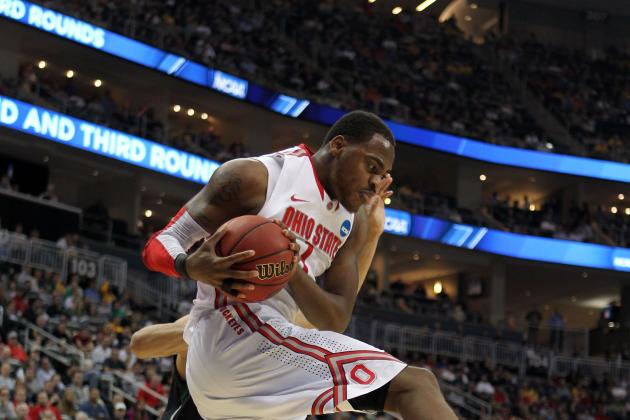 Gregory Shamus/Getty Images

With Ohio State's first-round opponent Loyola Maryland making every effort possible to slow down Jared Sullinger, the opportunity to take over the game was there for DeShaun Thomas.
Thomas did just that, scoring 31 points and pulling down 12 rebounds in Ohio State's 78-59 win over No. 15 Loyola. While Sullinger consistently received plenty of attention from the Greyhounds' forwards, Thomas repeatedly slipped free for open looks, and repeatedly made good on those open looks, hitting 13-of-22 shots.
Sullinger, meanwhile, was perfectly content to play a supporting role to Thomas' offensive explosion. With only 12 points on 4-of-14 shooting, Sullinger's rather mediocre performance showed another way in which Ohio State can thrive.
Gonzaga, Ohio State's second-round opponent, will have to figure out how to defend against the 6'7" Thomas, in addition to Sullinger.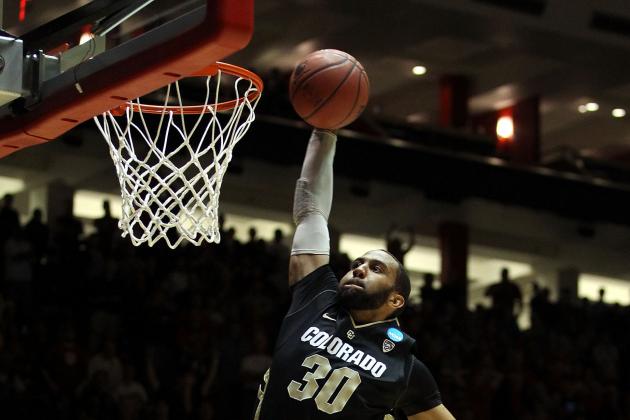 Christian Petersen/Getty Images

It's not too often a team can commit 20 or more turnovers in a game, and still win.
That's exactly what Colorado managed to do on Thursday, knocking off No. 6-seeded UNLV 68-64 despite committing 23 turnovers. A good number of those came later in the game as UNLV was trying to come back from a 20-point deficit. However, it's still a very high number of miscues to overcome.
Lucky for the Buffaloes, they did pretty well on the possessions where they did get a shot, making 46 percent (22-of-48) of its shots from the field. In addition, they knocked down 7-of-12 from three-point range.
What really carried Colorado in this one was its defense, which held UNLV to a mere 32 percent shooting for the game.
Now, Colorado will get a shot at former rival Baylor, the No. 3 seed, on Saturday in the second round.