NBA Fantasy Basketball Picks Week 12: Trade Deadline Edition
March 16, 2012

Mike Lawrie/Getty Images
As of 3 o'clock this afternoon, the trade deadline locked the door on NBA rosters for the season. Now it's time to assess the damage. Some teams on the cusp of great things got a big boost, while others who were already mired in mediocrity did themselves no favors. There are also some interesting adds this week from guys coming off injuries as well as finding who has the hot hand. My criteria for weekly waiver wire selections are players owned in less than 50 percent of Yahoo! leagues who look interesting for the week ahead as well as some long-term plays.

PG Jerryd Bayless (Toronto Raptors)
Bayless will be getting more minutes because of the Leandro Barbosa trade to the Pacers. And now that Jose Calderon is out with an ankle sprain, Bayless is getting even more playing time, and is making the most of it. Over the last week, Bayless has averaged 16 points, seven assists, three rebounds, and one steal. Calderon could be back as soon as this weekend, but look for limited minutes until he's back to 100 percent.
Owned in 23 Percent of Yahoo! Leagues | 8 Percent Change from Last Week 

C Spencer Hawes (Philadelphia 76ers)
Hawes is one of the more perplexing names on this list. He started out the season white hot, but a strained left Achilles tendon has benched him for 26 out of the last 28 games. He's back in the lineup but is only playing around 20 minutes per game until he is fully healthy. On Wednesday night, that formula translated into six points, two rebounds, three assists with five fouls. If you can hang on as he shakes off the rust and gets more minutes, Hawes could be a savvy playoff addition. Just beware he comes with a sizable injury risk.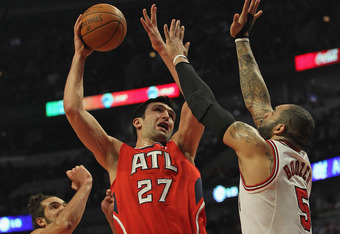 Jonathan Daniel/Getty Images
Owned in 34 Percent of Yahoo! Leagues | 6 Percent Change from Last Week 

SG Klay Thompson (Golden State Warriors)
Monta Ellis is officially a Milwaukee Buck. I can't say I saw this coming, but his name was starting to surface this week with the Dwight Howard relocation caravan. The aftermath in Sacramento is that Klay Thompson has been elevated to starting shooting guard, which instantly makes him a must-own player. In his first game, he scored 26 points. Clocking 40 minutes a night is going to afford Thompson a lot of hefty lines.
Owned in 27 Percent of Yahoo! Leagues | 22 Percent Change from Last Week 

SF Chandler Parsons (Houston Rockets) & SG Mike Dunleavy (Milwaukee Bucks)
Sometimes you just have to go with the hot hand. Parsons and Dunleavy certainly qualify. I've lumped these guys together because they have posted almost identical lines over the last five contests, averaging 15 points, five boards, five assists, and one steal. Both come with risks over lack of playing time due to roster injuries as well as positional logjams, but this isn't a marriage people.
Parsons 21/11 | Dunleavy 33/14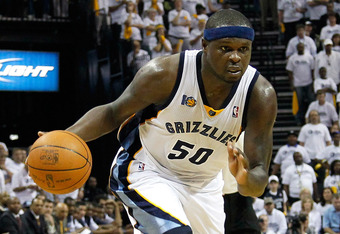 Kevin C. Cox/Getty Images

C Zaza Pachulia (Atlanta Hawks)
Despite his rather exotic name, Zaza is by far the least sexy add on this list. He goes out each night and plays his game with little fanfare or notice. Yet, he's averaging a double-double per game for the  past two weeks. Granted, he's not going to fill out any columns outside of points and rebounds, but its hard to scoff at 10 rebounds a contest if you are in need of a center.
Owned in 25 Percent of Yahoo! Leagues | 1 Percent Change from Last Week 
Quick Takes - Guys We've Mentioned in Previous Weeks or Don't Meet 50 Percent Threshold
PF Zach Randolph (Memphis Grizzlies)
Z-Bo is currently owned in 84 percent of leagues, but for those lucky few where he is available, he is finally due to return tomorrow night from his season spent in injury land. Expect his minutes to be limited at first as he gets up to speed, but he could be hitting his stride in a big way as playoffs are kicking off.

SF Stephen Jackson (San Antonio Spurs)
He couldn't have asked for a better landing spot, getting traded back to his old team where he has the full trust and backing of coach Gregg Popovich. Jackson will get the minutes and he's got the talent if you can stomach the perennial low field goal percentage and turnovers.

PG Ramon Sessions (Los Angeles Lakers)
Sessions got elevated to the starting point guard for the Lakers via the afternoon trade for a lottery pick. Need I say more.

PF Kenneth Faried (Denver Nuggets)
Like Jackson, Faried was among last week's picks, though I couldn't have foreseen his amazing luck. With Nene getting dealt to the Wizards in what can only be labeled as a buyer's remorse trade, the minutes have magically opened up for Faried and he should start putting up impressive lines similar to what he did when Nene was sidelined a few weeks back. 

SG Jordan Crawford (Washington Wizards)
He's cooled off a bit of late, but his timeshare with Nick Young is officially over as Young was shipped off to the Clippers.
For more fantasy basketball articles, weekly projections and up-to-date news on the NBA and college basketball, visit Basketball Schedule.