MLB: 5 Managers Who Are on the Hot Seat in 2012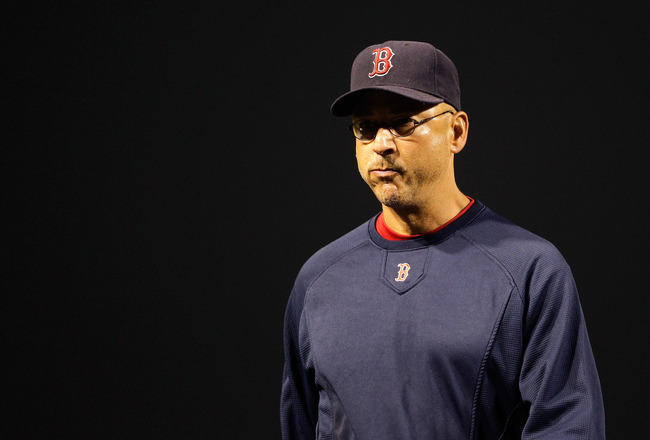 After a disappointing end to the 2011 season, Terry Francona got fired as manager of the Boston Red Sox. Who could follow him to the unemployment line in 2012?
Rob Carr/Getty Images
Every year, there are players, managers, general managers, heck, even infield and pitching coaches on the hot seat. Some will get axed, some will be given a second, or heck, even third or fourth chances.
The question is, how much fault can be given to the manager if a team doesn't fulfill expectations? Like the Red Sox last year after adding several pieces, including Carl Crawford and Adrian Gonzalez, a team can fail for many reasons. The Red Sox last year lacked leadership, especially down the stretch. The regime in charge decided that they had seen enough of Francona and desired change.
When a team is successful, it's due to players succeeding and the system "working." When a team struggles, most of the time, the manager is made the scapegoat. That was made evident in Boston last year with the booze incident of September and subsequent collapse.
Who could be the victim of an axing if a team fails to produce, whether it be early on in the season or after a disappointing playoff exit? What follows is a list of five managers, with a list of what must accomplished this year to keep their job and what I expect from them in 2012.
You can follow me on twitter @asmease
5. Ozzie Guillen: Miami Marlins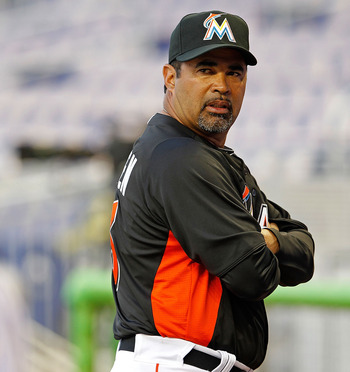 Mike Ehrmann/Getty Images
The Miami Marlins were arguably the busiest team this offseason in adding Heath Bell, Jose Reyes and Mark Buehrle. Oh, and that Ozzie Guillen guy to manage the team. For the first time in...well, their somewhat short history, the Marlins were buyers in the offseason and put big money into those three players as well as their new manager.
With a bigger payroll, there are bigger expectations.
On top of the additions, the Marlins also open a brand-new ballpark and play in a tough division, but have an added chance to make the playoffs with the added wild card.
What does Guillen need to do in 2012?
1. He needs to keep the ego of Hanley Ramirez in check in his move to third base
2. He also needs to guide the Marlins to the playoffs.
What can be expected in 2012?
1. Hanley adjusts well to third defensively, but his bat suffers.
2. Marlins miss the playoffs, but Guillen is given another chance.
4. Charlie Manuel: Philadelphia Phillies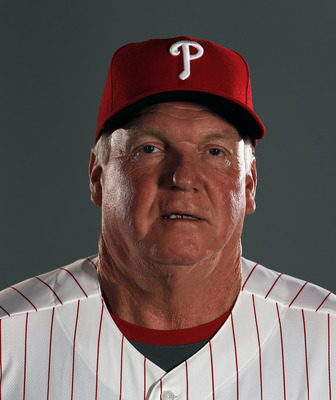 Jonathan Ferrey/Getty Images
After back-to-back World Series trips, the Philadelphia Phillies followed that up with two consecutive National League Divisional Series exits. Since winning the World Series in 2008, the Phillies have also added many pieces via free agency and blockbusting trades.
That certainly hasn't been a winning playoff formula for the Phillies.
Plain and simple, the team needs to be able to hit to be able to move on. If you can't get men on base and score runs, it does NOT matter how good your pitching is. Period. The Phillies currently have no idea on what to expect from Chase Utley and have no idea what kind of shape Ryan Howard will be in once he returns from injury.
If the Phillies get off to a slow start, Manuel could get the axe as early as mid-May.
What must Manuel do to keep his job?
1. Get his offense to produce early
2. Get out of the first round of the playoffs
What can I expect in 2012?
1. Offense fails to produce early, but is bolstered by Howard's return to the lineup
2. Phillies once again drop out in the NLDS
3. Brad Mills: Houston Astros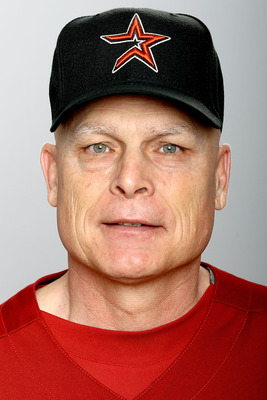 Matthew Stockman/Getty Images
With serious change on the horizon in Houston, Brad Mills is in a tough position entering his third season in Houston. The Astros following this season will have a new home in the American League, and with new ownership, they'll be looking for "their" guy after the season is over.
Seems like a recipe for doom.
The Astros haven't been very good under Mills. But to be fair, the Astros have dealt almost every useful major league piece they have, including Roy Oswalt, Hunter Pence and Michael Bourn among others. It's not easy winning with one of the youngest rosters in the majors.
What will Mills have to do to keep his job?
1. Win, Win, Win.
2. Mesh with the ownership group and players
What can be expected in 2012?
1. 65-70 wins. Not quite enough I would think to keep him.
2. He may mesh well, and the guys may like him...BUT....each ownership group wants "their" guy. Won't be enough to save Mills unless somehow he takes his team to the playoffs.
2. Mike Scioscia: Los Angeles Angels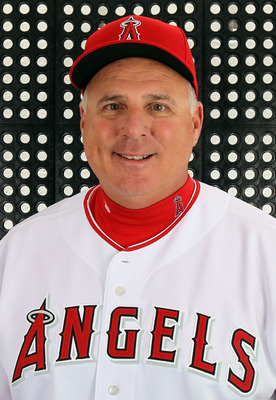 Jamie Squire/Getty Images
After an impressive run with the American League West for several years, the Angels have been playing second fiddle to the two-time World Series reaching Texas Rangers for the last two years. This offseason, the Angels added arguably the greatest hitter of our generation in Albert Pujols and poached a starting pitcher from the rival Rangers.
Big expectations for the Angels this year.
With those big expectations comes big consequences. If the Angels fail to make the play....well, if they fail to win the division, there could be some serious consequences.
As always, the manager is the scapegoat. If Mark Trumbo struggles in his move to third, it will be Scioscia's fault. The Angels must perform this year, or their longtime coach may be looking for a new job.
What must be done by Scioscia in 2012?
1. Win the American League West.
2. Win a World Championship.
What can you expect in 2012?
1. It will be a tight battle, but with 93 wins, the Angels win the West.
2. Angels come up short of a World Series title, but Scioscia's given another year.
1. Dusty Baker: Cincinnati Reds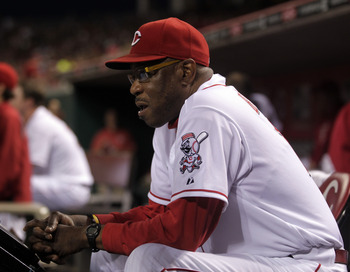 John Sommers II/Getty Images
The 2012 Cincinnati Reds are the popular pick to take the National League Central crown after Albert Pujols and Prince Fielder said goodbye to the division rival Cardinals and Brewers respectively. That means the Reds, who in the offseason, notably added Ryan Madson and Mat Latos, must capitalize on this opportunity.
No Pujols or Fielder means NO EXCUSES in Cincinnati.
The Reds payroll enters 2012 at $81 million, the highest in franchise history. Baker enters his fifth season in Cincinnati with exactly one division title and one .500-plus season. If he cannot double both of those numbers this season, he will be looking for a new job.
The Reds have one of the more formidable teams in the National League with Joey Votto, Jay Bruce and company anchoring the offense, as well as Latos, Chapman, Madson and company on the mound. The Reds have the talent to win and win big; they must now execute. No excuses anymore for the Reds.
What must Baker do in 2012?
1. Win the National League Central title.
2. Win a playoff series.
What can be expected in 2012?
1. The Reds should win the central over a pair of rebuilding teams in the Cubs and Astros, a not-ready-for-primetime Pirates and the still-competitive Cardinals and Brewers.
2. The Reds have the arms and bats to possibly even win the National League Pennant. Expect big things.
Keep Reading