2012 NFL Draft: Cleveland Browns' Best Case Scenario
March 15, 2012

Doug Pensinger/Getty Images
While plenty of fans are in panic mode because the Cleveland Browns didn't win the Robert Griffin III sweepstakes and didn't land a veteran wide receiver in free agency (or anything else particularly worth noting yet), everyone needs to take a step back and realize this is part of the rebuilding plan.
I know as fans we're all tired of hearing about "rebuilding plans" and "sticking with the program" and all the other overused cliches we've been hearing from management since the team came back in 1999. Unfortunately, our tiredness has led to so many regime changes and roster overhauls that the team has been depleted of talent for years.
In the "quick fix" NFL of today, we as fans want to see results now. Most the teams that turn their fortunes around from one year to the next, however, haven't been terrible for as long as the Browns have. It takes a few years of good drafts and personnel decisions to turn a franchise's fortune from terrible to average to good, and I am a firm believer in GM Tom Heckert's ability to do that if we are patient.
The Browns didn't get RG3 and seem disinterested in pursuing Matt Flynn, which I think would be a mistake anyway. Heckert clearly plans to build through the draft as he's stated numerous times since he came here.
If Heckert wants to build through the draft, I do have some advice for him. Bring Justin Blackmon to town and wine and dine him like there's no tomorrow. Make the pundits and personnel evaluators around the league believe that he is the guy the Browns want most when they pick at No. 4.
When their draft slot comes up, sit and wait for the phone to ring. It'll be the St. Louis Rams. Listen to their offer and then ask for two second-round picks to move up to draft Justin Blackmon. Maybe they say yes, maybe they offer a second and a third. Take it and then use the sixth pick to take the best player available.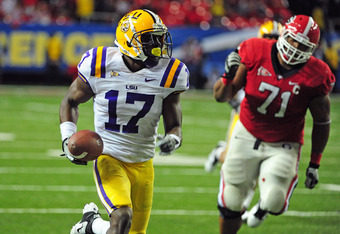 Scott Cunningham/Getty Images
Chances are good that either Morris Claiborne or Trent Richardson will be available at that spot, and both are higher rated prospects than Blackmon. Plus, they'll have added another high second-round pick, or in Heckert's draft world, a quality starter.
Imagine this in the first two rounds:
First Round
Pick 6 - Trent Richardson
Pick 22 - Kendall Wright
Second Round
Pick 33 - Mike Adams
Pick 37 - Zach Brown
We would still be left with endless questions at the quarterback position, but the picks they have this year and for the next few years since they didn't give up the picks for the second pick will help make them a long-term contender.