2012 NFL Mock Draft: Prospects That Will Be Immediate Impact Rookies
March 16, 2012

Christian Petersen/Getty Images
Yesterday, I focused on how the landscape of the 2012 NFL Draft has been changed by the first couple days of free agency. While that had more to do with what teams are currently doing in the free agent market, I thought it would be important to see what rookies should benefit their teams the most in 2012.
1. Indianapolis Colts: Andrew Luck, Quarterback, Stanford
It goes without saying that if you are the first overall pick in the draft you are expected to have an immediate impact. This notion is furthered when it comes to Luck going to the Colts. He has the skill set to be a great quarterback early, something we rarely ever see in the NFL.
The added equation here is the fact that Luck would be starting immediately with the Colts and has Reggie Wayne to count on as a veteran presence on the outside.
2. Washington Redskins: Robert Griffin III, Quarterback, Baylor
While many skeptics, including myself, have concluded that the Redskins made a horrible error in signing Josh Morgan and Pierre Garcon for combined No. 1 receiver money, it could work out well for RGIII. He needs weapons on the outside in order to succeed early. That really isn't in question.
With the raw talent and athletic ability that he has, there is no reason to believe that RGIII cannot make a dramatic impact early.
Joe Robbins/Getty Images
3. Minnesota Vikings: Matt Kalil, Offensive Tackle, Southern California
4. Cleveland Browns: Justin Blackmon, Wide Receiver, Oklahoma State
5. Tampa Bay Buccaneers: Morris Claiborne, Cornerback, Louisiana State
6. St. Louis Rams: Michael Floyd, Wide Receiver, Notre Dame
There is no doubt in my mind that Floyd is the most NFL-ready receiver in the entire NFL Draft. He runs precise routes, has the ability to get off the line against press coverage and can be dominating on the outside.
These are three things that the Rams need desperately. Floyd would also provide Sam Bradford and Co. the red-zone threat that they are missing. You can easily expect 1,000 yards and 10 touchdowns if Floyd goes to the Rams.
7. Jacksonville Jaguars: Riley Reiff, Offensive Tackle, Iowa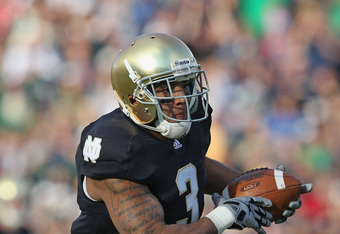 Jonathan Daniel/Getty Images
8. Miami Dolphins: Ryan Tannehill, Quarterback, Texas A&M
9. Carolina Panthers: Dontari Poe, Defensive Tackle, Memphis
10. Buffalo Bills: Melvin Ingram, Defensive End/Linebacker, South Carolina
This has not changed because the Bills signed Mario Williams. They are still in need of help along the front seven of their defense. The addition of Melvin Ingram, who has pass-rush ability out of the gate, will definitely help this defense a great deal.
11. Kansas City Chiefs: David DeCastro, Guard, Stanford
Interior linemen really do make impact early in the career, especially if they are as pro-ready as David DeCastro. He has the ability to be dominating out of the gate. You are looking at a mauler who has amazing strength and technique.
Imagine him opening up holes for Jamaal Charles and Peyton Hillis. This is enough to scare the crap out of opposing AFC West defenses.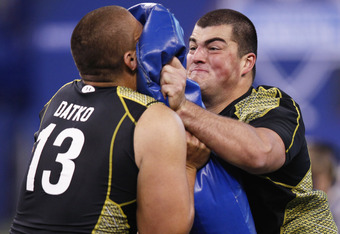 Joe Robbins/Getty Images
12. Seattle Seahawks: Trent Richardson, Running Back, Alabama
13. Arizona Cardinals: Jonathan Martin, Offensive Tackle, Stanford
14. Dallas Cowboys: Dre Kirkpatrick, Cornerback, Alabama
15. Philadelphia Eagles: Dont'a Hightower, Linebacker, Alabama
16. New York Jets: Stephen Hill, Wide Receiver, Georgia Tech
17. Cincinnati Bengals: Lamar Miller, Running Back, Miami (Fla.)
18. San Diego Chargers: Courtney Upshaw, Linebacker, Alabama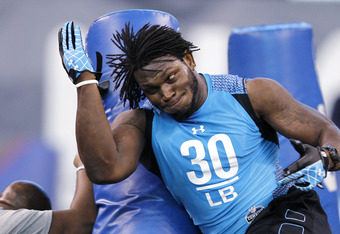 Joe Robbins/Getty Images
Despite the addition of Jarret Johnson, they need a true 3-4 rush outside linebacker. While Upshaw hasn't had the best postseason performance, he provides a pro-ready pass rush move at this point.
You can expect San Diego to slot him in opposite Antwan Barnes and watch the young player grow a great deal.
If this scenario were to play out and the Chargers are done adding linebackers, you can expect Upshaw to reach double-digit sacks as a rookie.
19. Chicago Bears: Mike Adams, Offensive Tackle, Ohio State
20. Tennessee Titans: Janoris Jenkins, Cornerback, North Alabama
21. Cincinnati Bengals: Mark Barron, Safety, Alabama
While there is no clear-cut determination of what is going to happen to Reggie Nelson, I am pretty sure that the Bengals are making contingency plans to replace him.
If that is the case, you can expect them to go after Barron. The Alabama product can pay immediate dividends as a strong safety, specializing in run support.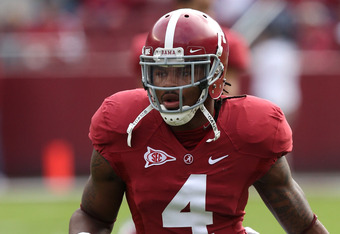 Mike Zarrilli/Getty Images
22. Cleveland Browns: Doug Martin, Running Back, Boise State
With Peyton Hillis out of the equation and the Browns appearing not to be players in the free agent market, you can expect them to go in this direction in the draft.
Doug Martin has amazing upside as an all-around running back. He can come in and immediately be their No. 1 backfield contributor. He has great field vision, doesn't go down at first contract and can get to the outside.
What surprises me the most about Martin is his ability to catch the ball out of the backfield. He will be an immediate 1,000-yard rusher as a rookie.
23. Detroit Lions: Peter Konz, Center, Wisconsin
24. Pittsburgh Steelers: Michael Brockers, Defensive Tackle, Louisiana State
25. Denver Broncos: Alshon Jeffery, Wide Receiver, South Carolina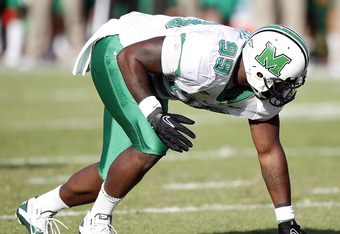 Bob Levey/Getty Images
26. Houston Texans: Kendall Wright, Wide Receiver, Baylor
No, you are not looking at Wright becoming an immediate 1,000 yard receiver. Instead, he will be a great complementary receiver to the Andre Johnson for the Texans on the outside. He will not see double teams due to Johnson's presence on the outside and can stretch the field deep.
In reality, this is probably the situation that Wright could go to. It is also the best pick the Texans could make at No. 26.
27. New England Patriots: Stephon Gilmore, Cornerback, South Carolina
28. Green Bay Packers: Vinny Curry, Linebacker, Marshall
Clay Matthews will be getting most of the attention by opposing teams. This would enable Curry to face a lot of one-on-one situations on the outside.
Despite the fact that the Marshall alum will have to transition from defensive end to linebacker, he has the skill set.
I envision Curry making nearly the same impact that Aldon Smith made for the San Francisco 49ers last season.
29. Baltimore Ravens: Bobby Wagner, Linebacker, Utah State
30. San Francisco 49ers: Cordy Glenn, Guard, Georgia
If Glenn were to fall to the 49ers here, you could expect him to be an immediate Day One starter. As I mentioned with DeCastro above, you need to have that type of instant impact if you are a guard selected in the first round.
I absolutely love the way the Georgia product nailed it at the combine in the skill-specific drills. He showed why many people have concluded that he is a top 15 prospect.
If Mike Iupati and Glenn were manning the interior of the 49ers line, the rest of the league would have major issues going against this offense.
31. New England Patriots: Nick Perry, Defensive End, Southern California
32. New York Giants: Luke Kuechly, Linebacker, Boston College