New York Giants: Who Can Be the No. 3 Wide Receiver?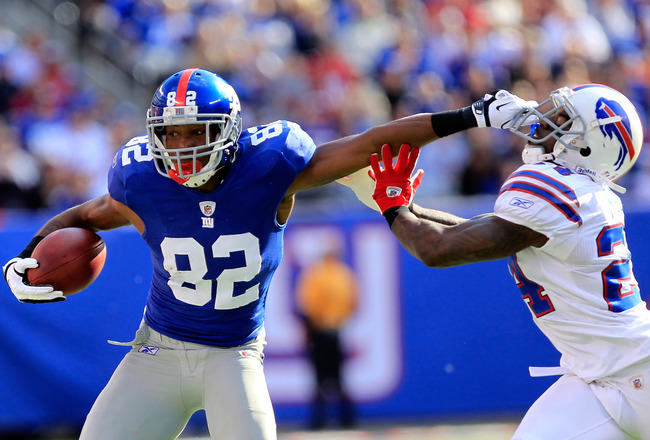 Chris Trotman/Getty Images
Mario Manningham will not be a member of the New York Giants in 2012. That fact is inevitable, but his departure presents a legitimate concern for the defending Super Bowl champions.
While Manningham's 2011 campaign was unimpressive during the regular season and marred by injuries, there is no ignoring his contributions to the Giants passing game over the last three seasons. Mannigham, even as the No. 3 wide receiver, is an integral piece of the Giants offense, and his performance will need to be reproduced by another player in order for New York to be successful again in 2012.
Luckily, the Giants do have depth at the wide receiver position with some talented players already on their roster. Though these players have yet to prove much for the Giants, they could be an important piece in a successful title defense.
Or, the Giants could seek to discover Manningham's replacement in free agency or during the 2012 NFL draft. Valuable talents comprise both the free-agent market and this year's draft class; a candidate could possibly be found within each.
All that matters, however, is that the Giants find a way to reproduce the production they will be losing. There are a handful of players who could have the chance to be just that, so let's take a look at them.
Draft Prospect: A.J. Jenkins, WR, Illinois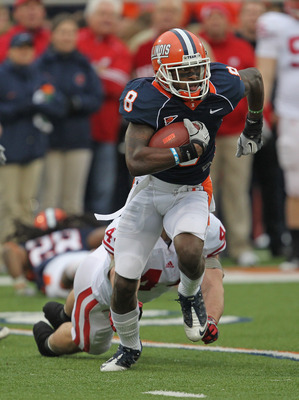 Jonathan Daniel/Getty Images
A player who constantly pops up when discussing receiver options for the New York Giants in the 2012 NFL draft, AJ Jenkins could be a mid to late-round steal.
Jenkins has good hands and above-average speed, similar to Mario Manningham. The Illinois product runs sharp routes and displays great ability finding weak spots in zone coverage.
Jenkins was inconsistent during his collegiate career, but struggled with a dismal Illini passing attack. He recorded at least four receptions in every game of 2011 and led the Big Ten conference with 84 receptions.
Free-Agent Target: Early Doucet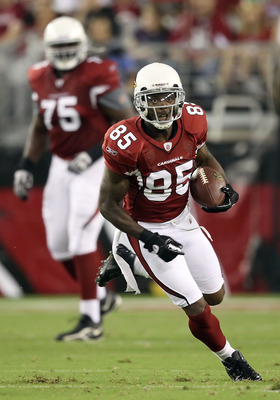 Christian Petersen/Getty Images
Early Doucet has garnered little attention thus far, but he has shown the capability to be a serviceable receiver in the NFL. The former Arizona Cardinal has improved each season since being drafted in the third round in 2008, having his best season yet in 2011, with 54 receptions for 689 yards and five touchdowns.
Doucet has good size at 6'0" and 212 pounds. He displays good hands, has favorable speed and can be physical when needed.
Combined with Hakeem Nicks and Victor Cruz, Doucet's abilities would force opposing defenses to cover him tight rather than focus solely on the Giants duo. If opponents are foolish enough to make that mistake, Doucet is a player fully capable of making them pay.
Free-Agent Target: Steve Smith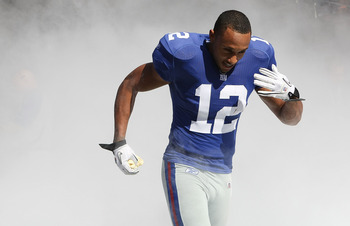 Nick Laham/Getty Images
He should have come back to the New York Giants in 2011, but Steve Smith's decision to go elsewhere likely helped Big Blue in the short term, as the season, judged as a failure during the free-agency period, culminated in the franchise's second Super Bowl victory in five seasons.
Now, the Giants have a dynamic one-two punch behind the receiving talents of Hakeem Nicks and Victor Cruz, and Steve Smith wants to give whatever he can to help the Giants win another Vince Lombardi trophy.
Though Smith dissed the Giants in a lot of people's eyes, the fans and team alike would welcome the former Giant back if the terms are right.
Smith is capable of huge numbers, as he showed in 2009 when he caught a franchise-record 107 passes for 1,220 yards and seven touchdowns. Such production is unlikely from Smith with injuries slowing him the past two seasons, but he can still be a great threat across the middle for Eli Manning and the Giants.
Ramses Barden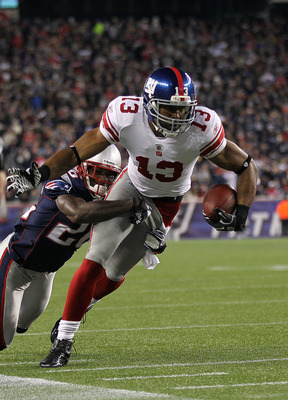 Jim Rogash/Getty Images
Ramses Barden presents phenomenal size, standing 6'7" and weighing 235 pounds. Unfortunately, that's about all Barden has to show for himself in three lackluster seasons in the NFL.
The former third-round draft pick has seen little playing time since joining the New York Giants. He's done even less when given the opportunity to play. While his potential appeared promising, Barden will likely never be more than a contributor on special teams or a No. 4 receiver.
However, the same could have been assumed about Victor Cruz prior to the 2011 season, and everyone saw how that turned out. Barden's opportunity to shine isn't out of the question, but his window is closing.
Domenik Hixon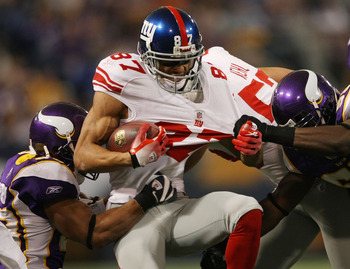 Elsa/Getty Images
Sometimes, injuries can ruin an otherwise promising NFL career. That's the story when it comes to Domenik Hixon.
The seven-year veteran had his best year in 2008, with 48 receptions for 596 yards and two touchdowns. Unfortunately, Hixon doesn't have much else to show for as a wide receiver in the NFL.
The return specialist is constantly injured, having played just two games in the last two seasons, and there is no way to know whether or not he will be able to make it through the 2012 season.
The Giants re-signed Hixon on March 3, and the injury-prone receiver will get his shot to earn his spot as their third receiver. Sadly, history tells us his knees might not allow him to play for a full season.
Jerrel Jernigan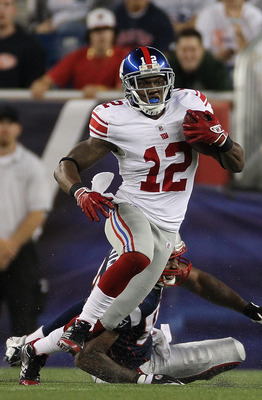 Jim Rogash/Getty Images
One of the better wide receiver prospects in the 2011 NFL draft, Jerrell Jernigan was picked up by the New York Giants in the third round. Jernigan boasts phenomenal speed and outstanding hands, able to keep even the most difficult catches away from his body.
Jernigan contributed on the special teams unit and spent some time as a return man—as he will be expected to do again in 2012—but did not record a reception during his rookie year for the Giants.
That should mean little entering the 2012 season, however, as Victor Cruz saw very little time during his rookie year in 2010 before being placed on injured reserve. In 2011, Cruz became a star.
Whether the same fate lies before Jernigan is unknown, but he has the ability to a lethal No. 3 option for Eli Manning and a nearly unstoppable passing attack.
While Jernigan's size may be looked at as a disadvantage—the second-year player from Troy stands just 5'9"—Jernigan may be most dangerous if utilized in a similar role to fellow vertically-challenged receiver Wes Welker out of the slot.
Screens and quick slants that allow Jernigan to show off his speed and agility could turn him into the player he has been projected to be while giving the Giants the edge they need to once again reign supreme in the NFL.
Follow me on twitter @LouisMusto_
Keep Reading

New York Giants: Like this team?