Top 5 NBA Trades: Instant Analysis as Blazers and Nets Make Major Moves
March 16, 2012

Elsa/Getty Images
Today's trade deadline in the NBA certainly did not pass with inactivity. Not only were there a plethora of trades, but significant players were sent packing to new teams.
While Dwight Howard was undoubtedly the storyline despite not being traded, lets examine the winners and losers of the major trades today.
New Jersey Nets Acquire
Gerald Wallace, Forward
Portland Trail Blazers Acquire
Mehmet Okur, Center (Expiring Contract)
Shawne Williams, Small Forward
Future first-dound pick
Winner
The Nets realized they were not getting their most coveted possession today, Mr. Howard, so they went out and made a deal for an underrated, athletic swingman in the 29 year old Gerald Wallace. He is athletic as they get in the NBA and can be a solid wingman to Deron Williams. The price is a bit hefty(top 3 protected 1st round pick), but Wallace can be a contributing Net for the foreseeable future.
San Antonio Spurs Acquire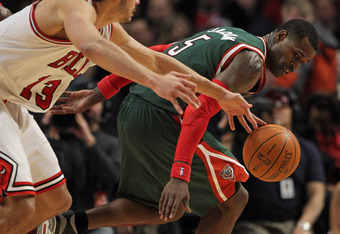 Jonathan Daniel/Getty Images
Stephen Jackson, Shooting Guard
Golden State Warriors Acquire
Richard Jefferson, Small Forward
Spurs' 2012 first-round pick
Winner
I went back and forth on this one due to Jackson's well-chronicled attitude issues, and despite his previous success as a Spur, I am going to give the edge to the Warriors on this trade. Jackson was seemingly the throw in on the Ellis-Bogut trade, and they were able to flip him for Jefferson and a low first-round pick in the upcoming draft. The Warriors will be rebuilding for a while, but a 1-2-3 lineup of Curry, Thompson, and Jefferson could be a lot worse. Throw in the late draft pick, and the Warriors can begin stockpiling assets to go with Bogut and David Lee.
Washington Wizards Acquire
Nene, Center
Brian Cook, Power Forward
Draft pick
Denver Nuggets Acquire
JaVale McGee, Center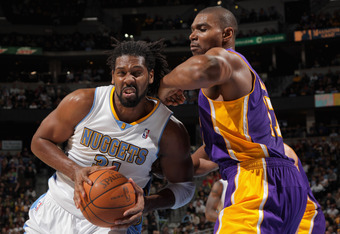 Doug Pensinger/Getty Images
Ronny Turiaf, Center
Los Angeles Clippers Acquire
Nick Young, Shooting Guard
Winner
Clearly the Clippers win this trade despite being merely a facilitator. Young has a contract just for the rest of the season and if it works out, they can re-sign him (hopefully) for a reasonable price. He has offensive prowess, and without Billups, perhaps Young can contribute on Paul and Butler's off nights. I think Denver made a smart move as well. When they re-signed Nene last summer, it was applauded as a smart move for a legitimate center, but McGee is younger, just as productive, and comes at a cheaper price.
Houston Rockets Acquire
Marcus Camby, Center
Portland Trail Blazers Acquire
Hasheem Thabeet, Center
Jonny Flynn, Point Guard
2012 Second round draft pick
Winner
Neither...if that is possible. Flynn has been a bust thus far after being a lottery pick by Minnesota. Camby is serviceable but in his last years. And Thabeet couldn't even stay out of the D-League as a member of the Grizzlies. This was simply another step in the Blazers restarting their organization as they fired the head coach, waived Greg Oden, traded Camby and Gerald Wallace.
Los Angeles Lakers Acquire
Ramon Sessions, Point Guard
Christian Eyenga, Forward
Right to swap Heat's 2012 First-Round pick
Cleveland Cavaliers Acquire
Luke Walton, Forward
2012 First-Round pick
Winner
Just by a hair, the Cavaliers win this trade because...let's face it. They are not winning the NBA title next season, so the draft pick comes in handy. Walton will likely be waived, negating his putrid contract that runs through next season. Sessions was expandable with Kyrie Irving's stellar play. 
Overall Winner of the Day
Despite not getting Dwight Howard, I believe the Nets are the big winner because of the added draft pick and the flexibility that comes with having virtually ZERO committed money next season to anyone. Ideally, Williams and Wallace will re-sign, but should they (likely) lose one or both players in free agency, at least the Nets can structure their new team around complete financial freedom.