Pittsburgh Steelers Free Agency: 5 Positions They Should Consider Signing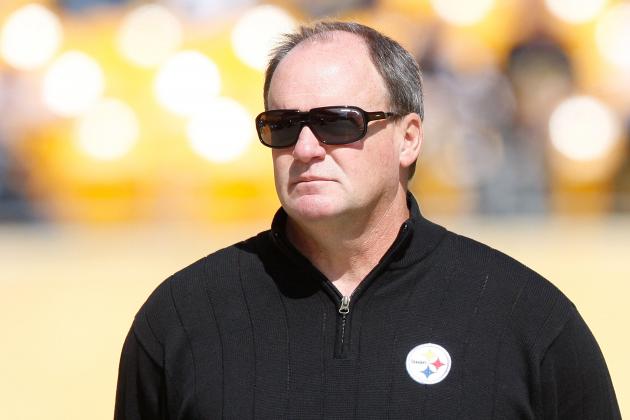 Jared Wickerham/Getty Images

No one will ever confuse the Pittsburgh Steelers with the big spenders in free agency. They invest money in their own players and are very conservative in the open market.
The lack of cap space is the major reason that the Steelers will be quiet in free agency, but Casey Hampton helped free up some room with the pay cut that he accepted today.
Hampton's reduction in salary helped free up $3.09 million in cap space according to the Pittsburgh Post-Gazette's Gerry Dulac.
With the limited amount to work with, Pittsburgh will have to be wise with its spending. That should not be much of an issue as they only will address depth issues with any outside signings.
The Steelers have already expressed interest in the tight end position when they were linked to Kellen Davis before he re-signed with the Chicago Bears.
So where will the Steelers look to in free agency? Here are five positions that they may look to sign a free agent to add depth.
Begin Slideshow

»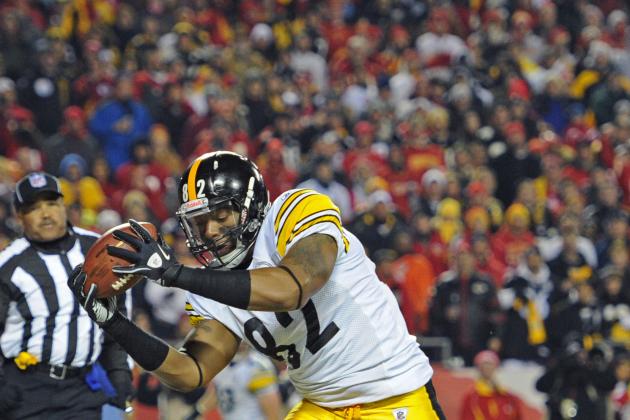 Peter Aiken/Getty Images

The reported interest in Kellen Davis was an indication that the Steelers ware interested in adding depth at tight end.
Pittsburgh already has a young, up-and-coming tight end behind Heath Miller, but Weslye Saunders faces a four-game suspension for violating the league's performance enhancing drug policy.
Saunders has the potential to be the legitimate second option behind MIller if he continued to develop. However, with his suspension he becomes a huge question mark.
David Johnson is not a viable option while Saunders is out. He is limited as a receiver and is a below-average blocker, which will limit him to his role as third-stringer.
Pittsburgh needs a capable blocker at the backup tight end position to allow Miller to go out on routes more often. However, in the passing NFL, the backup must also be able to get down the field as a receiver.
New England showed everyone how deadly two quality tight ends can be, and even Pittsburgh's division rival in Baltimore has two quality players at the position.
It should definitely be an area that the Steelers should look at upgrading, or at least finding a capable backup for while Saunders is out.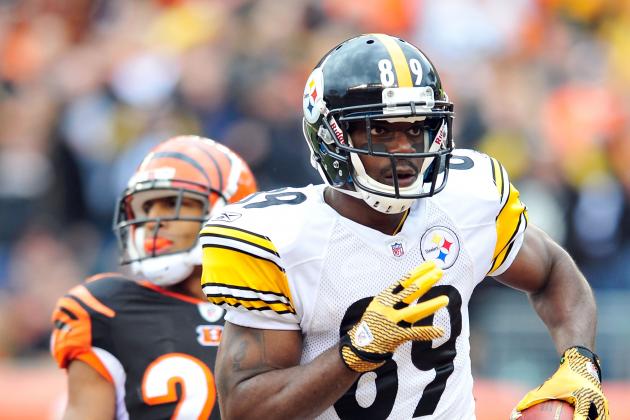 Grant Halverson/Getty Images

Much has been made over the Steelers depth at wide receiver, but there really is not much left on the roster.
Mike Wallace is a free agent, and even if he is signed, the Steelers 'only' have Antonio Brown and Emmanuel Sanders behind him. While Brown has been outstanding and Sanders vastly improving, that is it.
Pittsburgh does not have a viable fourth option since they released Hines Ward and the chances of signing Jericho Cotchery, who could sign elsewhere for a position better than fourth on the depth chart, leaves the Steelers paper-thin at the position.
The Steelers could use a veteran who can step on the field in four wide receiver sets and is capable of being a third-, or even second-, string option if there are injuries.
With the wide receiver market being so hot right now, Pittsburgh will have to wait things out and sift through what is left if they elect to add veteran depth to the position.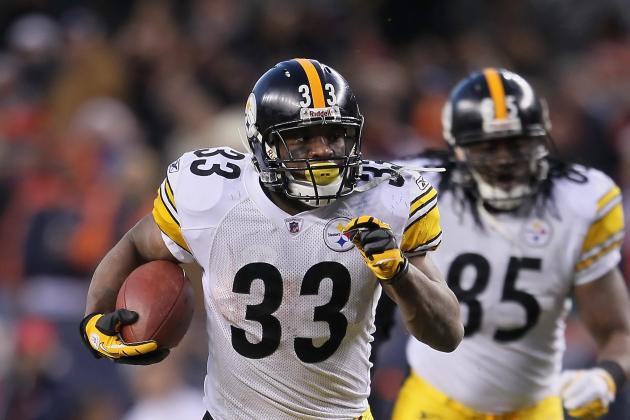 Jeff Gross/Getty Images

The ACL injury to Rashard Mendenhall has really put the Steelers in a spot at running back. They are going to have to depend on role player Isaac Redman as the starter this fall.
Redman has performed when called upon, but he has never had to be "the" guy entering the season. Being the full-time starter and top backup are two different animals.
Even if Redman can handle the load, there are questions with their backups.
Will Jonathan Dwyer be healthy? Does John Clay offer enough as a straight line power back? Will Baron Batch be recovered from his ACL injury and can he contribute? Can Chad Spann surprise us?
Mewelde Moore figures to be out unless the Steelers want to keep him for insurance purposes. It may be a wise move given his proven track record with the team.
Beyond the short-term, the Steelers may look to finding a long-term option at running back because they may not re-sign Mendenhall after his contract expires.
There is a lot to consider at running back, and it will be interesting to see how the team handles it.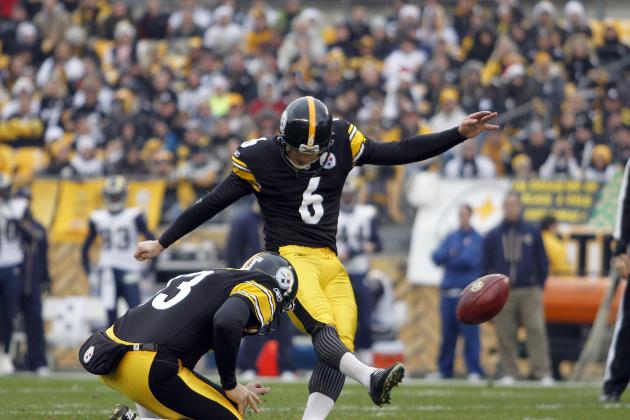 Justin K. Aller/Getty Images

Shaun Suisham ranked 33rd in the NFL last season converting on only 74 percent of his field goal attempts, ranking worst among kickers with at least 20 attempts.
That alone should merit the Steelers bringing in a kicker who can challenge Suisham for a job. It does not have to be an expensive kicker, or even a proven NFL kicker.
Pittsburgh could wait until right before training camp to sign someone, but it needs to be a player who they think can actually win the job, not just a camp body.
Competition can bring out the best, or worst, in players and that will help sort out the kicking situation. Pittsburgh should not just hand over the job to Suisham again. Make him earn it.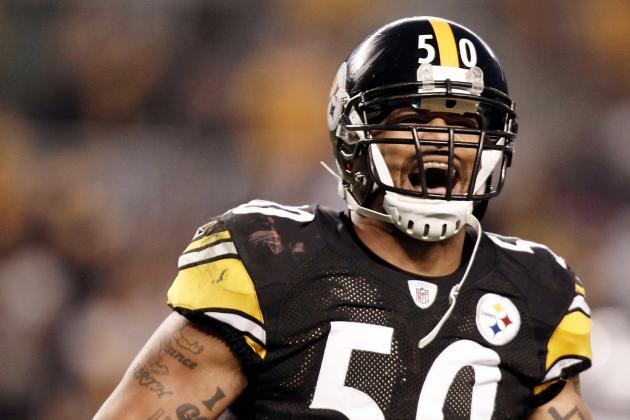 Jared Wickerham/Getty Images

The release of James Farrior means that the Steelers will go with Larry Foote next to Lawrence Timmons in the middle of their defense with Stevenson Sylvester backing up both players.
Foote starting next year is a bit concerning as he, along with Farrior, weren't exactly the strong part of the defense last year.
Sylvester is still a relatively unknown commodity who has been a solid special teams player but has yet to make an impact on defense.
There is a good chance that the Steelers address the inside linebacker position early in the draft which means that they will not have to sign a veteran.
If they do not draft an inside linebacker, they will have to hit the free agent market. By the time they would sign a player, chances are it would not be a player who they feel could start, but rather be the top backup behind Foote.
Pittsburgh could end up re-signing James Farrior given his knowledge of the defense and leadership abilities, but he would have to be a backup.
Though this is the Steelers most gaping hole right now, it is also a position in which they must take a wait-and-see approach.
Follow me on Twitter @ChrisG_FC