Better Big Man in His Prime: Pau Gasol or Kevin Love?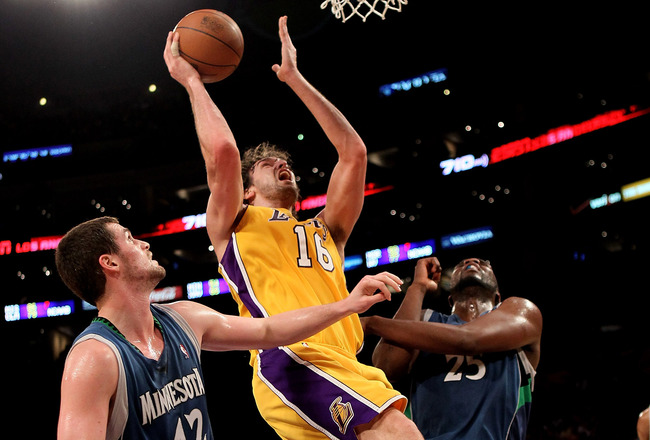 Stephen Dunn/Getty Images
Pau Gasol or Kevin Love—who would you rather have on your fantasy team, and which big man in his prime is the better player?
It's like being asked to pick between a Maserati or a Lamborghini; John Lennon or Paul McCartney; Sophia Loren or Brigitte Bardot; Perrier Jouet or Veuve Clicquot; Seinfeld or MASH.
Gasol and Love are arguably the best power forwards in the NBA. Picking the best big man in his prime is totally subjective, open for criticism and, at the end of the day, a no win (or no lose) comparison.
Still, as Gasol and the Lakers get set to take on Love and the Timberwolves tonight in Los Angeles, the question begs comparisons and answers. In fact, we should get a good taste of how the two power forwards fare against each other in just this one game, played at a critical juncture in the season when one team (Lakers) is on a roll trying to catch second-seeded San Antonio in the West and the other (Minnesota) is battling for the eighth and final spot in the playoffs.
Some may argue that Gasol has descended from his prime, but I would disagree. On the other hand, Kevin Love is just 23 and entering what may be a prime window of five to seven years. I think he's only going to get better and that is a scary thought.
Now that the trade deadline has come and gone and Pau Gasol remains a Laker, I think you'll see a more relaxed, intense, focused player on the court tonight. He may also, by the sheer attrition of veteran captain Derek Fisher, become the de facto leader of the team.
Kevin Love has fans and followers in Southern California, having played one memorable season at UCLA before jumping to the NBA. His game has exploded at the professional level, and he wants nothing more than to beat the hometown Lakers and dominate in the paint in front of Jack Nicholson and the local faithful.
Read on for a comparison of these two sensational power forwards and let me know what you think.
Passing: Pau Gasol Has the Edge over the Younger K-Love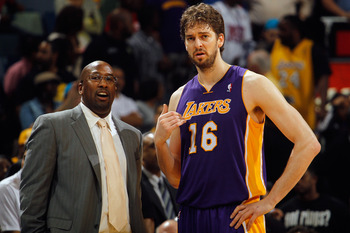 Chris Graythen/Getty Images
You have to concede that Pau Gasol is a better passer than Kevin Love. Their respective skill levels are pretty darn equal, but Gasol is much more likely to find the open man for a shot (Andrew Bynum or Kobe Bryant in most cases) than Love.
One explanation might be that Love does not have as many options in Minnesota as Gasol does in Los Angeles and there is hard evidence to support that. With or without Ricky Rubio at the point, Love really is the first, second and often third option to score, and his 25.7 points-per-game average supports that assumption.
Gasol's scoring numbers are down slightly this season, but I think that has more to do with the overall team's lack of offensive punch and the countless trade rumors floating around all year that would make it hard on any player to focus and play their A-game all the time.
Gasol is averaging 3.4 assists this year, compared to just 1.9 for Love (his career average).
I firmly believe that Love could average twice as many assists per game if called upon. He often reminds one of Bill Walton in his prime, able to pinpoint an outlet pass better than any big man in the game.
But for comparison's sake in their respective primes, which I consider to be now, I have to go with Gasol on this one.
Rebounding: K-Love Is a Beast on the Boards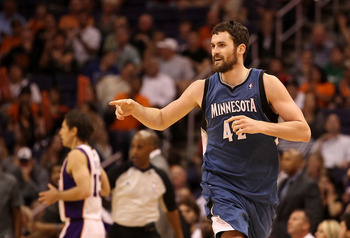 Christian Petersen/Getty Images
Pau Gasol is an underrated rebounder and, playing alongside the now-dominant Andrew Bynum, does not get near the amount of opportunities to haul in a missed shot as does Kevin Love.
Having said all that, Love is still the better rebounder without question. And, over the course of four years in the league, he has turned himself into one of the top three or four rebounding big men in the entire NBA..
Love's rebounding breakout came last year, when he recorded the first 30-plus game in a quarter century, going for 31 points and 31 boards against the Knicks. He went on to average a league best 15.2 RPG and this year stands at 13.6.
Love knows how to get great positioning and fights for every rebound. Gasol, on the other hand, is a decent defender and has a career average of 9.2 rebounds per game. He has improved in this department, averaging double figures this season and the previous two years. Prior to that, Gasol was always under 10 per game for his career.
It's not that Gasol doesn't work hard for rebounds. He's just not built that way and often gets outmuscled—the worst of times coming against the Celtics in the 2008 Finals.
Pau Gasol is a better rebounder today than earlier in his career. But he's no match for Kevin Love.
Defense: This One Is a Draw; Neither Are Specialists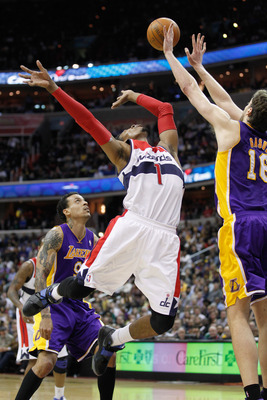 Rob Carr/Getty Images
John Hollinger of ESPN.com wrote this about Kevin Love and his defensive abilities prior to the start of this season:
The one sticking point is that he's still a poor defensive player. Love's Synergy numbers were pretty solid, but you'd have a hard time explaining why. He was 62nd out of 70 power forwards in both blocks and steals per minute, while his owning the lowest foul rate at his position is more a condemnation of his effort than a positive sign. Love is slow in transition D, often doesn't rotate out on switches, and struggles to guard long post players.
On the other hand, Gasol is a finesse player, not known as a defensive liability, but neither is he considered a specialist. According to Hollinger, he may have a slight edge, but only when he is at his natural position of power forward:
Defensively, Gasol's stats are solid overall, but there's a stark division between his results at the 4 and the 5. Gasol struggles when he has to play center because he isn't physical, but his length and mobility makes him a plus at the power forward position.
I probably would give the slight edge here to Gasol; both players must rely on court positioning, not strength, to defend well, and Pau may do a better job with that.
Still, this probably comes out as a draw.
Scoring: A Slight Edge to Love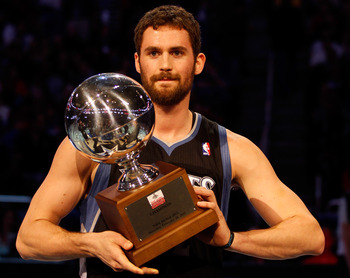 Mike Ehrmann/Getty Images
Pau Gasol is a very good shooter from mid-range and occasionally takes and makes a three.
Kevin Love, on the other hand, has been knocking down long-range jumpers since high school and is a threat to score from anywhere on the court.
Love takes his fair share of long distance shots; he's made 195 of 524 attempts during his career, a heady 37 percent average. And this year, Love is averaging 26 points per game, a breakout campaign for him.
Gasol is no slouch in the scoring department. Now in his 11th season, his career mark is just under 19 PPG and he makes just over 52 percent of his shots. Love, on the other hand, has a career scoring percentage of 46 percent, a number brought down by the amount of three-pointers he takes.
Though I still think Pau Gasol is in his prime, one can point to the 2007-08 and 2008-09 seasons as highlights. Gasol made 59 and 57 percent of his shots those two years, remarkable for a big man who often plays away and facing the basket. His mid-range jumper is a thing of beauty.
An argument could easily be made for Gasol being the better scorer of the two; he certainly is more consistent.
But since Gasol really has become the third option in L.A. behind Kobe Bryant and Andrew Bynum, I have to give the nod to Love.
Leadership: Gasol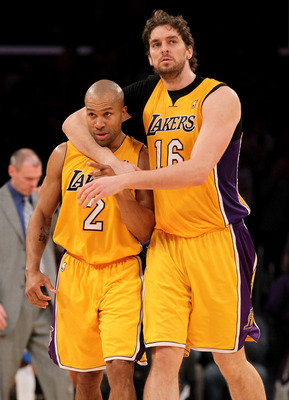 Stephen Dunn/Getty Images
Pau Gasol leads by example, but he's also gotten much better at communicating with his teammates and coaches.
Kevin Love is getting there—being a young veteran on a team infused with young players—but has a ways to go in this department.
Gasol wasn't always a leader, especially in his younger days at Memphis. But he's experienced two world championships and three Finals with the Lakers, and that has helped transform him into being more vocal on and off the court.
Derek Fisher always believed in the 7'0" Spaniard, and now that he's been traded away, Gasol is the logical choice to take over as captain of the team. While Kobe Bryant is a leader by his actions on the court and preparation off it, Gasol may in fact now be their heart and soul.
Until Love takes his team to the playoffs and does some damage, he will take a back seat in the leadership department. That's not to say it won't happen; he seems as dedicated to improving his all-around game as any young superstar in the game.
But for now, Pau Gasol wins in the leadership department.
Intangibles: Pau Gasol Is Unique for a Big Man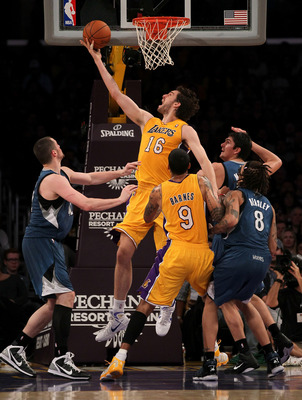 Stephen Dunn/Getty Images
At this stage of their careers, Kevin Love obviously has much more upside than Pau Gasol. But, the latter has experienced an exceptional 10 years in the NBA, making other players around him better while taking his own game to extraordinary levels.
Intangibles don't show up in the stats box, but make a particular player extra special. Love has some of those qualities and works as hard as anyone in the league to make daily improvements in his game.
But Gasol is a proven winner; he has the hardware to prove it. Gasol changes the dynamic of the game and is perhaps one of the best complementary players ever.
Gasol could not carry a club like Love does at Minnesota, but without him, the Lakers might be rather ordinary, even with the league's leading scorer, closer and legend, Kobe Bryant.
In 2008, Bryant campaigned heavily for Gasol, and management pulled off a lopsided trade with the Grizzlies. Kobe knew what the Lakers were getting—that complementary piece.
Pau Gasol was the missing piece the team needed to get back to the NBA Finals and eventually win the title the following two seasons.
Kevin Love has a long, fruitful career in front of him and may enjoy that same status at some point. But for now, Gasol wins this category, and ultimately, is the better big man than his counterpart in Minneapolis.
Keep Reading