NCAA Tournament 2012: Upset Odds for First Four Round of 32 Games
March 15, 2012

Jonathan Daniel/Getty Images
The first full day of the NCAA tournament is nearing its end. When it ends, all eyes will turn to the second full day of the tournament on Friday.
But we may as well start looking forward to the Round of 32, which will get underway on Saturday. There are already a handful of matchups set in stone in the East and West regions.
Since we haven't seen any upsets yet, the question is whether we might see an upset or two in these games. 
For what it's worth, here are some upset odds for all four of the Round of 32 games that are already set up.
No. 5 New Mexico vs. No. 4 Louisville
Louisville didn't make it look easy, but the Cardinals managed to outlast Davidson and its dangerous offense in the Round of 64. New Mexico took care of its business against Long Beach State.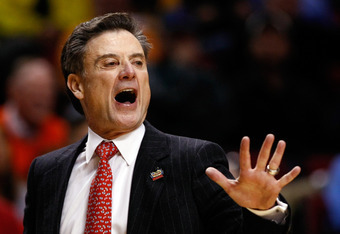 Jonathan Ferrey/Getty Images
The question in this game is if the Lobos can generate enough offense to make the Cardinals have to ramp up their own offensive attack. Since the Cardinals are not an elite offensive team, they'll find it harder and harder to keep pace as the points keep piling up on the scoreboard. 
New Mexico runs a very balanced offense that gets everyone involved, and the ball will move a lot. But if Louisville can disrupt New Mexico's rhythm, the Lobos are going to have a very hard time putting the ball in the basket. The bad news for New Mexico is that Louisville runs a very aggressive defense that is designed to get teams out of rhythm.
This is a tough matchup for New Mexico, so I'm setting the upset odds relatively low.
Odds of New Mexico Upset: 13/2
No. 6 Murray State vs. No. 3 Marquette
Murray State had a tough time against Colorado State in the first half, but the Racers came out and owned the second half and coasted to an easy victory. Marquette was never challenged in its game against BYU, winning easily by 20 points.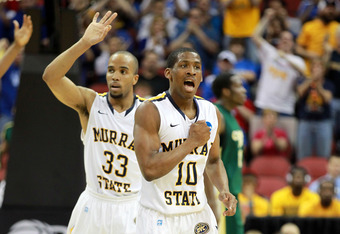 Andy Lyons/Getty Images
The Racers and the Golden Eagles are going to play a very fun game. Both of these teams are very athletic, and both of them love to run opponents to death in transition. Neither team excels on defense, so we're likely in for a fast-paced, high-scoring game.
Marquette's style of play typically gives it a big advantage, but that's not the case against Murray State. The Racers can play the kind of game the Golden Eagles will be looking to play. They're not going to let Marquette run away with this game, and there's a good chance they'll be able to win it.
So I'm setting the upset odds pretty high.
Odds of Murray State Upset: 7/2
No. 8 Kansas State vs. No. 1 Syracuse
The Orange are lucky to have made it to the Round of 32. They could have lost to UNC-Asheville had it not been for a couple of boneheaded calls by the refs that went in their favor.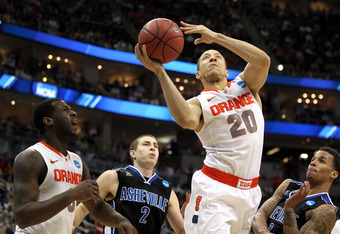 Gregory Shamus/Getty Images
Kansas State didn't dominate its way to the Round of 32 either. The Wildcats got 30 points from Rodney McGruder, yet they barely held on to defeat Southern Mississippi.
The Wildcats stand a very good chance of winning this game if they can keep Syracuse from getting too many transition buckets. If Syracuse has to create points out of its half-court offense, the Wildcats will have a considerable advantage.
Kansas State is exactly the kind of team that can exploit Fab Melo's absence. The Wildcats will attack the basket, and Melo won't be there to swat them away.
Consider the upset odds for this one to be very good.
Odds of Kansas State Upset: 3/1
No. 5 Vanderbilt vs. No. 4 Wisconsin
The Badgers handled Montana without issue in the Round of 64, and Vanderbilt had little trouble knocking off Harvard.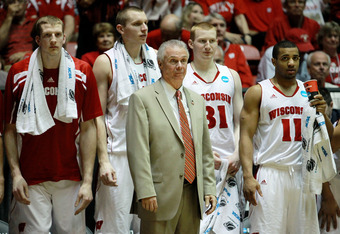 Ronald Martinez/Getty Images
Wisconsin is going to be a very tough matchup for Vanderbilt. The Commodores are an above-average shooting team, particularly from three. It just so happens they'll be going up against a Badgers team that doesn't suffer opponents who like to shoot threes. Making shots from distance against Wisconsin is extremely difficult.
That will keep Vanderbilt from lighting up the scoreboard, so it better be on its heels defensively. Wisconsin is not a great offensive team, but the Badgers can lull you to sleep and then put the ball in the bucket before you know it. They're crafty.
So despite the fact these two teams are close to each other in terms of seeding, I'd say Wisconsin has the edge.
Odds of Vanderbilt Upset: 11/2