2012 NFL Free Agents: Bengals Will Make Statement with Bush or Green-Ellis
November 9, 2016
Ezra Shaw/Getty Images
Free-agent running backs Michael Bush and BenJarvus Green-Ellis are working out for the Cincinnati Bengals this week, and which, if either, player the team signs will determine the direction of Jay Gruden's offense.
As people, we are often defined by the decisions we make—whether we take this or that job, marry this or that person, or buy this or that house. The same holds true for the Cincinnati Bengals in 2012 NFL free agency—the decisions they make now will shape the future. 
Since the 2011 NFL season ended, Bengals fans have clamored for Bush. Like Cedric Benson, Bush is a good-sized back at 6'1", 245 lbs., but he is younger and has more burst than Ced. Bush also benefits from being fresher than most RBs with four years of NFL experience because he spent his career in Oakland backing up Darren McFadden. With the exception of last season, when he saw more time on the field due to a McFadden injury, Bush has not carried the rock more than 158 times in a given year.
If the team signs Bush, expect the Bengals to field an offense that relies on body blows to wear out opposing defenses, then hit them with haymakers in the form of passes over the top to A.J. Green. Do not expect too much of a departure from last year's offensive scheme if the team signs Bush, just expect the offense to be faster and fresher.
If New England's Green-Ellis signs with Cincinnati, expect a shift in offensive philosophy to a more wide-open, 21st-century style of play. Like Bush, he comes from a situation where he did not have enough carries to wear him down, but at 5'11" and 215 lbs., Green-Ellis is not meant to be a ground-and-pound back.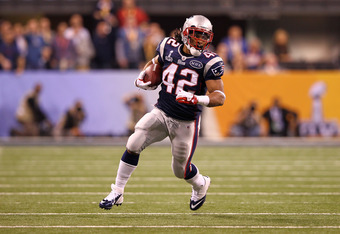 Al Bello/Getty Images
His forte is not physicality, but finesse. He can catch passes out of the backfield, sneak through creases along the offensive line and elude defenders, but his strength is not bulldozing through the line of scrimmage, so expect the Bengals to draft or sign a big back if they acquire Green-Ellis.
The Bengals will make a statement by signing either Bush or Green-Ellis; the difference between the two is like the difference between buying a Mustang or buying a minivan.
If Jay Gruden wants to sling it like the Pats, expect to see Green-Ellis in the orange and black. If he wants to improve the speed and athleticism of his current model, then prepare to welcome Bush to the Queen City.