Gerald Wallace to New Jersey Nets: Breaking Down Nets' New Lineup
March 15, 2012

Elsa/Getty Images
Gerald Wallace is on his way to the New Jersey Nets, according to Adrian Wojnarowski of Yahoo! Sports, but what does this mean for the team going forward?
The organization would like to make their move to Brooklyn next season with a competitive roster to work with, and does Wallace alongside Deron Williams and Brook Lopez give the team a shot of making the playoffs going forward?
We'll, we must first examine what exactly Wallace brings to the table as far as his basketball skill set goes.
Wallace is a lengthy swingman, giving New Jersey the size and athleticism on the wing they've been seeking for some time now. Wallace is capable of penetrating the lane and is a superb finisher at the rack, so he should serve as an excellent sidekick to Williams in Avery Johnson's motion offense.
Defensively, Wallace is a world-class defender. He was named to the All-Defensive first team in 2010 and will be the Nets' No. 1 option for stops now alongside forward DeShawn Stevenson. Wallace has excellent footwork and is exceptional in the weight room, giving him the strength to press out opposing players in the low post. Wallace has the brawn, agility and mental game to defend the 1 through the 4, and at 6'7'' and 220 pounds, he is a formidable foe to be matched up against.
But does Wallace gel with the rest of the Nets' starting lineup?
Rookie shooting guard MarShon Brooks and Stevenson will likely be pressed for minutes at the wing with the addition of Wallace, and rightfully so. Brooks is young and has a lot to work on defensively, and Stevenson is a liability on the offensive side of the ball.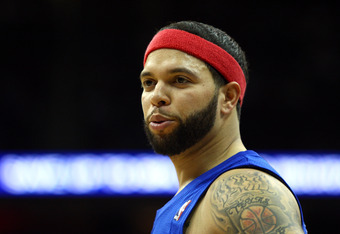 Chris Chambers/Getty Images
Still, Wallace is an upgrade over Brooks and Stevenson, giving coach Johnson more options with his rotation. He can now opt to use a Wallace-Stevenson combination in times where the team needs a stop, and a Wallace-Brooks wing for scoring.
New Jersey was in need of a better defensive presence, and Wallace fits that need directly. What should be still of concern for the Nets going forward on the other hand, is their weak post-defensive prowess with Kris Humphries and Lopez starting at the 4 and 5, respectively.
Humphries is an impending free agent this summer, and it would be wise for the team to not bring him back. While he puts up solid numbers on the glass averaging 10.9 rebounds per game this season, he is too much of a liability defensively and scoring-wise to be an efficient NBA power forward.
If the team could use their ample cap space this offseason to pursue free agent-to-be Kevin Garnett in the summer, New Jersey could find themselves in contention as soon as next season.
The Nets made a step in the right direction as far as convincing Williams to come along with them in their impending move to Brooklyn by acquiring Wallace, but still have a ways to go if they want to become a perennial playoff team. While it'll ultimately be up to D-Will to make that decision come July, New Jersey does have a bit more hope at this point.
Only time will tell where Williams ends up playing next season.