WWE: CM Punk and Chris Jericho Will Bring out the Best in Each Other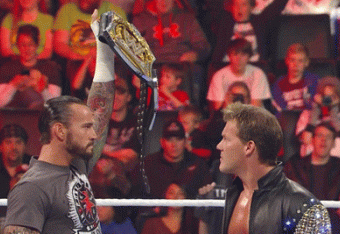 Who will upstage whom that night? Image courtesy of wrestlingwithtext.com

This just in, Chris Jericho taking on CM Punk for the WWE championship will be the dark match of WrestleMania XXVIII.
All right, so that isn't true at all but one thing is certain, these two Superstars will give the fans everything they have come April 1 and hopefully it gets to be of "match of the year" caliber.
Each claims to be the best in the world, give or take some words, and both wish to utterly defeat the other, thus to humiliate him on the grandest stage of them all. Add the top prize in all of pro-wrestling and you have yourself a recipe for success.
Now, there must be a ton of pressure to outdo all others that night, but being the consummate workers they are, there should be no doubt whether or not they can pull off the match of the decade.
If Chris Jericho and CM Punk are the best, then they know what they have to do to outshine everyone else.
It won't be easy. The Undertaker, Triple H, Daniel Bryan and The Rock are all featured on the same card. The bar will be raised higher than ever for the two loudmouths, but if they put their minds to it, they can accomplish anything.
Though this duo is set to face one another, it does not differ from other past, great units. Y2J and Punk seem to have chemistry in the ring and the energy released during live promos serves to bring them more power, all this to the benefit of both fans and feud.
Never doubt the underdogs. Opening the show with this match would really electrify the Miami crowd, get them ready for the amazing four-hour ride they just got on. It has been long overdue for a confrontation between them and so many people have been asking for it: CM Punk and Chris Jericho will not fail to deliver.
Which match will steal the show at WrestleMania XXVIII?
Once upon at time, the same thing was said about Edge vs. Chris Jericho and it proved to be good but not unique.
It wasn't really anyone's fault because the Rated R Superstar came back from injury a little sooner than expected and they were walking a thin line, so there were limits to what could be achieved.
This is no such scenario. No one is injured, no one is limited and with Y2J playing dirty by mentioning CM Punk's family past, everything just got personal. There will be hell to pay.
Fans of the WWE Universe be advised: You are about to witness two masters at work. How will you repay them for all this merriment?
It will be the end of the world as you know it.
This article is
What is the duplicate article?
Why is this article offensive?
Where is this article plagiarized from?
Why is this article poorly edited?