UFC 145: Why Counting Rashad Evans out Is a Dangerous Thing to Do
March 15, 2012

Jon Kopaloff/Getty Images
Rashad Evans can beat Jon Jones.  
In the sport of MMA it's easy to say "anybody can beat anybody," but in this case, Evans has a very real and legitimate shot at dethroning the phenom Jones.  
A powerful wrestler with devastating knockout power, Evans is a tall order for anybody.
Unlike some fighters with ridiculous skill-sets that always seem to disappoint, Evans has proved time and time again that he can, and will, make full use of all of his weapons inside the Octagon.
The first time we saw an outmatched Rashad was on the Ultimate Fighter 2, when he competed against heavyweights 30-40 pounds larger than him.  
Evans is not even a large light-heavyweight, and he wrestled in college at 174 lbs., so the fact that he was willing to step into the Octagon with heavyweights is impressive. 
The fact that he beat them and captured the Ultimate Fighter crown, however, is remarkable.  
Even after this victory, though, we didn't know what to make of Rashad.  
Yes, he's a good wrestler, but can he compete at a higher level?  
Enter the Iceman.
Chuck Liddell was coming off a fight of the year performance against Wanderlei Silva at UFC 79, and many were wondering if the young Evans could hang with the legend inside the Octagon.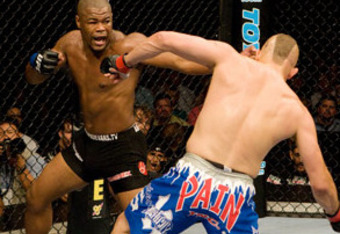 Many were saying he couldn't, and those that thought he could thought he could win only by utilizing his wrestling and pinning Liddell to the canvas for the match's duration. 
Evans knocked Liddell silly, then proceeded to do the same to then-champ Forrest Griffin in his next outing.  
Finally, he was the favorite against Lyoto Machida in his first title defense.  "Suga" was on a tear, and the karate fighter couldn't end that. 
Well, he did, and Evans suffered his first and only career loss.
Since then though, he has strung together four straight victories and looks to make it five at UFC 145 against the seemingly immortal Jonny "Bones" Jones.
And here we are, counting "Suga" out again.
If history tells us anything, it's that Evans comes out firing when his back is against the wall.
And with the bombs Rashad can sling, that's a scary thought. 
I really hope "Bones" isn't diabetic, because his career, I'm afraid, is about to slip into a "Suga" coma.