CBI Basketball Tournament 2012: Who Will Win Each Quarterfinal Clash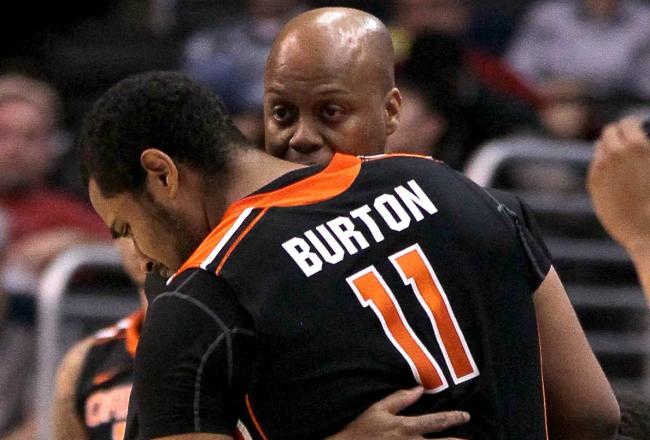 Stephen Dunn/Getty Images
While the eyes of the college basketball world are focused on the NCAA Tournament, the College Basketball Invitational Tournament is going to produce four good games this weekend.
Every one of these teams is battling for pride. Unfortunately, only four can advance to the semifinals. So, let's take a look at which ones will do that.
TCU at Oregon State
The Beavers are one of the highest scoring teams in the country. More importantly, they looked impressive in the Pac-12 Tournament. For all intents and purposes, they kept Washington out of the NCAA Tournament. Considering they were the best regular season team in the conference, that's pretty impressive.
Ultimately, the offensive attack is going to be too strong in this one. Jared Cunningham, Devon Collier and Ahmad Starks will get somewhere between 50 and 60 points on their own, and the rest of the offense will pick up the rest of the slack.
TCU just won't have the offense to compete. In the end, the Beavers have more elite scorers, and they're better than the ones playing for the Horned Frogs. As if all of that wasn't enough, the game is in Corvalis.
How many home teams will win this weekend?
Prediction:
Oregon State 83, TCU 72
Wyoming at Washington State
It's not that either of these teams is particularly daunting, but Washington State has two tremendous things working in its favor.
One is that it's a home contest for Wazzou. Home court advantage is always nice to have in your back pocket.
Also working to the Cougars' advantage is Brock Motum, who will be the best player on the floor. The two teams are about even statistically. So, it's hard to see the home team with the better scorer not having the edge.
Because of that, the Cougars will move on to the semifinals, sending the Cowboys home.
Prediction: Washington State 67, Wyoming 59
Butler at Penn
While Brad Stevens certainly knows how to coach in tournaments, this is a different team from each of the last two.
This game is not only in Philadelphia, but Butler doesn't have a reliable scorer to go in and silence the home crowd. If you're going to win on the road, you need to play well on the glass, and have a scorer to rely on. Butler doesn't have either, and, as a result, Penn will take this game.
Penn has three players that average more points per game than anyone on Butler, with Zack Rosen leading the charge at over 18 a night. Look for them to get out to an early lead and cruise to a relatively easy home win over the Bulldogs.
Who will win the CBI Tournament?
Prediction:
Penn 65, Butler 54
Princeton at Pittsburgh
I look at Pittsburgh's team, and I don't see anything working in their advantage here, other than the home-court advantage. That is nice, but it's not going to be enough here.
Ian Hummer and Douglas Davis provide the scoring duo needed to win on the road. Hummer grabs more than seven boards a game, too.
Pitt isn't reliable enough on the glass, with nobody even at seven boards a game. On top of that, I just see this game meaning a lot more for Princeton. They are not a basketball power, and Pittsburgh is. The Tigers will have a lot more incentive in this one.
As a result of all of that, Princeton will claim victory.
Prediction: Princeton 68, Pittsburgh 60
This article is
What is the duplicate article?
Why is this article offensive?
Where is this article plagiarized from?
Why is this article poorly edited?