NCAA Upset Predictions 2012: VCU and Teams Ready to Shock the World
March 15, 2012

Andy Lyons/Getty Images
Picking an upset in the NCAA tournament makes you feel as smart as the paid college experts you watch on television. However, sometimes it's hard to find those upsets in a deep field like this one. 
Luckily for you, here are three underdogs that can—and will—upset their first-round opponent. 
No. 12 Seed VCU Rams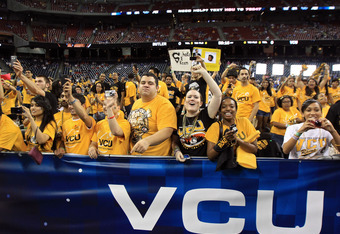 Streeter Lecka/Getty Images
VCU is your typical small conference No. 12 seed in this tournament. They went to the Final Four last year and play a style of basketball that can lead them into another deep run in the tournament. 
They begin their quest to their second-straight Final Four against Wichita State. 
VCU and Wichita State are about as equal of a matchup as you can get in the tournament. 
They have almost identical records as VCU is 28-6 overall and a conference record of 15-3. Wichita State had a 27-5 overall record and a conference record of 16-2. 
Wichita State does a great job at scoring points, averaging 77.7 points per game. However, VCU does an even better job at playing a tough aggressive defense, only allowing 59.8 points per game to opposing offenses. 
VCU will put pressure on Wichita State, which will result in the Shockers not being able to find a rhythm on offense. This will result in the Rams pulling off the big upset, moving onto the Round of 32. 
No. 14 Seed Belmont Bruins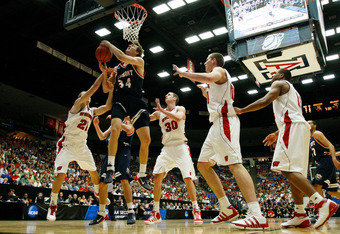 Harry How/Getty Images
The Bruins come into the NCAA tournament fresh off of winning the Atlantic Sun Conference. 
Belmont is one of the best shooting teams in the tournament. They have averaged 81.5 points per game, which was the fourth best in the nation this year. They are also averaging a .484 field-goal percentage.
As well as being able to shoot the ball well, Belmont moves the ball around as well as any team in the tournament. The Bruins averaged 17.4 assists per game, which was the fourth best this year. 
Belmont may be a No. 14 seed, but they play as well as any team in the tournament. 
No. 12 Seed South Florida Bulls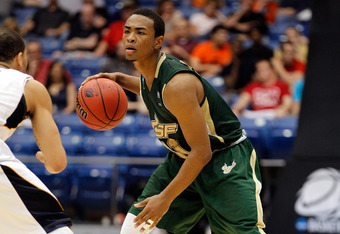 Gregory Shamus/Getty Images
South Florida should have been a team that did not have to play their way into the field of 64. Instead, the selection committee wasn't impressed by their 12-6 Big East Conference record and forced them to play the California Bears. 
South Florida proved they should have been away from this play-in game as they blew out Cal 65-54. 
The Bulls take on a high-scoring Temple Owls team that averaged 76 points per game. However, Temple gave up 69.9 points per game, so they have the ability to allow a team to get hot and stay with them throughout a game. 
South Florida's defense will be the reason why they upset the Owls, moving onto the Round of 32. 
These three upsets will happen today. However, it is up to you to call them before the games start so you can sound like a genius when they happen.