NCAA Tournament Scores: Blown Call Saves Syracuse from Historic 2nd-Round Exit
March 15, 2012

Gregory Shamus/Getty Images
Surely, sports writers and media members alike were readying with their most clever "Syracuse loses" puns, as No. 16 seed UNC-Asheville kept things tight with No. 1 seed Syracuse in second-round NCAA tournament action.
I had "Not-So-Fab Five" ready and waiting to unleash on the world.
Alas, it was not to be. The Orange were able to overcome a shocking 34-30 halftime deficit and a pesky UNC-Asheville team to win, 72-65. And there was one call in particular that the players, coaches and fans of UNC-Asheville won't soon forget.
With 38.2 seconds remaining, Syracuse was inbounding, leading 66-63. The ball very clearly bounced off of Brandon Triche's hands and should have gone to the Bulldogs. Instead, it was inexplicably given back to the Orange (H/T to The Big Lead for the video).
On the ensuing inbound, UNC-Asheville fouled Scoop Jardine, who made both foul shots, and that was the last chance the Bulldogs had.
The game also featured a controversial lane-violation call against UNC-Asheville, though the refs actually were correct on that call.
Good call on lane violation. Players off lane must stay behind FT line until ball hits the rim. Reggie's thinking NBA rule.

— Fran Fraschilla (@franfraschilla) March 15, 2012
Alongside the referees, James Southerland was the hero for Syracuse in this one, finishing with 15 points and eight rebounds off the bench. He was also 3-of-5 from beyond the arc, including a huge three-point shot with 2:37 remaining that gave Syracuse an insurmountable 62-54 lead.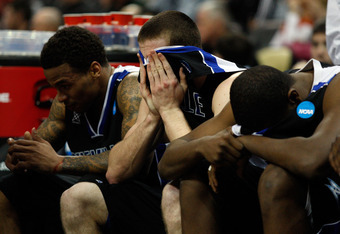 Jared Wickerham/Getty Images
UNC-Asheville can hold its head high—they fought to the end. Perhaps even if the inbounding call had gone their way, they wouldn't have won.
But because of it, the loss was assured.
One way or another, I have a feeling I'll be able to bust out my "Not-So-Fab Five" joke when Syracuse takes on Kansas State in the third round.
Hit me up on Twitter—all of my tweets are Cinderella stories.