The People's Slam: Australian Emotions 1993-2008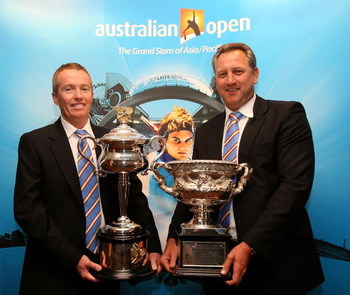 The Australian Open lacks Wimbledon's tradition, the U.S. Open's market venue, and the novelty of Roland Garros clay, but it has carved its own niche in the last 15 years: The People's Slam.
This is due not only to its festive, heated atmosphere, but the deep emotions that accompany the event every year. Here are some of the top events of the last 15 years.
2008 - Exhaustion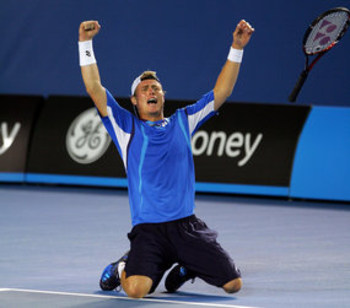 Roger Federer beat Janko Tipsarevic, James Blake beat Sebastien Grosjean, and Lleyton Hewitt beat Marcos Baghdatis on the middle Saturday in 2008—all in five sets.
It was perhaps the fullest day in AO history, and they only needed an extra 4.5 hours to fit it all in. Baghdatis would leave his match in tears, but the AO seems a prime venue for such displays, as we'll see later. -- Image courtesy of ABC News
2005 - Shock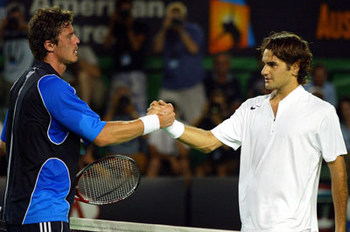 At the beginning of 2005, even his opponents knew Federer had no equals on the tennis court. Only Marat Safin, the zany, towering Russian didn't seem to realize it, as he outdueled the great Swiss 9-7 in the fifth set of the semifinals, turning the tennis world on its head.
The fact that Safin hasn't won a title since makes this result all the more stunning. -- Image courtesy of China Daily
2007 - Awe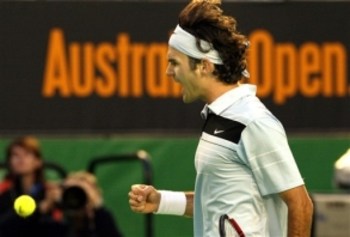 Going into the 2007 event, Andy Roddick was telling people that the gap between him and Roger Federer was narrowing. Unfortunately for Roddick, Federer heard him and unleashed one of the most awesome displays of shotmaking seen at this or any other event.
Final score: 6-4, 6-0, 6-2, leaving the gap as wide as ever. -- Image courtesy of Index.hr/sport.
1997 - Entitlement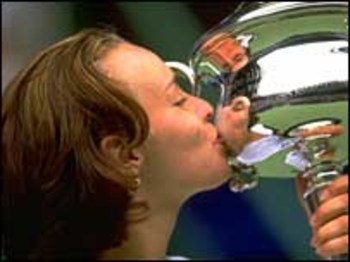 Barely 16 at the time, Martina Hingis stunned the tennis world with her game, whose craftiness belied her age. In the years to come, her often cutting remarks also stunned fans and competitors, but some considered her bluntness part of her charm. -- Image courtesy of BBC Sports
2006 - Recompense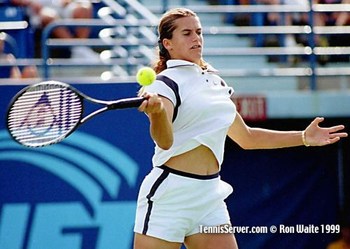 Among the recipients of Hingis' untamed tongue was the openly gay Frenchwoman Amelie Mauresmo, whom the Swiss Miss called "half a man" at the 1999 event.
Seven years later, the site of the slight became her place of vindication, as she captured her first major title. -- Image courtesy of Tennisserver.com
1995- Grief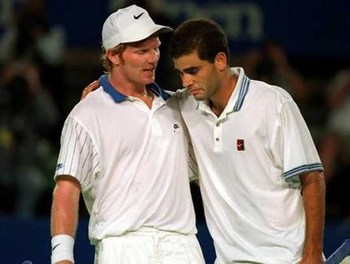 The onset of coach Tim Gullikson's brain cancer hurt his charge, Pete Sampras, almost as much as it did him. Fighting off tears, Sampras overcame old friend Jim Courier in a five-set quarterfinal, winning a lot of hearts in the process. -- Image courtesy of The Age
2001 - Redemption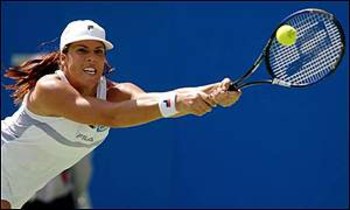 When former teen prodigy Jennifer Capriati returned to the pro game in the late-'90s, most were just happy she'd stopped her downward spiral.
However, her 2001 AO win was the first of three major titles, helping her make good on her abundant promise. -- Image courtesy of BBC Sports
1996 - Worth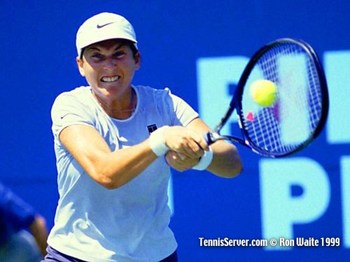 No tennis player of either gender is more beloved than Monica Seles, and her victory at the 1996 AO (her last major title) was justice after her shocking stabbing in 1993. She was greeted with the song "Fly, Monica Fly" by the Young Elders, almost as worthy a tribute as the champion's trophy. -- Image courtesy of Tennisserver.com.
2006 - Humility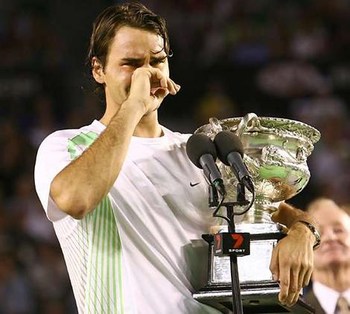 By the 2006 AO, Roger Federer was having little difficulty with opponents, but had considerable trouble expressing appreciation to all-time great Rod Laver, breaking down into tears when Laver presented him with his champions' trophy.
Federer's humble demeanor, when coupled with his great accomplishments, will make him No. 1 in many fans' hearts years after he's left the game's top ranking. -- Image courtesy of the Sydney Morning Herald.
2000- Triumph
Andre Agassi and Pete Sampras had a number of epic matches, and their U.S. Open battles get the most attention. But the case could be made that their five-set 2000 AO semi was their best match ever.
The fourth set tiebreaker wasn't as long as, say Borg-McEnroe 1980, but nearly every one of its 12 points was accompanied by an amazing shot.
Agassi came out on top that day, in one of the highest quality matches any major has produced. It was a victory not just for AA, but for tennis itself. -- Image courtesy of Sportsillustrated.com.
Honorable Mentions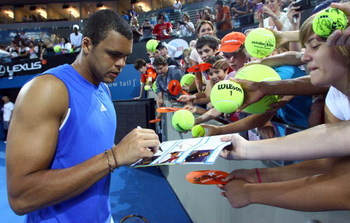 Andy Roddick's epic victory over Younes El Aynaoui in 2003; Boris Becker's return to the winner's circle in 1996; Serena Williams' win out of nowhere in 2007; and Jo-Wilfried's magical run in 2008 are all great moments. The fact that they don't quite make the top 10 shows just how amazing a tourney this has been in the last decade and a half.
One can only guess what emotions lie ahead for the 2009 event.
Keep Reading