NFL Free Agency Rumors: Where Are Experts Projecting Remaining Players?
March 16, 2012

Kevin C. Cox/Getty Images
Now that most of the top free agents have been plucked off the board, teams are looking for second-tier guys to fill their remaining holes before the draft in order to avoid "reaching" on prospects due to need. 
Here are some of the anticipated landing spots of some of the best guys left on the market. 
Mario Manningham, Buffalo Bills
With such a deep free agent market, the hero of the Super Bowl has been largely forgotten. 
Meanwhile, the Bills whiffed in their pursuit of Robert Meachem, who would have been a great fit for their system. With the need for another body opposite Stevie Johnson, the Bills have begun their pursuit of Manningham.
Manningham has a similar skill set to Meachem and would be a nice addition to a receiving corps that values speed.
Reggie Nelson, New York Jets
The Jets know they need a safety in the worst way, and looked into Brandon Meriweather and LaRon Landry before being connected to Nelson.
Known for his cover skills, he is exactly what the Jets are looking for at the safety position. 
Nelson is not quite as talented as Landry, but he does not come with the injury baggage. Nelson will visit the Jets, and there is a good chance that he walks out of there with a contract. 
Curtis Lofton, New Orleans Saints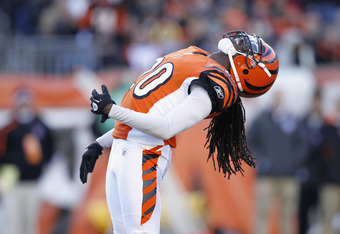 Joe Robbins/Getty Images
There was a lot of speculation that suggested Lofton was destined to be an Eagle or wind up in Tampa, but he has somehow made his way to the cash-strapped Saints.
This Saints' spike in interest in the linebacker position does not bode well for Jonathan Vilma, who is taking up a healthy amount of cap room. Perhaps the Saints are looking for a younger option to take up just as much room.
John Abraham, Tennessee Titans
For now, all of the attention is on reeling in Peyton Manning, but the Titans also have plans to bring in  John Abraham. 
The Titans had plans to pursue Mario Williams, but because of their pursuit of Peyton, they abandoned their strategy.
Abraham is older and is best used on a snap count, but he can bring an element of pass rush that no one else on the Titans roster can.