Boston Red Sox Roster Battles: 4 Most Intriguing Spring Position Battles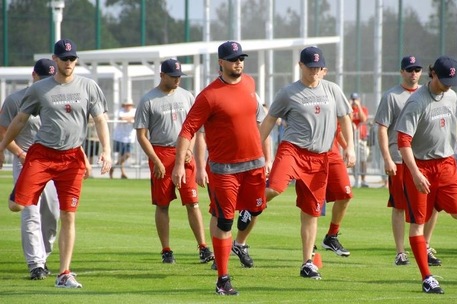 Photo Courtesy of The Roosevelts
The Boston Red Sox go into the 2012 season with about as much as uncertainty in a long time. They've done a lot this offseason to try to change what didn't work last season, that kept them out of the playoffs for the second straight year.
Manager Bobby Valentine has had over 60 players in camp to try and see who will make the 25-man Opening Day roster with tryouts for several positions.
Here are a look at the four most intriguing spring position battles that we've seen over the last couple of weeks and that we'll see tighten up over the remainder of Spring Training.
Begin Slideshow

»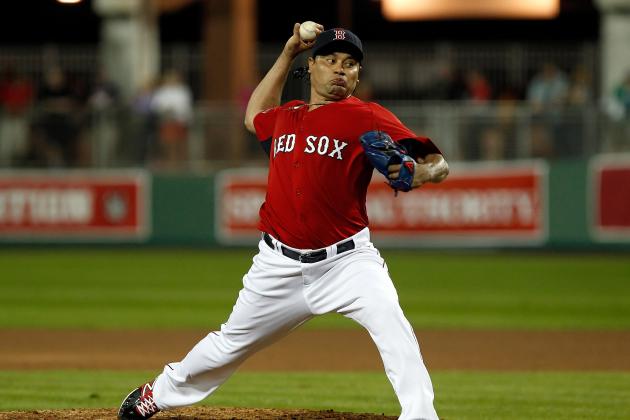 J. Meric/Getty Images

Contenders
Alfredo Aceves, Vicente Padilla
Pretenders
Felix Doubront, Andrew Miller, Aaron Cook, Ross Ohlendorf
Outlook
Alfredo Aceves is the only true lock to make the team, but it's inevitable that at least one or two more contenders and pretenders all land on the Opening Day roster. Aceves has only allowed one run in nine strong innings, striking out nine in the process without walking anyone.
Vicente Padilla is also a strong contender to get the job, pitching in four games this spring, with impressive starts against the Yankees and the Rays. He did allowed four runs on five hits in a two inning appearance against the Pirates, but overall, he's showing that he still has what it takes to pitch in the big leagues.
Felix Doubront got roughed up in a two inning appearance against the Cardinals but did make up for it with a strong four-inning appearance against the Yankees where he struck out four and only allowed two hits.
Andrew Miller has only thrown a total of three innings over two games this spring, while not allowing a hit and striking out five. If he was really in contention, he would have seen more innings this far into camp.
Aaron Cook also hasn't pitched that much this spring, appearing in two games and throwing a total of 5.1 innings. He's only allowed one hit over those innings, walking three and striking out two.
Ross Ohlendorf is a great player to have on the roster but I don't think he'll end up getting the No. 5 spot in the rotation, only throwing 3.2 innings over two games. He has yet to let up a run but has walked three batters.
Prediction
After seeing all of the pitchers in camp vying for that final spot in the starting rotation, I think it makes the most sense to give the No. 5 spot to Vicente Padilla. He only had one shaky start against the Pirates but his impressive start against the Yankees counteracts that. Alfredo Aceves will be much more valuable in the bullpen, and could be used as a spot starter if need be. In the end, Ohlendorf and Miller will make the team as relievers.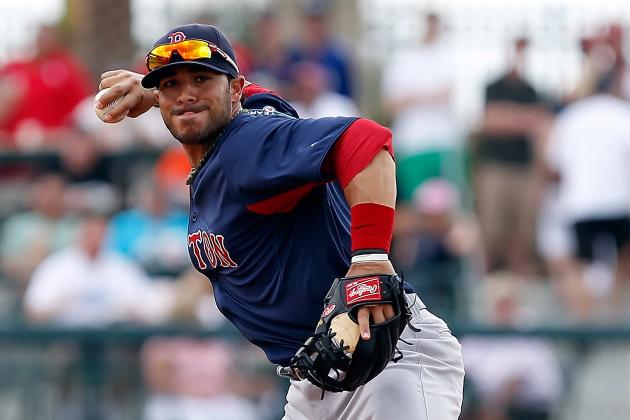 J. Meric/Getty Images

Contenders
Mike Aviles, Nick Punto, Jose Iglesias
Pretenders
Oscar Tejeda, Pedro Ciriaco
Outlook
Mike Aviles started the spring off hot, hitting .368 through his first six games but has gone hitless over the last four games. He's hitting .226 (7-31) in 10 games with three runs and three RBI. He also has played a pretty good shortstop in those games.
Nick Punto has seen less time than Aviles this spring, but hasn't been too impressive either. He's appeared in seven games, hitting .267 (4-15) with three runs, two RBI, four walks and three strikeouts.
Jose Iglesias started the spring off hot, hitting .300 (3-10) in his first four games, but an injured groin has kept him out for the last handful of games. We all know that he's unbelievable in the field, but his lack of hitting has kept him out of the majors for the last couple of seasons.
Oscar Tejeda is truly a second baseman but could still be considered for the job. What's keeping him out of making the team is that he only has one hit in 11 at-bats this spring. He'll play most of 2012 in Triple-A Pawtucket in my opinion.
Pedro Ciriaco has had an unbelievable spring, hitting .556 (10-18) with a walk-off home run, six runs, and five RBI in 13 games. He's been one of the most impressive players in Red Sox camp but his struggles in the minors over the course of his career will probably keep him out of Boston for now.
Prediction
My gut tells me that Mike Aviles is the Opening Day shortstop with Nick Punto as the backup infielder. These two will platoon until Jose Iglesias, who will start the season in Triple-A Pawtucket, can prove that he can hit, which he has really yet to do. Being injured for part of spring training also hasn't helped Iglesias's case. Tejeda and Ciriaco will both play this season in the minors and it isn't likely that they're called up unless an injury arises.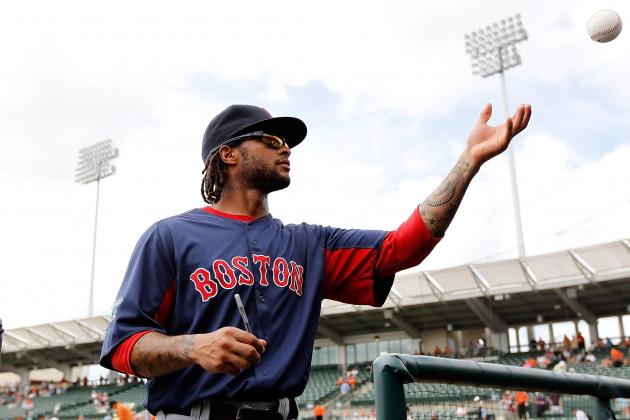 J. Meric/Getty Images

Contenders
Darnell McDonald, Ryan Sweeney
Pretenders
Josh Kroeger, Juan Carlos Linares, Alex Hassan
Outlook
Darnell McDonald has played like an entirely different player this spring, hitting .400 (8-20) with two home runs, three RBI and four runs. He has truly earned a spot on the 2012 Red Sox.
Ryan Sweeney hasn't hit a lick this spring and an injury has kept him out of action since March 12th. In four games, he only has one hit in 12 at-bats. That is not how you win a spot on the team but his play over the last few seasons will keep him on the roster, at least until Crawford is healthy.
Josh Kroeger has been a lean, mean, strikeout machine in his time this spring, striking out seven times in 25 at-bats. He probably won't make the team and will either go to Triple-A or enter free agency.
Juan Carlos Linares hasn't done much at the plate either, going 3-19 in 10 games thus far. He was a lot more impressive last spring when he hit .320 in 13 games. A trip to Pawtucket is inevitable for this young outfielder.
Alex Hassan has shown Bobby Valentine that he can get on base, drawing six walks in 11 games this spring, but hasn't been able to get hits, going 3-17. He is definitely a player to watch as he could a big part in the future plans of the Red Sox.
Prediction
As it looks now, Carl Crawford will not be ready to play by Opening Day which will leave two extra outfielder spots to start the season. Cody Ross will take left field in the interim and McDonald and Sweeney will platoon in right field until Crawford comes back. If Bobby Valentine decides to keep four outfielders instead of five, the nod has to go to McDonald at this point. Sweeney has just been too bad this spring for him to win the job. The three "pretenders" could see time in the majors throughout the season, but most likely not until September.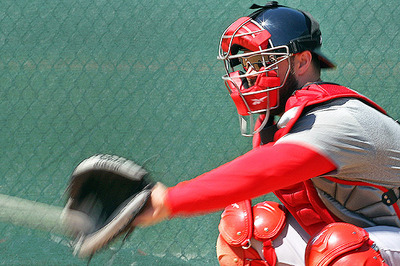 Photo Courtesy of Ted's Army
Contender
Kelly Shoppach
Pretenders
Ryan Lavarnway, Luis Exposito, Dan Butler
Outlook
Kelly Shoppach was signed to be the defensive backup for Jarrod Saltalamacchia and that's what he's set out to do. This spring he's appeared in eight games, hitting .214 (3-14) with three runs and five strikeouts, while being a wall behind the plate. It would be pretty shocking if he didn't make the team.
Ryan Lavarnway is one of the young players that everyone has been watching over the first few weeks of spring training. He has been relatively impressive, hitting .500 (8-16) with four runs, three RBI, three walks and two strikeouts. Lavarnway is really close to the big leagues but just needs a little more time.
Luis Exposito has been a bit of a disappointment for a Triple-A catcher, only having one hit in seven at-bats with three strikeouts. He needs to work on his offense if he wants a shot at the majors in the near future.
Dan Butler has shown improvement in his second spring training with the Red Sox. He has two hits in seven at-bats with a three-run home run. He's likely to start the season in Double-A Portland where he left off last year.
Prediction
Unless Kelly Shoppach gets injured from now until Opening Day, he has the backup catcher role. There is the possibility that Shoppach could get traded, which I've described here, but a deal isn't necessary at the moment. In that article, Bobby Valentine says that it's unlikely that he would keep three catchers on the roster, and that Lavarnway could use some more time in the minors before being called up permanently. Exposito and Butler will be a part of the minor league system for Boston.