Tim Tebow Rumors: Broncos Will Find It Hard to Trade QB If Manning Signs
March 15, 2012

Al Bello/Getty Images
Tim Tebow is one of the most popular players among fans. However, among NFL executives and decision-makers, he's not as popular. 
It's why, if the Denver Broncos are able to sign free-agent quarterback Peyton Manning, it not only will force Tebow out as the starting quarterback, but it could force him out of Denver. 
However, according to former head coach and current Fox NFL analyst Brian Billick, the Broncos may not be able to find anyone who is willing to take Tebow, saying:  
Speaking to ProFootballTalk.com, former Ravens coach and current Fox analyst Brian Billick suggested it might be hard for the Broncos to find a trade partner for Tim Tebow. Said Billick: "(The Broncos) found themselves in the playoffs and even won a playoff game with Tim Tebow, and they don't want him? Why should I?"
When the Broncos started to court Manning as a free agent it spelled the end of Tebow as the starter. The first team that came to mind who may trade for Tebow was the Jacksonville Jaguars.
According to ESPN Football analyst, John Clayton, Jacksonville's signing of Chad Henne may have killed any chance of these two teams had in making a potential deal if the Broncos sign Manning.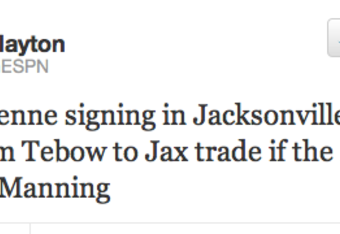 The two sides could still come to a deal, but with Henne and last year's first-round pick, Blane Gabbert, battling for the starting job, it wouldn't make sense to throw Tebow into that situation. 
If the Broncos do sign Manning, they shouldn't trade Tebow.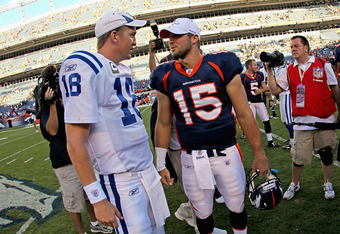 Doug Pensinger/Getty Images
Instead, they should keep the young quarterback on the roster and let him learn how to be a better passer. Under Manning's watch, Tebow could round out his game that turns him into a complete quarterback, which would silence his detractors. 
Tebow supporters will not want to see him head to the bench for Manning, but it's the right move. 
There is a reason why fans do not run NFL franchises; because if they did, they would do whatever it takes to get Tebow on their team, which would result in no Super Bowl titles.
Tebow and the Broncos should stay together if Manning is signed instead of trying to find a trade partner where both the quarterback and the franchise don't come out better in the end.